Want to serve up an easy and keto-friendly chicken recipe for dinner? Choose from this list of 9 keto chicken recipes anyone can make, including Keto Chicken Fried Rice, Keto Fried Chicken, and Keto Chicken Alfredo Casserole! Net carbs are provided for each recipe.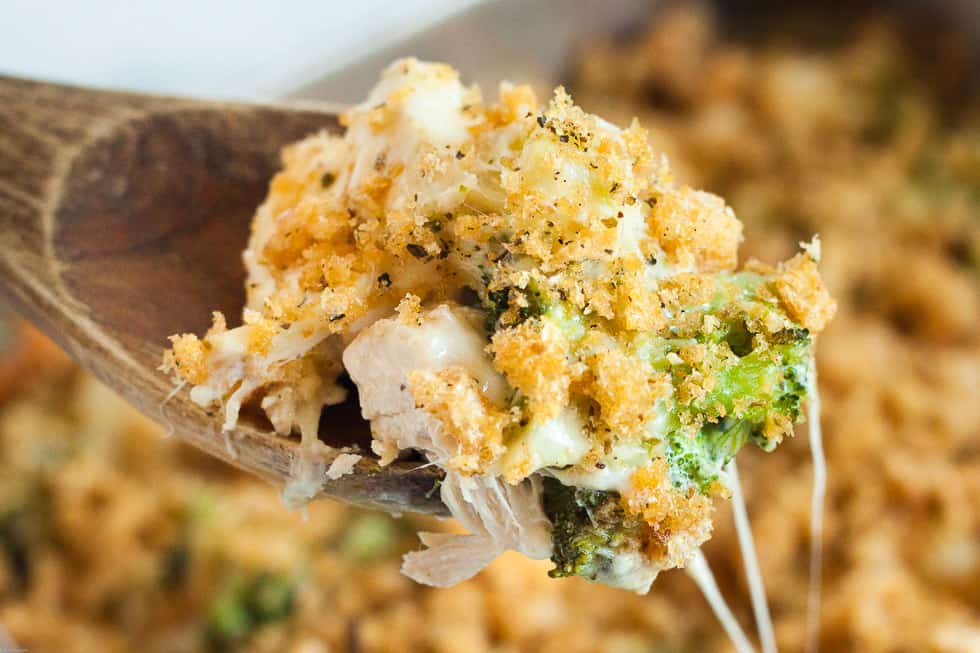 If you're looking for your next favorite keto chicken recipe, you're going to love these easy keto chicken recipes that anyone can make! I think chicken gets a bad rap as a "diet food" (dry, tasteless chicken breasts, anyone?), but with the right flavors and the right cooking methods, chicken makes for a fantastic dinner option the whole family will love. It's also wonderful for easy lunch meal prep — you can definitely make these recipes on the weekend and take them for lunch during the week.
Because it can be tough to sort through the seemingly endless number of keto cookbooks and Pinterest pins out there, I've done the hard work for you and rounded up 9 fabulous keto chicken recipes to share. Please leave a comment and let me know your favorite! We've been making a lot of Chicken Fried Rice in our household lately. The recipe is so easy and so satisfying!
Keto Chicken Recipes
In this post, you'll find links to the following keto chicken recipes:
Chicken Crust Pizza
Chicken Salad
Air Fryer Chicken Legs
Sheet Pan Chicken Thighs
Chicken Stir Fry
Chicken Bacon Ranch Casserole
Chicken Alfredo Casserole
Pork Rind Chicken
Chicken Fried Rice
Chicken plays a big part of many successful keto dieters. It is a primary ingredient in many keto dinner recipes. It is used in keto casseroles, keto soup recipes and keto salads. Many of our recipes utilize chicken and are utilized on many ketoers menu plans.
How to Access the Recipes in This Post
This post is a roundup of recipes — some from here at Forget Sugar Friday and some from other high-quality bloggers.
To access the recipes in this post, click on the pink "Get the Recipe Here!" button at the bottom of every recipe summary.
That will take you to the original post where you can find the recipe (usually in a recipe card at the end of the post). 💖 Every post includes nutrition information, so you'll be able to plug the nutrition facts into your favorite tracking app.
How to Use this Post for Meal Planning
Don't just check out these recipes and put them on your "I'll make them eventually" list. Make meal planning easier by committing them to your meal plan over the next month or two. How about trying one new keto chicken recipe from this list every 5-10 days?
Now let's get to the recipes!
2g net carbs: This sensational keto chicken crust pizza is hugely popular, and for good reason! The keto chicken pizza crust is so delicious and filling you will make it over and over!
4g net carbs: This delicious keto chicken salad is a recipe you will make over and over. The complex flavoring is such a delightful and refreshing treat!

1.7g net carbs: This delicious and easy to make chicken legs dish will blow your mind. Cooked in an air fryer and seasoned to perfection!
4.4g net carbs: This savory sheet pan chicken thigh recipe is wonderfully delicious!

Keto Recipes with Chicken #5: Keto Stir Fry
8g net carbs: This delicious keto stir fry is a fun dish that serves up a wonderful chicken and vegetable mix. It is easy to make and the whole family will enjoy it!

#6: Keto Chicken Bacon Ranch Casserole
5g net carbs: This delicious chicken bacon ranch casserole will make you a believer when it comes to eating healthy! This gluten free dish is easy to make, low in carbs, and doesn't sacrifice make you sacrifice for taste.
2.3g net carbs: Say hello to this cheesy, creamy keto casserole recipe! Keto Cheesy Chicken Alfredo Casserole is ridiculously good and will make your tastebuds sing, guaranteed.

1.07g net carbs: This dish brings an awesome blend of cream, chicken and bacon together for a smooth and fantastic taste! Easy to make, flavorful and delicious, Keto Buttery Ritzy Chicken Casserole will be loved by the whole family.

2.8g net carbs: This popular favorite brings together chicken, eggs, veggies and riced cauliflower. With hints of garlic, ginger, onion, some red pepper spice and a hint of sweet, Keto Chicken Fried Rice is so flavorful and delicious you will make it regularly. This is a must-try! (Note: I made this for a visiting family member who isn't on keto, and it was a huge hit! You don't have to be on keto to love it.)
Can I Eat Chicken on the Keto Diet?
You can eat chicken on the keto diet, because it has zero net carbs and serves as a protein source to hit your macros. Chicken makes an excellent main course for many keto dinner and lunch recipes.
Looking for More Keto Chicken Casserole Recipes?
After you've checked out the recipes below, make sure you also check out my 7 Ketogenic Chicken Casserole Recipes You'll Want to Make ASAP! post. You'll find recipes like Chicken Parmesan Casserole (a personal favorite!), Nacho Chicken Casserole, and Mexican Chicken Casserole.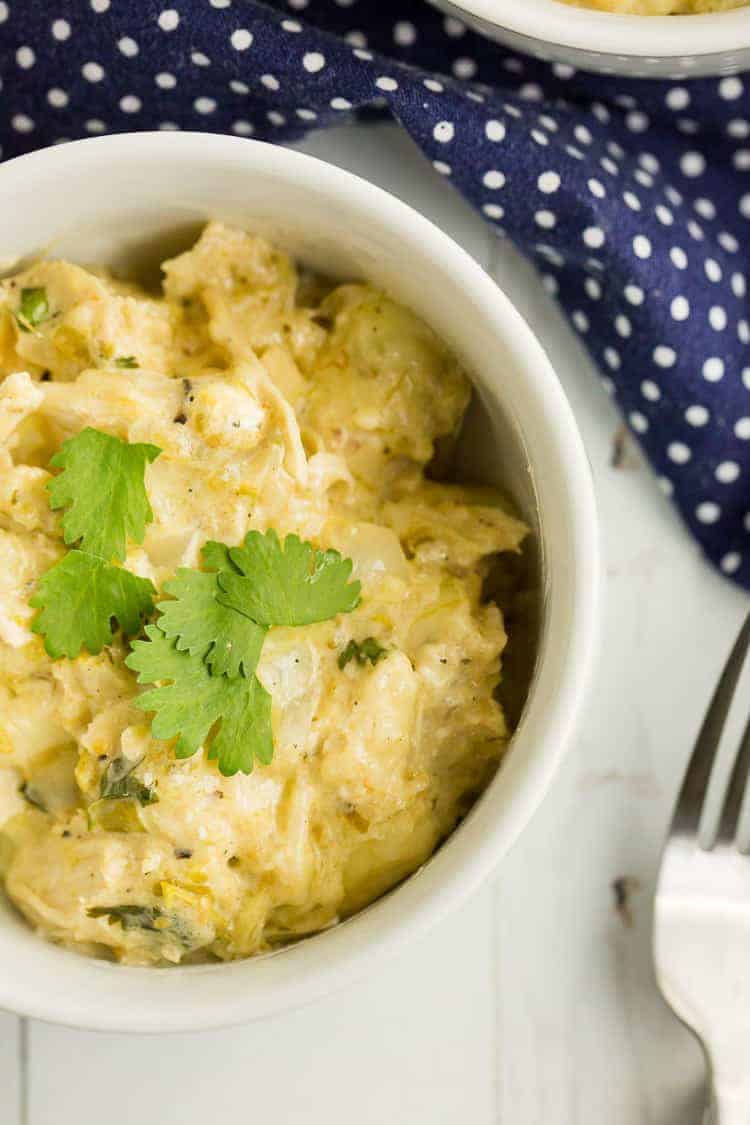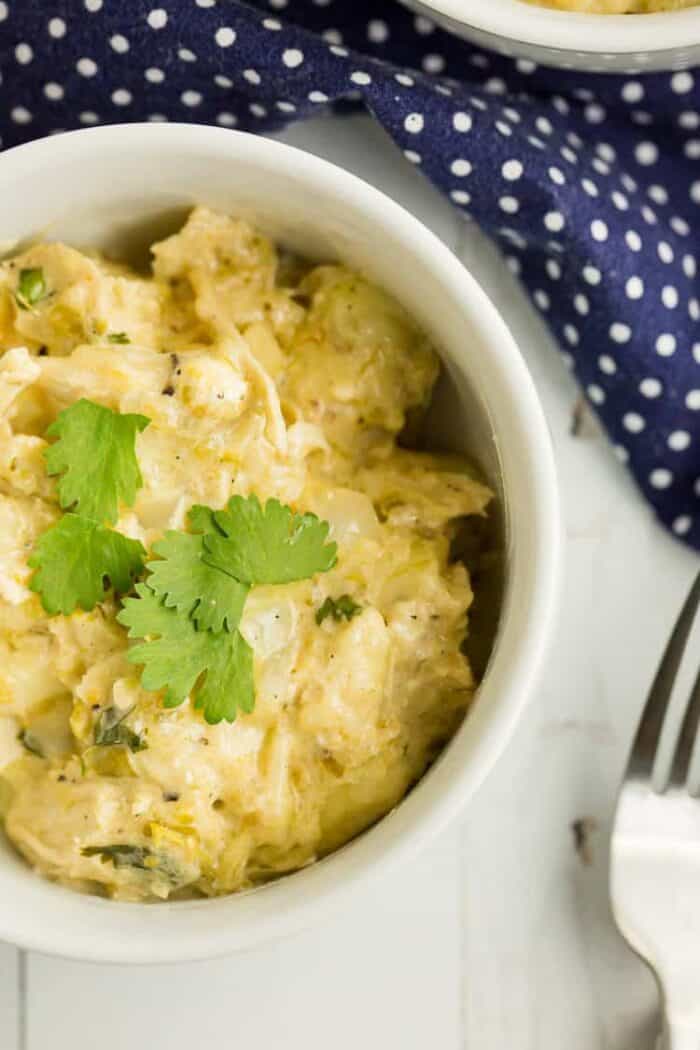 More Keto Chicken Thigh Recipes
With the juicy flavor of chicken thighs combined with hints of maple, dijon, balsamic and rosemary, Keto Maple Dijon Chicken Thighs will leave your taste buds satisfied. With only 1.6g net carbs, this makes for a seriously awesome and easy meal!
Like This Post? Give it a Share!
I hope you enjoyed this low carb chicken recipe roundup! If you liked this post, I would so appreciate you giving it a share by using the social sharing icons. THANK YOU!
More Low Carb Family Meals
Whether you want to enjoy more keto ground beef recipes, low-carb pizza, or even keto soup recipes, you have come to the right place!