If you are a chicken thigh lover then you are well aware that compared to chicken breasts, chicken thighs are more flavorful, juicier, and still keep a crispy outside. If this is your first time making keto chicken thighs then you are in for an amazing treat with these recipes! Net carbs are provided for each recipe.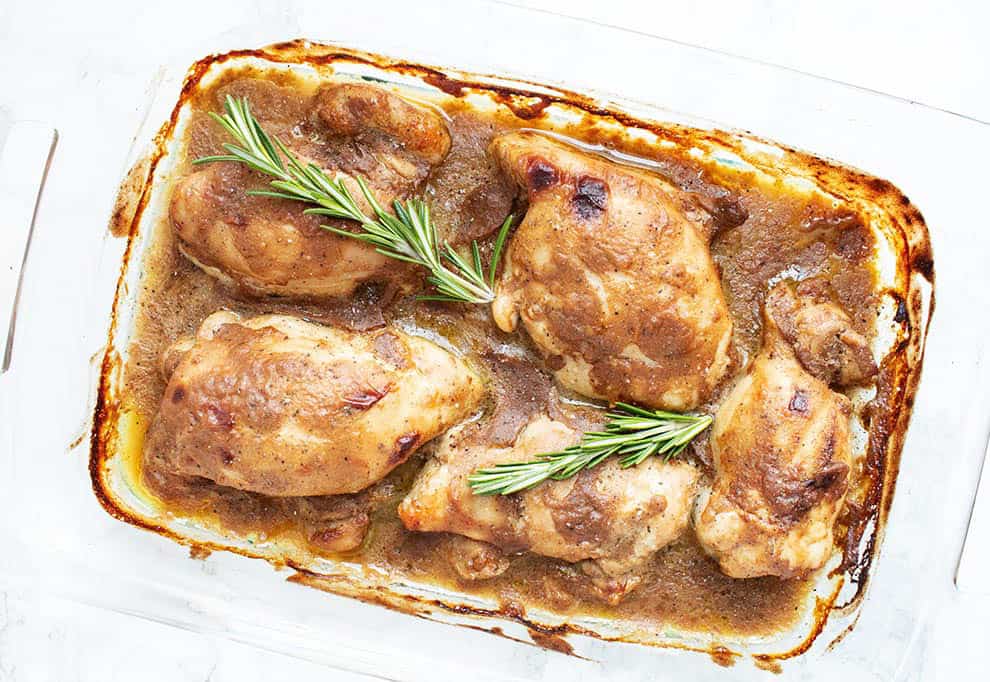 This post may contain affiliate links, which means I'll make a small commission if you purchase through one of my links at no extra cost to you. See my Terms of Use.
Keto Chicken Thigh Recipes
Chicken thighs are ah-mazing. It took the keto diet for me to discover this important fact of life. Pre-keto, I was all about chicken breasts. But chicken thighs are so flavorful and, as I soon discovered, much more forgiving than chicken breasts. They're harder to overcook, easily retain their moisture, and are a better bargain than chicken breasts.
Even better, the fat in chicken thighs is monounsaturated fat, aka the "good fat," which can help raise your good HDL cholesterol and lower bad LDL cholesterol*.
*Although traditionally considered the "bad fat," not all LDL cholesterol is bad, which you can learn about in this great book!

In this post, you'll find links to the following keto chicken thigh recipes:
Maple Dijon Keto Chicken Thighs
Sheet Pan Chicken Thighs with Roasted Radishes
Garlic Chicken Thighs
Creamy Tuscan Low Carb Chicken Thighs
Moroccan Chicken Thighs with Lemon and Olives
Crispy Baked Chicken Thighs with Lemon and Garlic
Indian Style Baked Chicken Thighs
May your dinners be enjoyable, crispy and delicious!
Chicken Thigh Recipes Keto
This post is a roundup of recipes — some from here at Forget Sugar Friday, and some from other high-quality bloggers. To access the recipes in this post, click on the "Click Here to Get the Recipe!" button at the bottom of every recipe summary.
That will take you to the original post where you can find the recipe (usually in a recipe card at the end of the post). 💖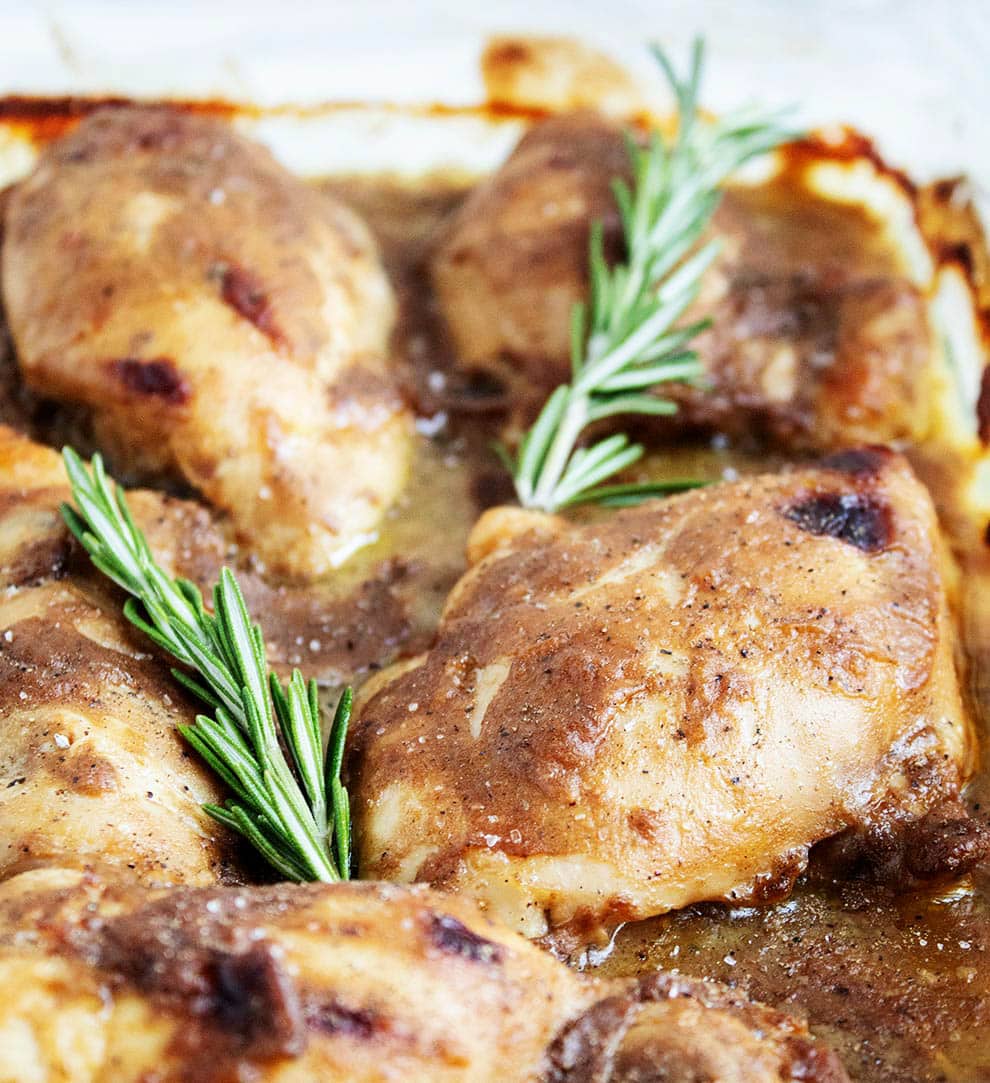 1.6g net carbs: These Maple Dijon Keto Chicken Thighs are sweet, with a hint of tang, and bursting with flavor! They are easy to make and have an aroma that will capture your senses. A dish that can be shared with the whole family.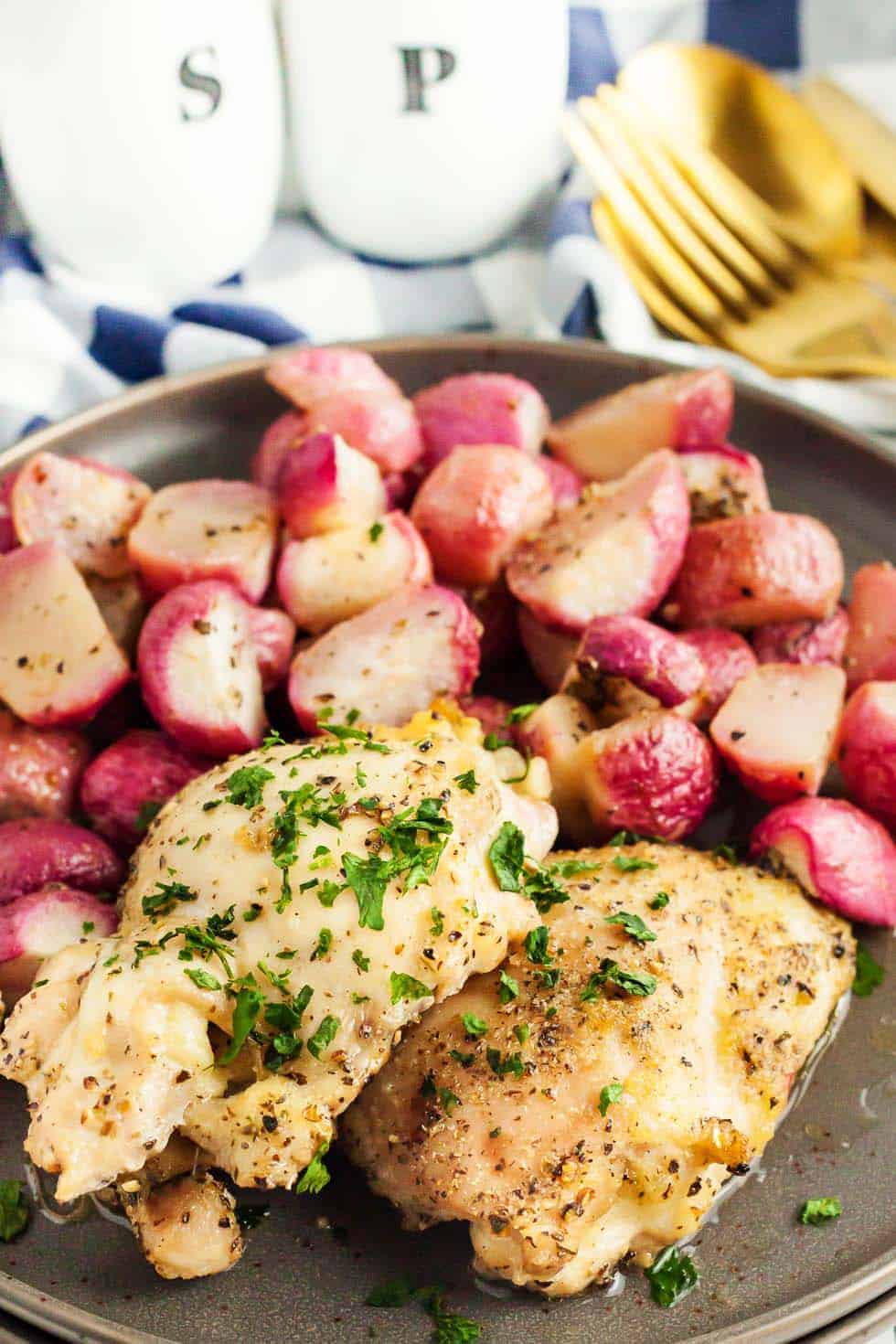 4.4g net carbs: This easy Sheet Pan Chicken Thighs with Roasted Radishes recipe is easy to make and has simple ingredients. The chicken thighs come out juicy on the inside and crispy on the outside. They are filling and flavorful!

Keto Chicken Thigh Recipe #3:

Garlic Chicken

by Recipe Tin Eats
1.8g net carbs: These delicious chicken thighs have a crispy, garlic crusted surface. Made using skinless chicken thighs and only four ingredients. Simple, fast and delicious!

Keto Chicken Thigh Recipe #4:

Creamy Tuscan Chicken

by Noshtastic
8g net carbs: Cheesy and creamy, this low carb chicken thigh recipe will satisfy your keto cravings. This recipe has sun-dried tomatoes added to provide an intense flavor that will cause you to pause, sit back and savor it!

9g net carbs: This dish brings together warm spices, lemon, garlic, and olives for a complex flavor. This combination is utterly delicious when combined with juicy low carb chicken thighs! Served with cauliflower pilaf (included in net carb count).

Chicken Thigh Keto Recipe #6:

Crispy Baked Chicken

by Joy Filled Eats
1g net carbs: This combination of lemon and garlic seasoning brings out the incredible flavor of chicken thighs! This chicken thigh keto recipe serves well year-round for family and guests.

1g net carbs: The flavor of this low carb chicken thigh recipe is wonderful! Garlic, turmeric, ginger, coconut and cilantro combined to make a wonderful no-hassle homemade curry flavor. (Serve with cauliflower rice, not regular rice as shown.)

Like This Post? Give it a Share!
I hope you enjoyed this keto chicken thigh recipe roundup! If you liked this post, I would so appreciate you giving it a share by using the social sharing icons. THANK YOU!