These 7 keto pizza recipes are perfect for pizza night and are packed with flavor… but very few carbs! So if you're craving pizza on keto, then you have come to the right place. Net carbs are provided for each recipe.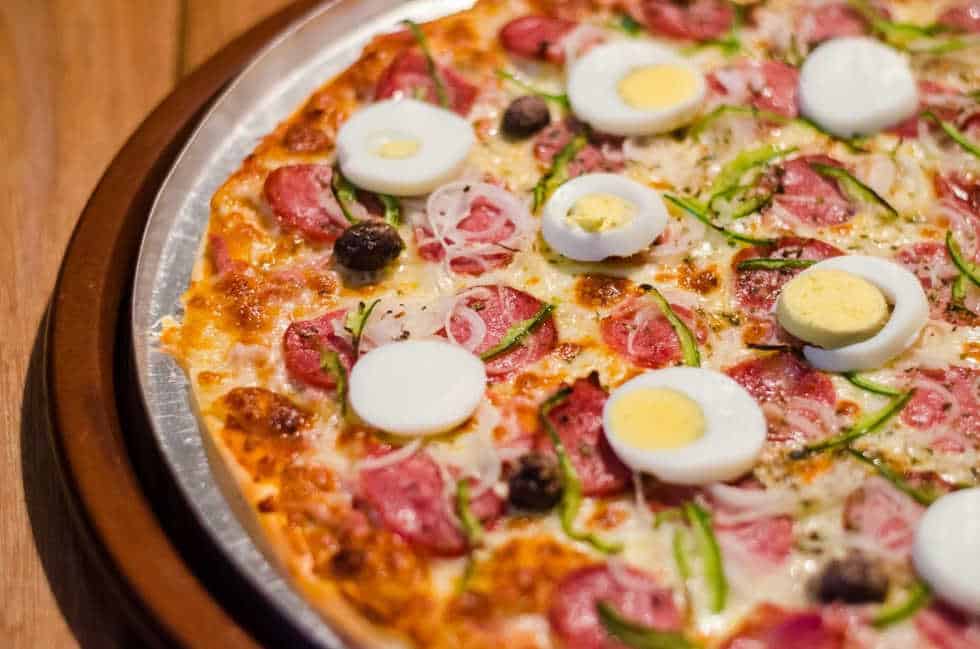 This post contains affiliate links, which means I'll make a small commission if you purchase through one of my links.
Pizza night is officially back ON with these easy keto pizza recipes! When first starting keto, the idea of pizza may seem like a faraway dream. After all, pizza dough and sauce are both loaded with carbs and sugar. But leave it to crafty ketoers to come up with absolutely amazing keto pizza recipes that will put pizza back into your weekly dinner rotation. With an assortment of delicious spices, cheeses, sauces, and toppings, you're sure to find your next favorite keto pizza on this list.
Because it can be tough to sort through the seemingly endless number of keto cookbooks and Pinterest pins out there, I've done the hard work for you and rounded up 7 fabulous keto pizza recipes from our keto dinner list to share.
Please leave a comment and let me know your favorite!
Keto Pizza Recipes
In this post, you'll find links to the following keto pizza recipes:
Pepperoni Pizza
Cauliflower Pizza Casserole: Deep Dish Pepperoni
Bacon Chicken Caesar Pizza
Spinach Artichoke Pizza
Chicken Crust Pizza

Jalapeño

Popper Pizza
Greek Pizza
How to Access the Recipes in This Post
This post is a roundup of recipes — some from here at Forget Sugar Friday and some from other high-quality bloggers.
To access the recipes in this post, click on the pink "Get the Recipe Here!" button at the bottom of every recipe summary.
That will take you to the original post where you can find the recipe (usually in a recipe card at the end of the post). 💖 Every post includes nutrition information, so you'll be able to plug the nutrition facts into your favorite tracking app.
Your Next 30 Days of Keto,
Done for You

.

Ready to lose weight, transform your body, and say hello to the new you in only 30 days… all while eating foods like these? 🙌
Keto Soup Recipes
After you've checked out the recipes below, make sure you also check out my 7 Keto Soups to Keep You Warm and Toasty (and in Ketosis!) post.
Now let's get to the pizzas!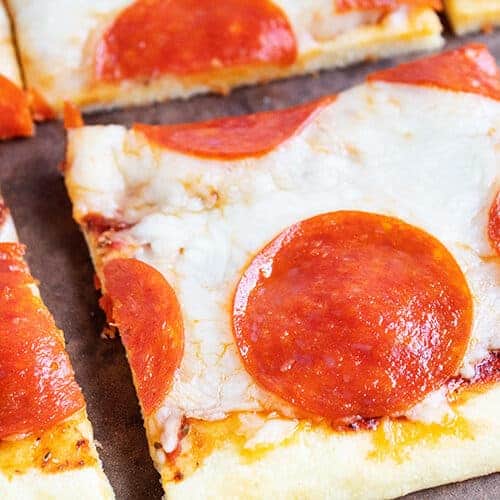 4g net carbs: You can never go wrong with the classic pepperoni pizza. The mozzarella cheese, sauce, pepperoni and spices combined make for one of the most popular dishes of all time. Try this pepperoni keto pizza recipe, it is great for the whole family!


6g net carbs: A great new way to enjoy this classic dish. This pizza casserole is simple to make and tastes great! For those of you who like all things pizza, this keto pizza recipe is a real treat.

4g net carbs: This pizza is a great combination of chicken, spinach, cheese, caesar and bacon. Yes, you heard that right, bacon and caesar on your pizza! This white keto pizza recipe is simple to make and tastes great!

5g net carbs: This mixture of spinach, artichokes, Monterrey Jack cheese and herbs brings a popular dip (spinach artichoke dip) together with pizza! This white keto pizza recipe makes for a great tasting dish at parties and any gathering of friends.

Keto Pizza Recipes #5:

Taco Pizza

by I Breathe I'm Hungry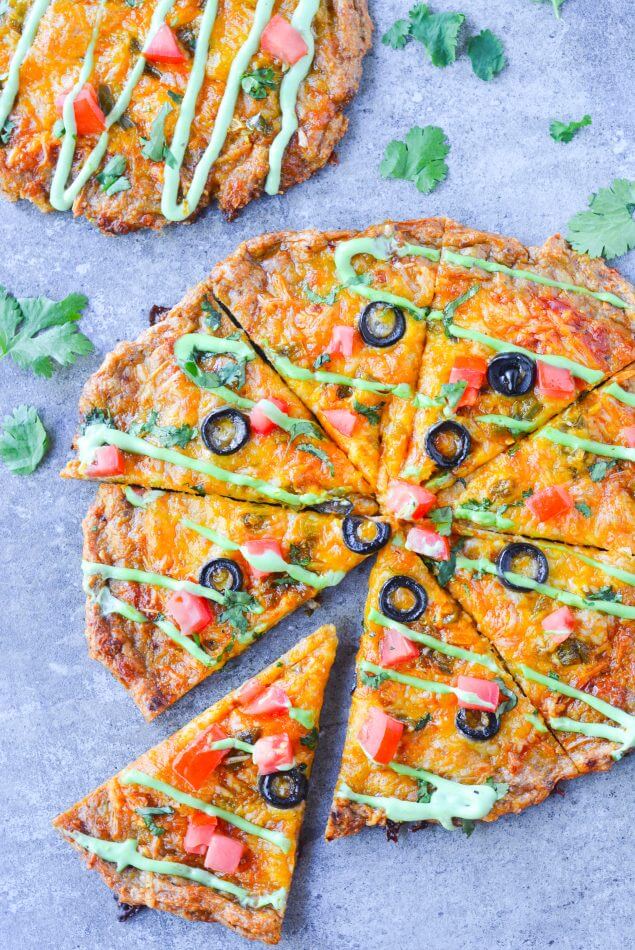 2g net carbs: Why would you put a taco on a pizza? Because it tastes great! This is a great pizza for any taco lover. With familiar taco toppings, like tomatoes, cheddar cheese, olives, jalapeño, cilantro, and keto taco seasoning, all layered on a chicken crust pizza. The taste is great and creates a nice alternative to not only a regular pizza, but also a taco.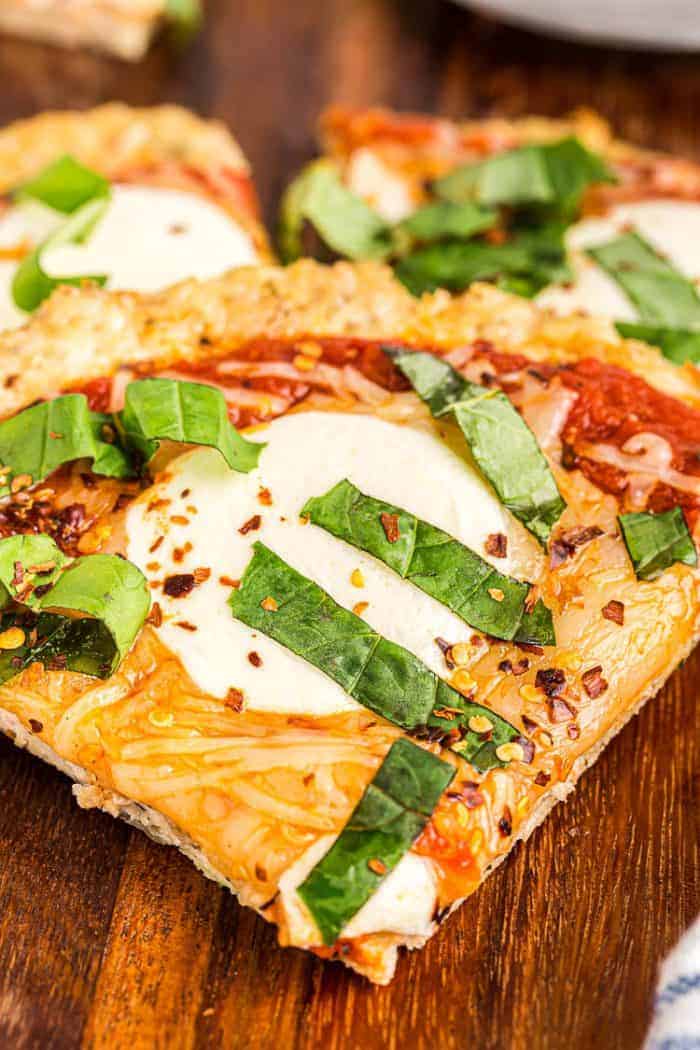 2g net carbs: This keto pizza recipe brings together a low carb chicken crust pizza with cheese. Easy to make, and delicious, this protein loaded pizza serves great for those who enjoy the amazing keto pizza chicken crust!

Keto Pizza Recipes #7:

Greek Pizza

by Peace Love and Low Carb
4.5g net carbs: The traditional pizza with a unique combination of artichokes, fire-roasted tomatoes, olives, feta cheese, onions, salami and basil. A familiar dish with a Greek spin on it. A wonderful low carb pizza dish!

More Keto Low Carb Italian Recipes
Many of the people who love Italian cuisine also make these Keto Italian Recipes:
Also, a tasty side dish you can serve with any keto pizza includes Keto Antipasto Salad and our Keto Jalapeño Popper Dip.
How to Use this Post for Meal Planning
Don't just check out these recipes and put them on your "I'll make them eventually" list. Make meal planning easier by committing them to your meal plan over the next month or two. How about trying one new keto pizza recipe from this list every 5-10 days?
Like This Post? Give it a Share!
I hope you enjoyed this low carb pizza recipe roundup! If you liked this post, I would so appreciate you giving it a share by using the social sharing icons. THANK YOU!