Want a super easy and crunchy keto snack? Give these Keto Pepperoni Chips with 0g net carbs a try!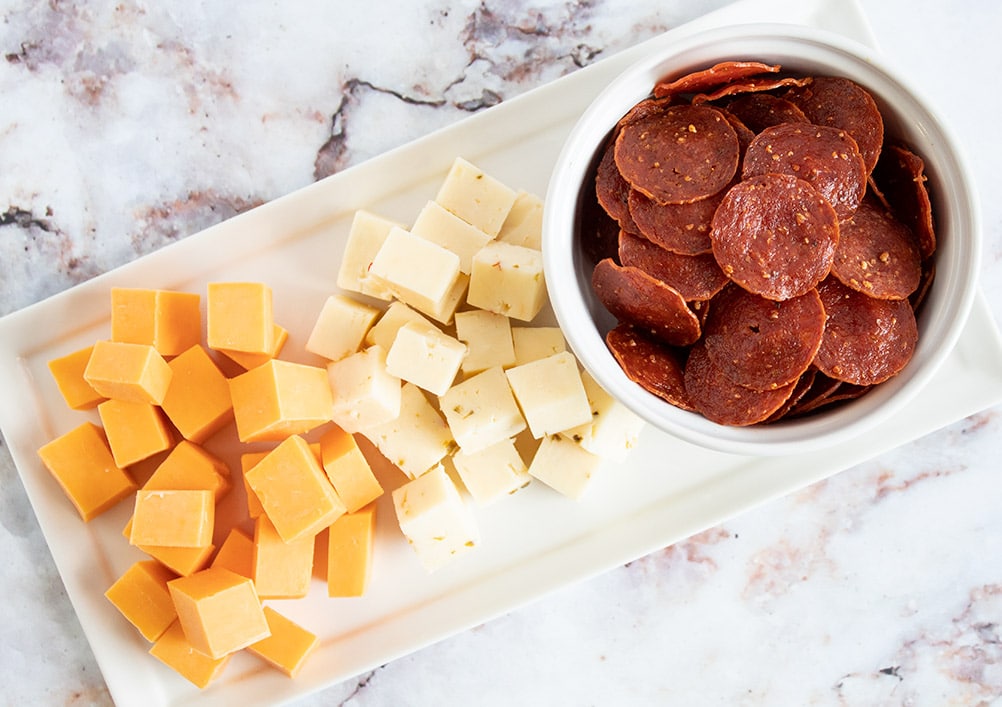 This post contains affiliate links, which means I'll make a small commission if you purchase through one of my links. Thank you for your support!
I'm all about the easy recipes, and many of you have told me you are too. You want recipes that are simple and come together quickly because you have better things to do than be in the kitchen all day… and I'm delivering with this Keto Pepperoni Chips recipe!
This recipe couldn't be easier and it is SO good. Keto Pepperoni Chips make for the perfect satisfying Keto Crunchy Snacks — kind of like the keto version of Pringles. 🙂 And when you pair these chips with some cheese, it's a little like eating pizza! For additional zero carb snacks check out our No Carb Snacks.
How to Make Keto Pepperoni Chips
Start by placing as much pepperoni as you can onto a large baking sheet. I used a 5oz package of thinly sliced pepperoni, and most of it fit. You can just eat the rest. 😉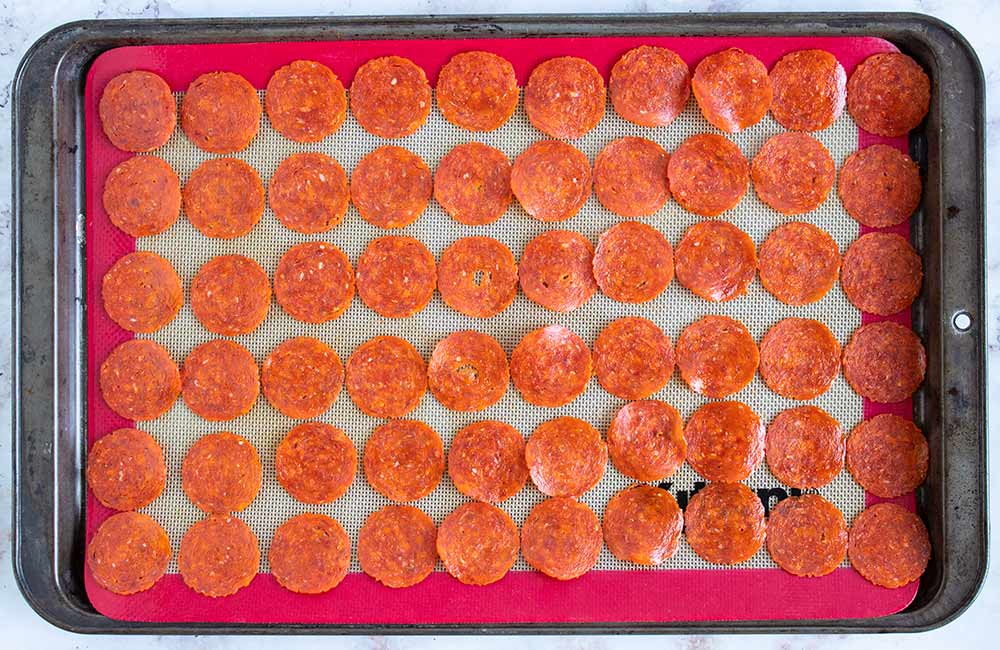 Tip: I highly suggest cooking these on a silicone baking mat for easy clean-up. Here is the one I use:
Pop the pepperoni in the pre-heated oven (400 F) for 10 minutes. When they're done, take them out and place them on a paper towel so they're not quite so greasy. (I know fat is good on the keto diet, but you don't want your chips toooo greasy.)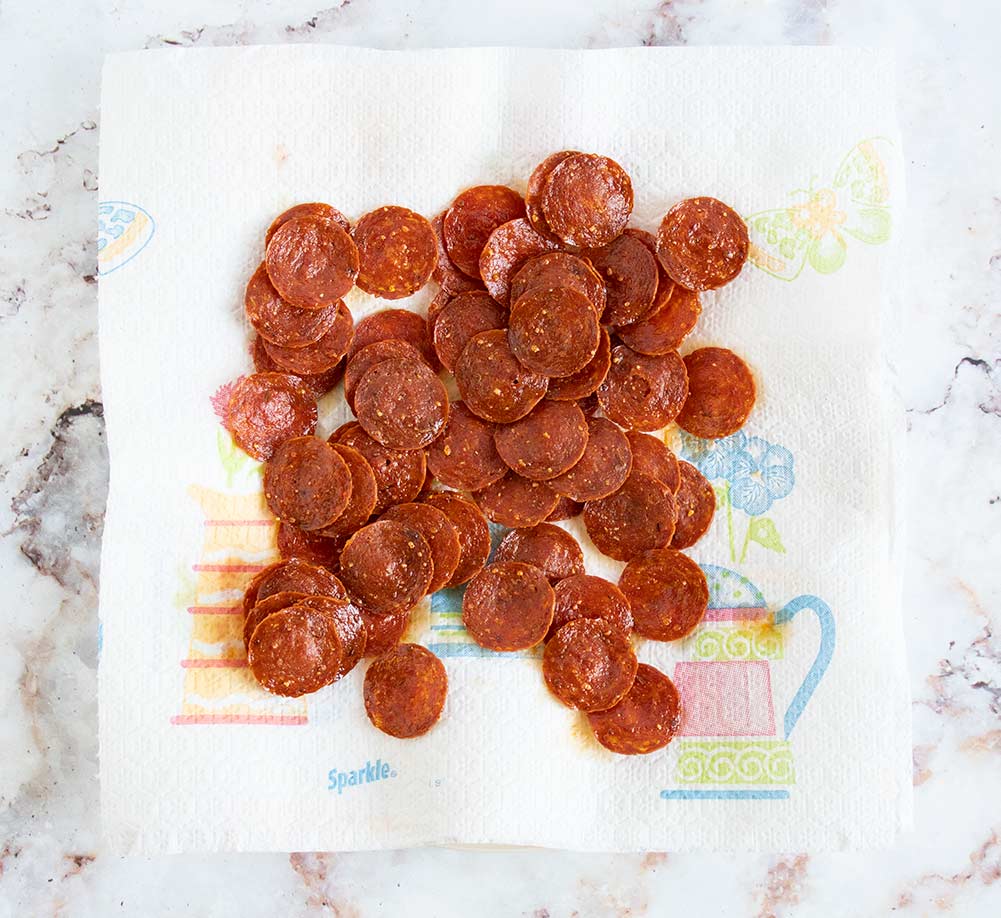 Then serve and enjoy! These taste great served with cheese.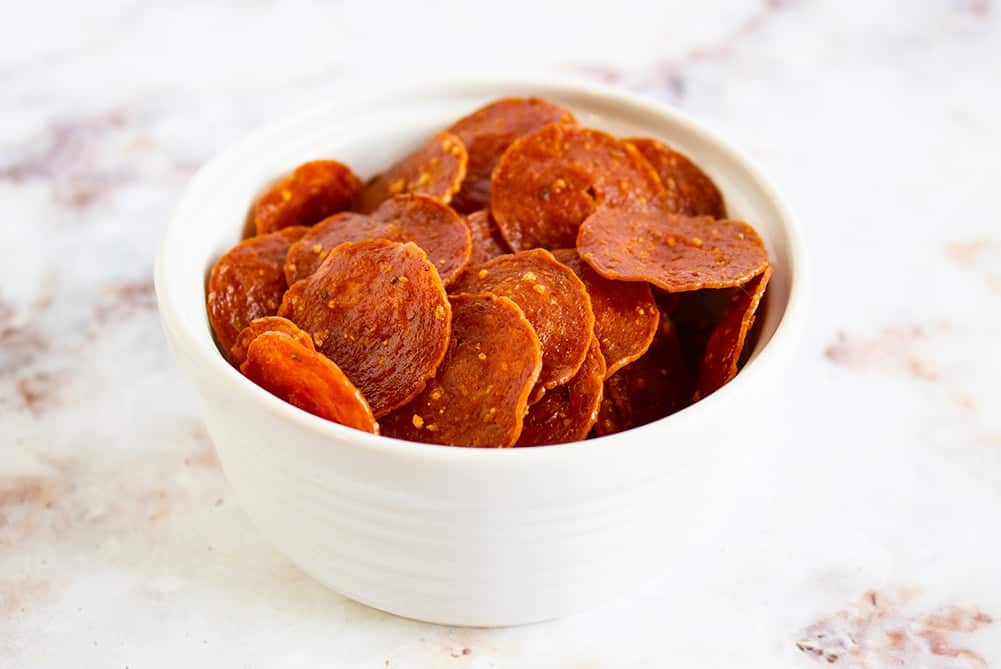 Why Keto Pepperoni Chips are Awesome
They're crunchy. The "crunch factor" is high on these pepperoni chips, and sometimes you just want something crunchy to munch on.
They're ridiculously easy to make. Put them in the oven, bake, then put them on a paper towel for a few minutes after they're done. That's all!
They're perfect for parties. If you're going to a party and want to bring a snack that you know you'll be able to eat, these pepperoni chips fit the bill. You'll probably want to bring a triple or quadruple batch though (see the next bullet point…)
Non-keto dieters will love them too. Put a bowl of these Keto Pepperoni Chips in front of any meat eater and I guarantee they'll be gone in no time at all.
Also, if you love pepperoni and Keto Pizza, try our fantastic Keto Pepperoni Pizza.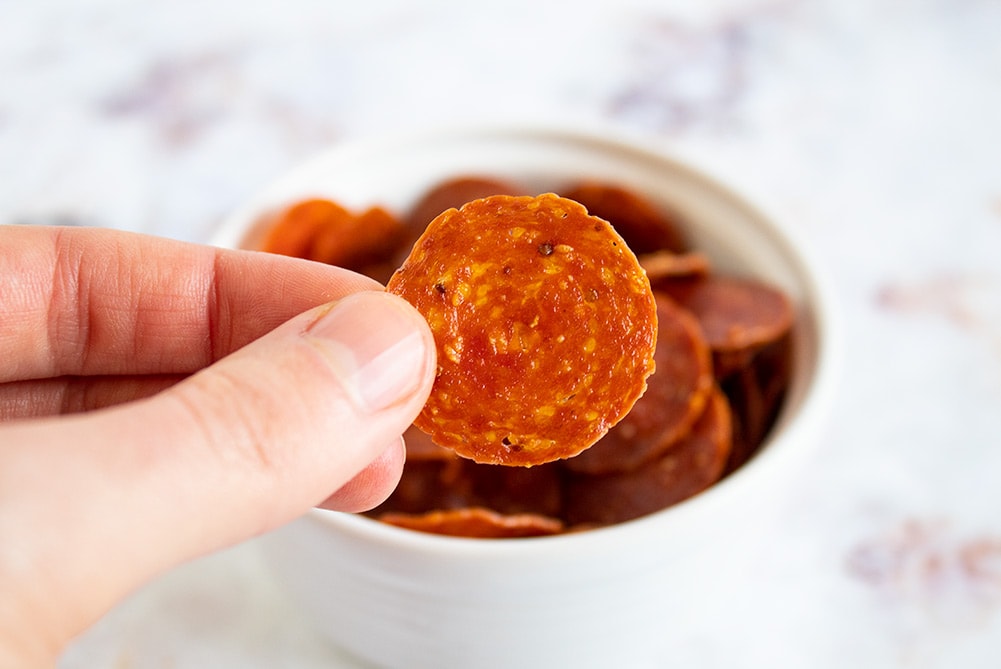 More Savory Keto Recipes
If you like savory keto recipes, how about trying my popular Keto Butter Burgers (Savory Fat Bomb), Keto Candied Bacon, Air Fryer Bacon or Keto Loaded Salad?
And if you're looking for another easy keto snack, check out my review (and coupon!) for Perfect Keto Bars.
(Aaand if a snack totally won't suffice and you need a keto meal ASAP, then you'll want to check out The Ultimate Keto McDonalds Guide – What to Order and What to Avoid!)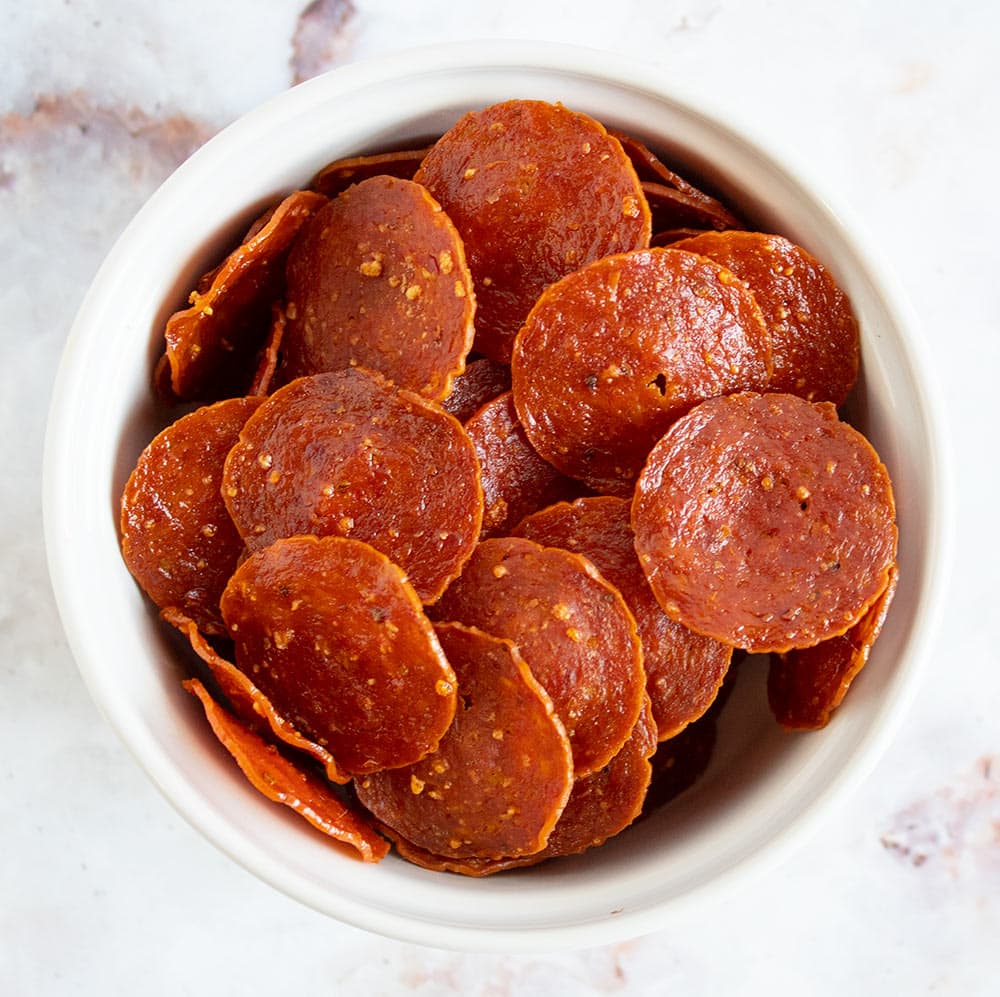 More Keto Crunchy Snacks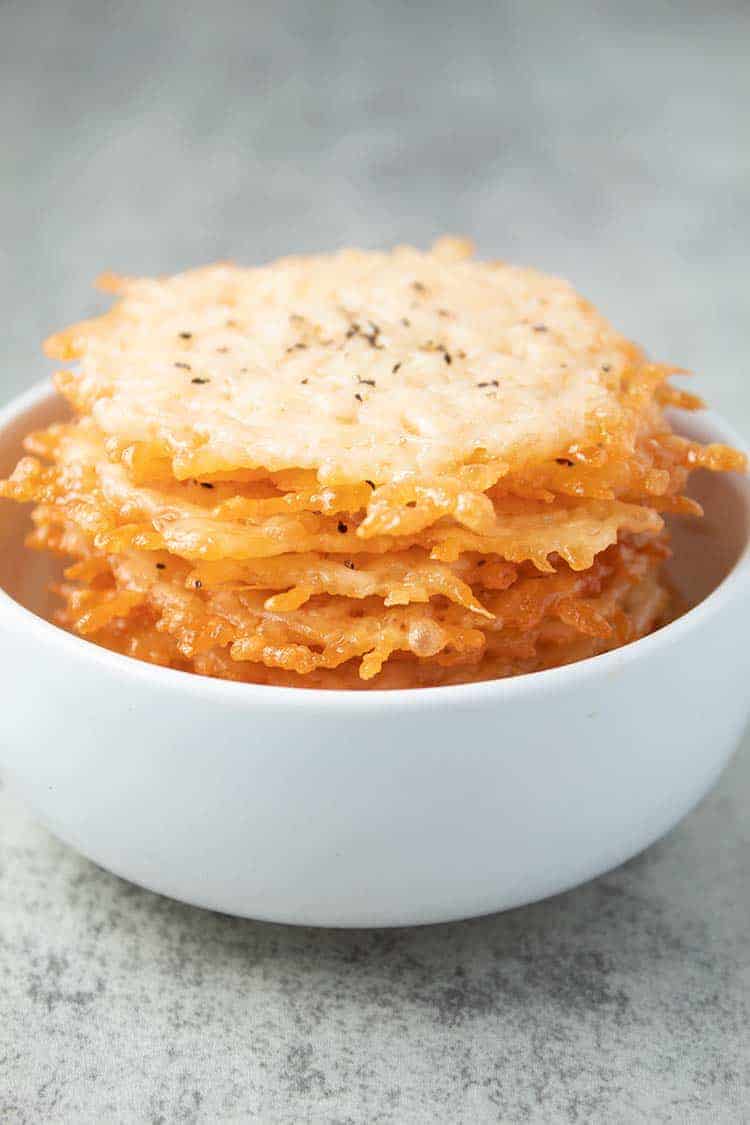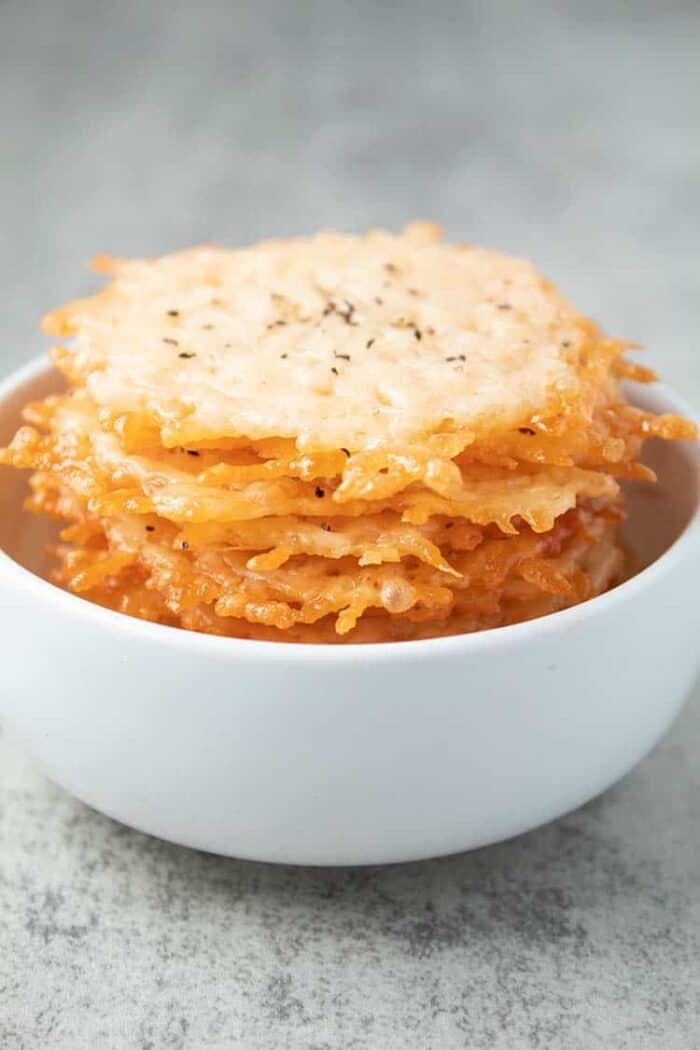 More Sweet Keto Snacks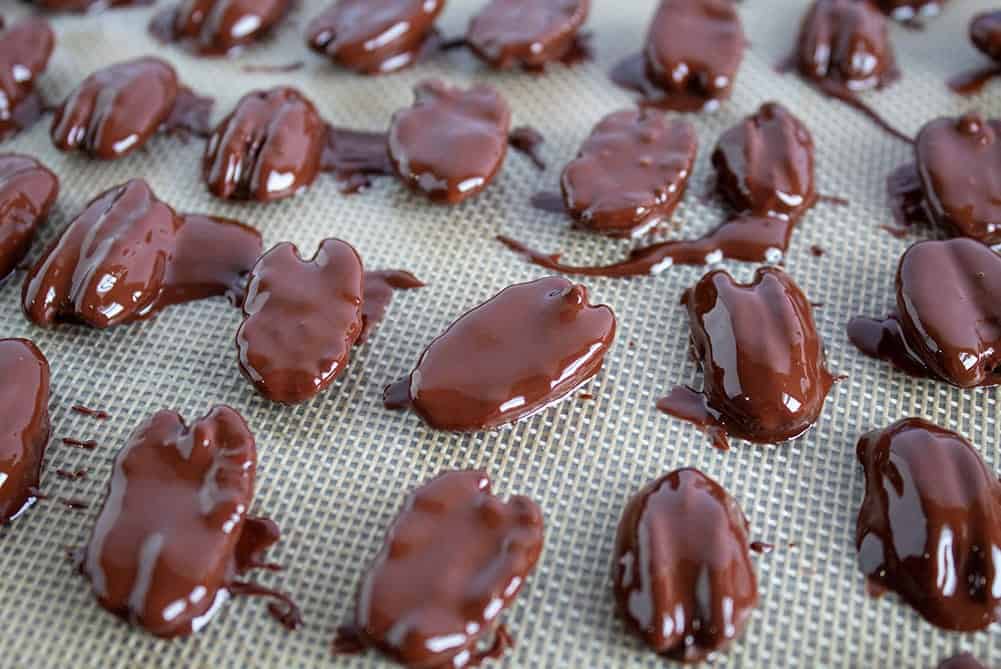 Like This Post? Give it a Share!
I hope you love these keto chips! If you liked this post, I would so appreciate you giving it a share by using the social sharing icons. THANK YOU!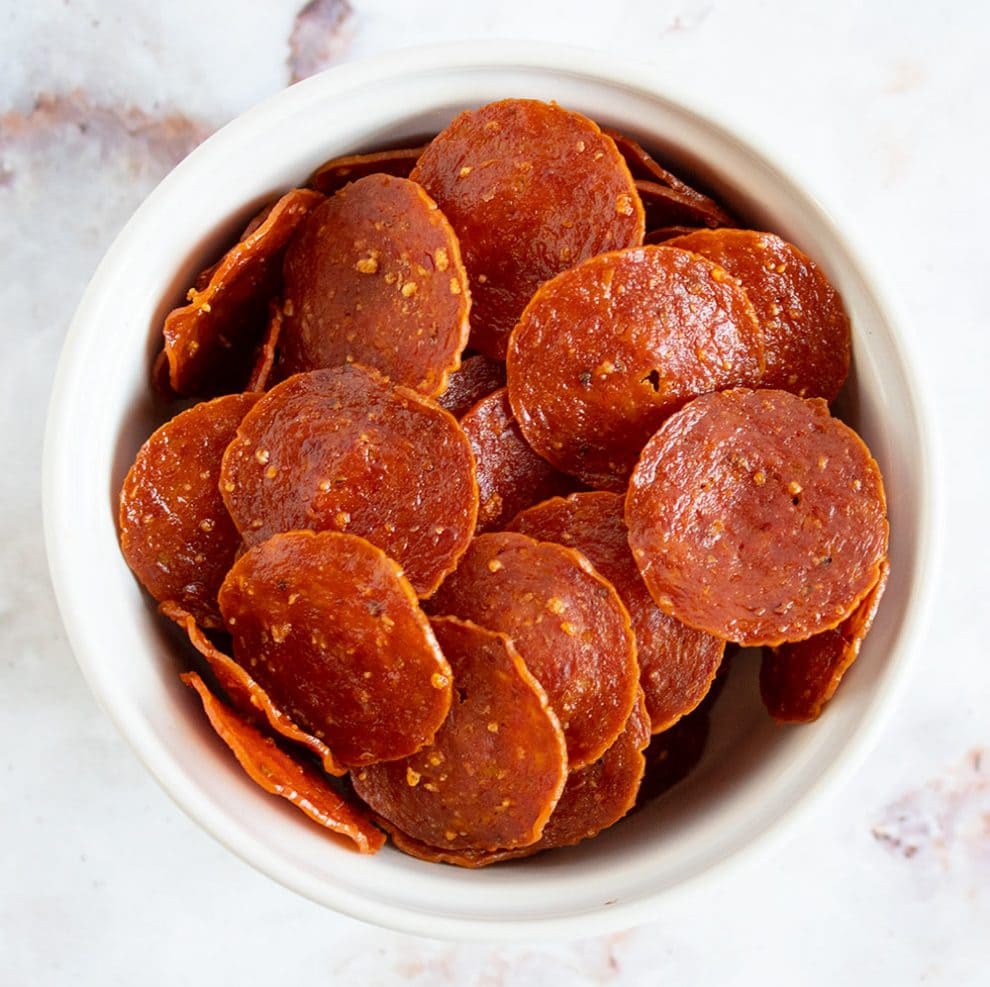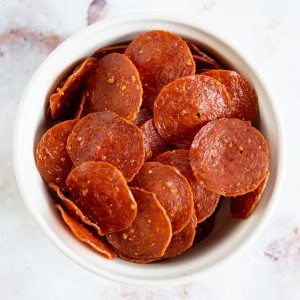 Ingredients
5

oz

package of thin-sliced pepperoni
Instructions
Add pepperoni to a large non-stick baking sheet (preferably one covered with a

silicone baking mat). Arrange the pepperoni

as close together as possible without overlapping.

You will be able to fit most of the pepperoni on the sheet, but not all.

Remove baking sheet from oven. On a large plate, place two paper towels. Add pepperoni to the top of the paper towels to allow some of the oil to absorb. (You can lightly blot the pepperoni if desired.)

Serve as a standalone snack or with cheese, etc.
Notes
Nutrition facts note: I've calculated the nutrition facts for this recipe based on 4.5 oz pepperoni because you will likely have a bit leftover that isn't baked. Also, the fat grams are a bit off because some of the oil will absorb into the paper towels, so you may want to adjust the fat down slightly if you're counting macros.
You can also make these with turkey pepperoni!
Nutrition Facts
Keto Pepperoni Chips
Amount Per Serving
Calories 157
Calories from Fat 126
% Daily Value*
Fat 14g22%
Cholesterol 33mg11%
Sodium 561mg24%
Potassium 88mg3%
Carbohydrates 0g0%
Protein 7g14%
Vitamin C 0.2mg0%
Calcium 7mg1%
Iron 0.5mg3%
* Percent Daily Values are based on a 2000 calorie diet.
Nutrition Disclaimer


Nutrition facts are included as a courtesy only. They are accurate to the best of our knowledge based on the ingredients and brands used, but their accuracy is not guaranteed. If applicable, sugar alcohols have already been removed from the total carb count.