In this post, I'm going to share with you the recipe for what I call "The Best Keto Iced Coffee." It requires only four ingredients and makes amazing iced coffee!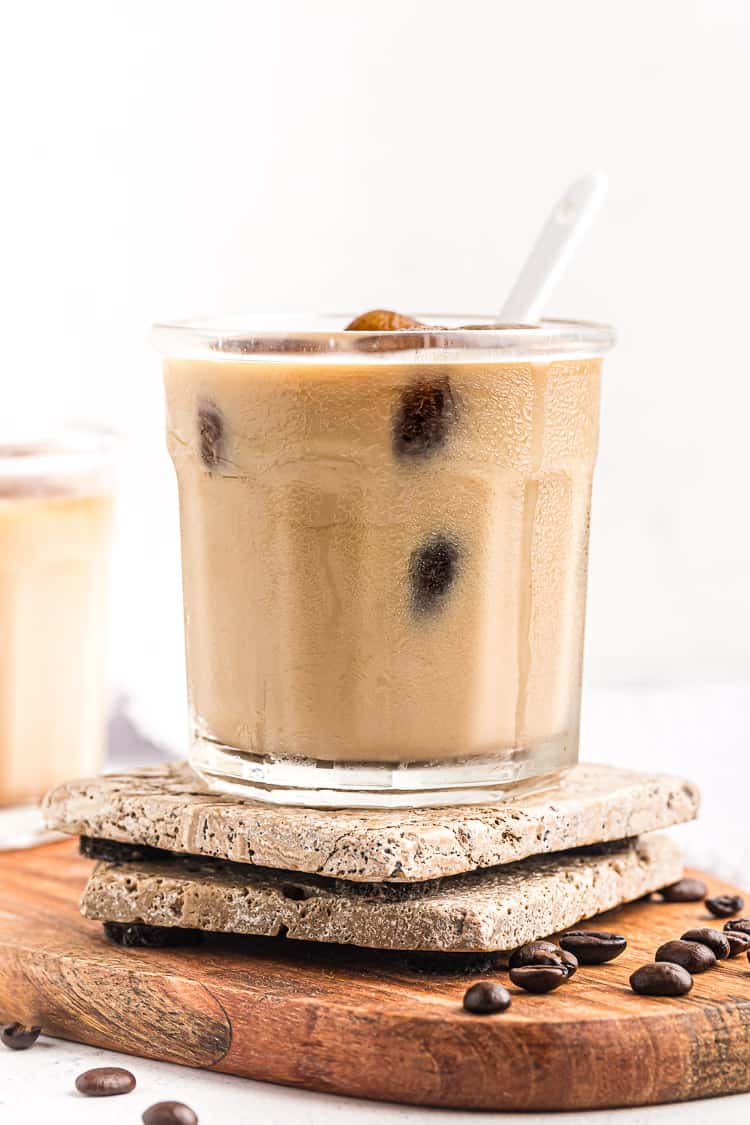 Raise your hand if you want a glass of that delicious iced coffee in the photo above! 🙋‍♀️ I confess I just can't resist a good glass of iced coffee, especially a glass of this coffee that I've named The Best Keto Iced Coffee. Give it a try and enjoy!
The Star of the Show: Coffee Cubes
If you've never made iced coffee cubes before, your life is about to change forever. What's so great about iced coffee cubes? They:
Deliver coffee to your iced coffee (of course).
Make your iced coffee COLD.
Keep your iced coffee from being diluted by traditional ice cubes.
Are fun to make!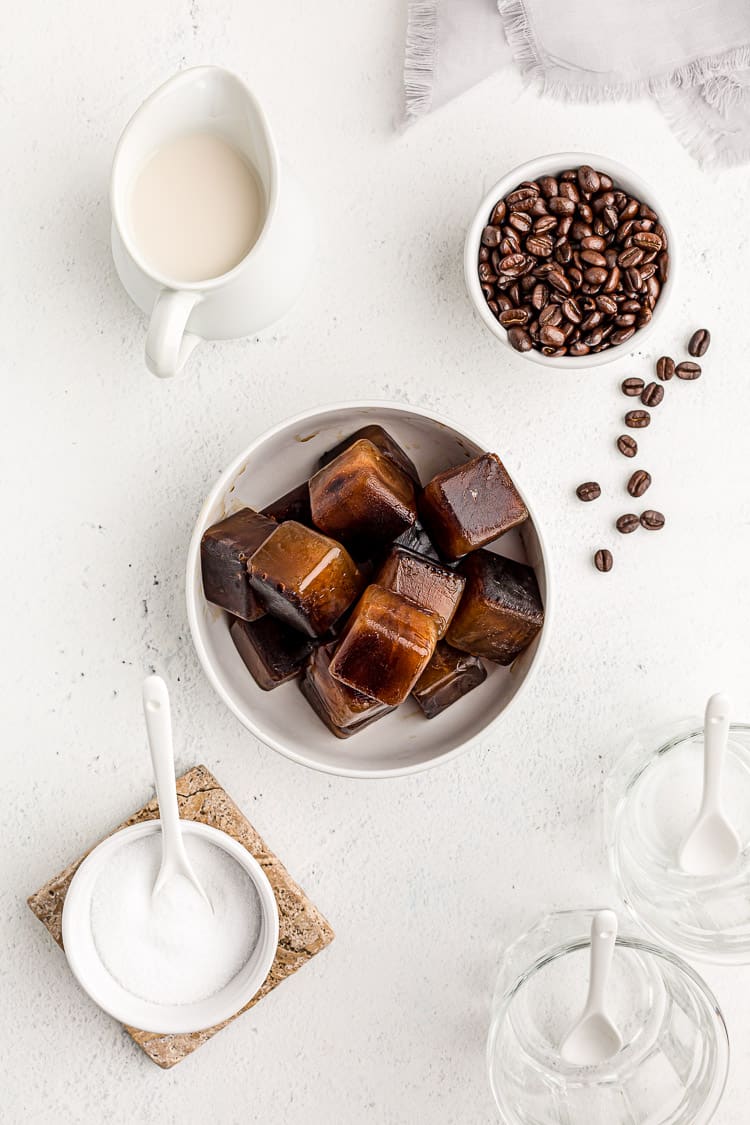 How to Make Coffee Cubes
Obviously, making coffee cubes entails pouring coffee into an ice cube tray. But there are a few rules to follow:
Add COOLED coffee; do

not

pour steaming hot coffee into ice cube trays. Even if your trays don't melt, who knows if the plastic will leach into your coffee. Better safe than sorry!
12 oz coffee will fit perfectly in a standard ice cube tray, making each cube approximately .75 oz coffee.
That said, it doesn't matter what size ice cube tray you use. Just know approximately how much coffee you've poured into the tray so you know how many ice cubes to use. (I confess I used a non-standard tray for these photos so I could make pretty square ice cubes!)
You can make your coffee cubes sweetened or unsweetened. It's up to you if you want to add keto-friendly sweetener to your coffee cubes or to your actual iced coffee drink. You'll actually want to

over-sweeten

a bit because whatever you sweeten will be diluted slightly in the final drink.
How to Make The Best Keto Iced Coffee
Once you've made your coffee cubes, add your desired number of cubes to a glass.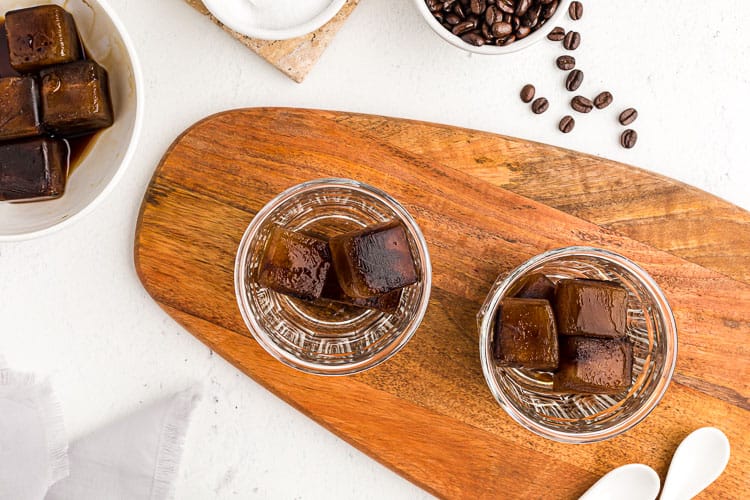 Then, pour over nut milk of choice (almond or coconut milk from a carton are your best choices) and heavy whipping cream. If needed, add keto-friendly sweetener to taste. Give your iced coffee a good stir or shake (if your glass has a lid!) and you're good to go!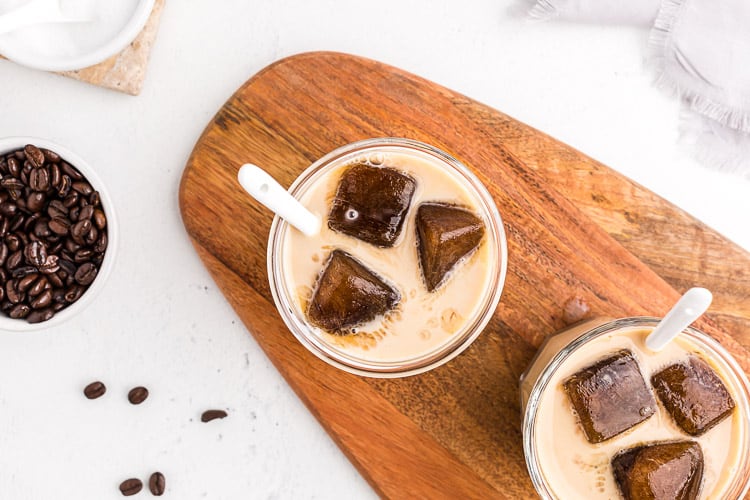 How to Enjoy Your Keto Iced Coffee
When you first mix your keto iced coffee, it will be a lot of milk and not much coffee. Don't start to gulp it down right away; give the coffee cubes time to melt! This iced coffee recipe is best savored over time. Feel free to stir or shake it a few more times as you drink it.
Want to Put Some SERIOUS Pep in Your Step?
Then you'll want to try my other popular keto coffee recipe, Keto Crack Coffee!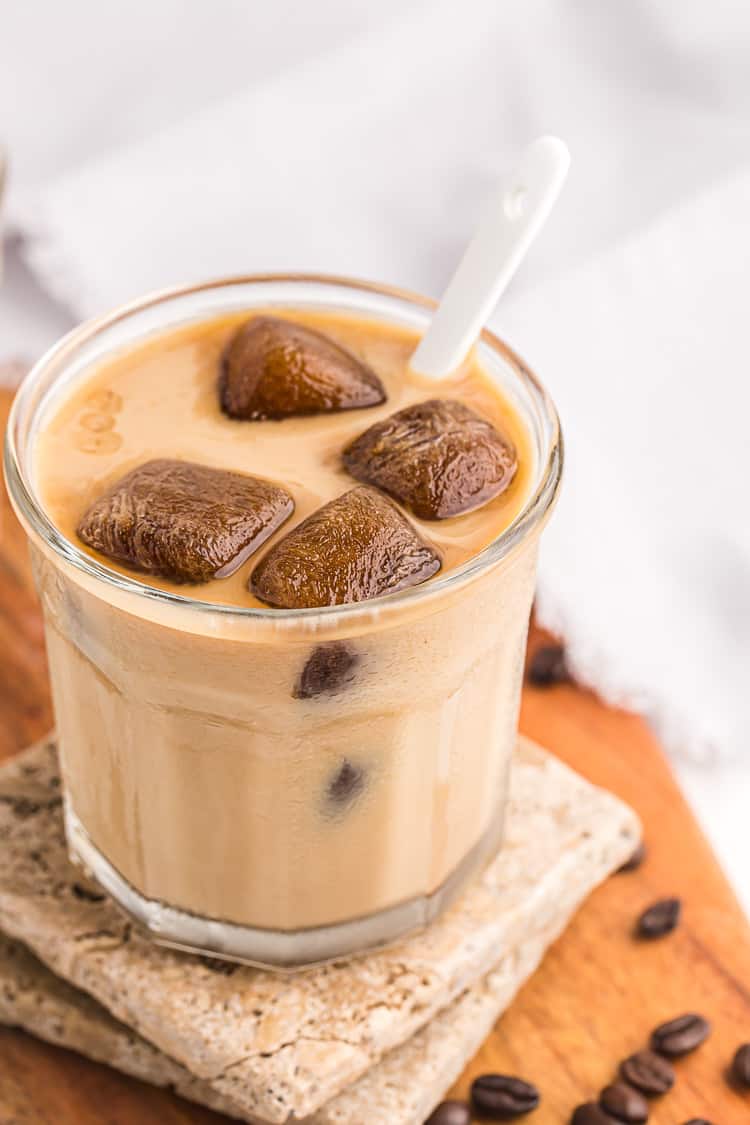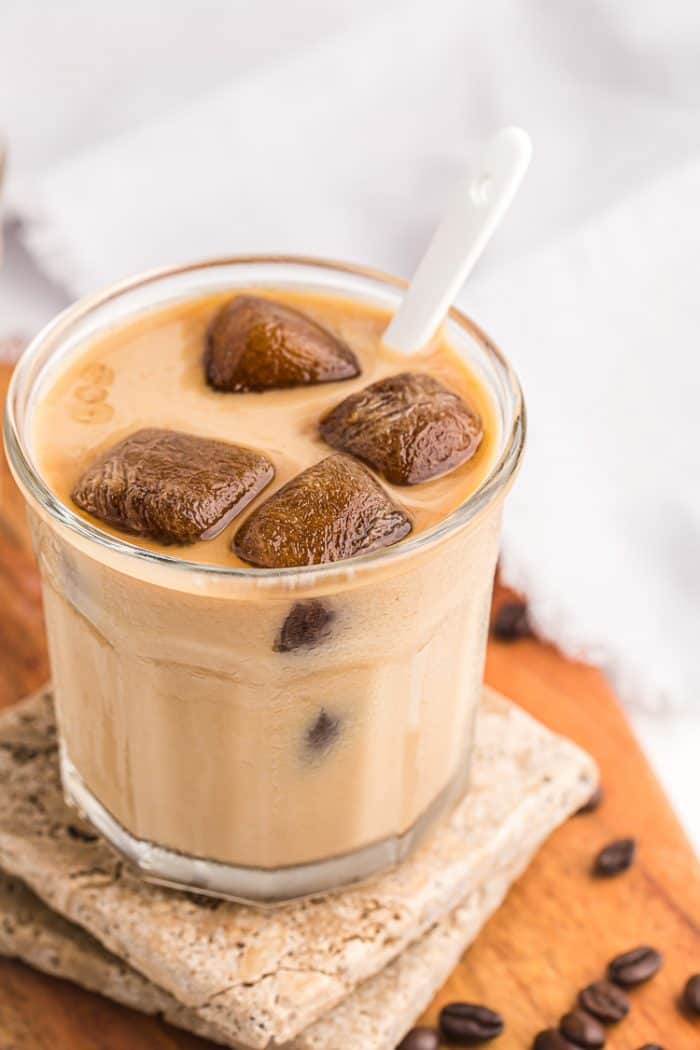 Like This Post? Give it a Share!
I hope you love this easy low carb iced coffee recipe! If you liked this post, I would so appreciate you giving it a share by using the social sharing icons. THANK YOU!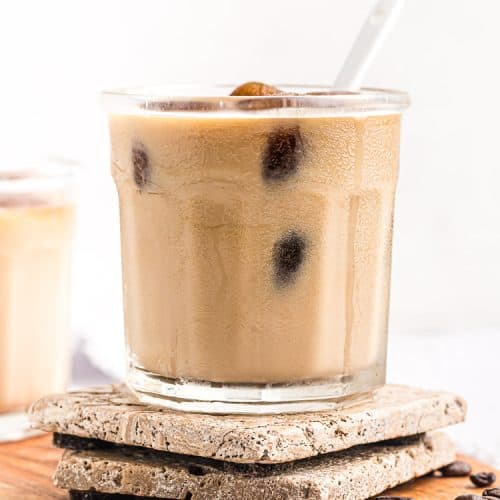 The Best Keto Iced Coffee
This 4-ingredient keto iced coffee is a yummy way to enjoy your iced coffee!
Print
Pin
Rate
Ingredients
8

oz

coffee

frozen into cubes

1 1/4

cup

unsweetened nut milk of choice

almond or coconut milk from a carton are good choices

1/4

cup

heavy whipping cream

keto-friendly sweetener to taste
Instructions
Make coffee cubes by freezing coffee in an ice cube tray. You can either sweeten your coffee before you add it to the ice cube tray, or you can add your sweetener when you make the final drink.

Add coffee cubes to a glass, then pour in nut milk and heavy whipping cream. If desired, add keto-friendly sweetener.

Stir the iced coffee, or shake it if using a container with a lid (like a canning jar).

Allow the coffee cubes to melt and infuse a bit before beginning to enjoy your coffee.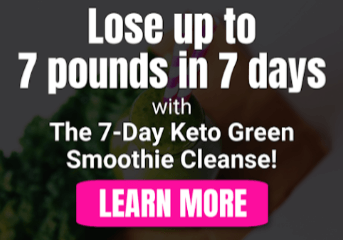 Notes
Vanilla-flavored nut milk, especially vanilla almond milk, is especially good in this! Make sure you're using unsweetened.
For lots more helpful tips, see the post!
Nutrition Facts
The Best Keto Iced Coffee
Amount Per Serving
Calories 251
Calories from Fat 234
% Daily Value*
Fat 26g40%
Cholesterol 82mg27%
Sodium 433mg19%
Potassium 156mg4%
Carbohydrates 3g1%
Protein 3g6%
Calcium 414mg41%
Vitamin A 875IU18%
* Percent Daily Values are based on a 2000 calorie diet.
Nutrition Disclaimer


Nutrition facts are included as a courtesy only. They are accurate to the best of our knowledge based on the ingredients and brands used, but their accuracy is not guaranteed. If applicable, sugar alcohols have already been removed from the total carb count.