This post may contain affiliate links, which means I'll make a small commission if you purchase through one of my links at no extra cost to you. See my Terms of Use.
Discount automatically applied at checkout: 15% off 1 box, 20% off 2 boxes, 30% off 3+ boxes!
Perfect Keto has launched keto cookies in two absolutely delicious flavors: Chocolate Chip and Double Chocolate! 🍪
They're being launched with a launch week discount. (15% off 1 box, 20% off 2 boxes, 30% off 3+ boxes)
You don't have to step foot in a grocery store to buy them (thank goodness for online ordering!).
Each box of cookies contains 12 packages of cookies, and each package of two cookies contains only 4g net carbs, 6g protein (including grass-fed collagen), plus 19g of high-quality fats (from almonds, coconut oil, and grass-fed butter).
Chocolate Chip Cookies
Here is the net carb count (allulose is not represented in the label above):
Double Chocolate Cookies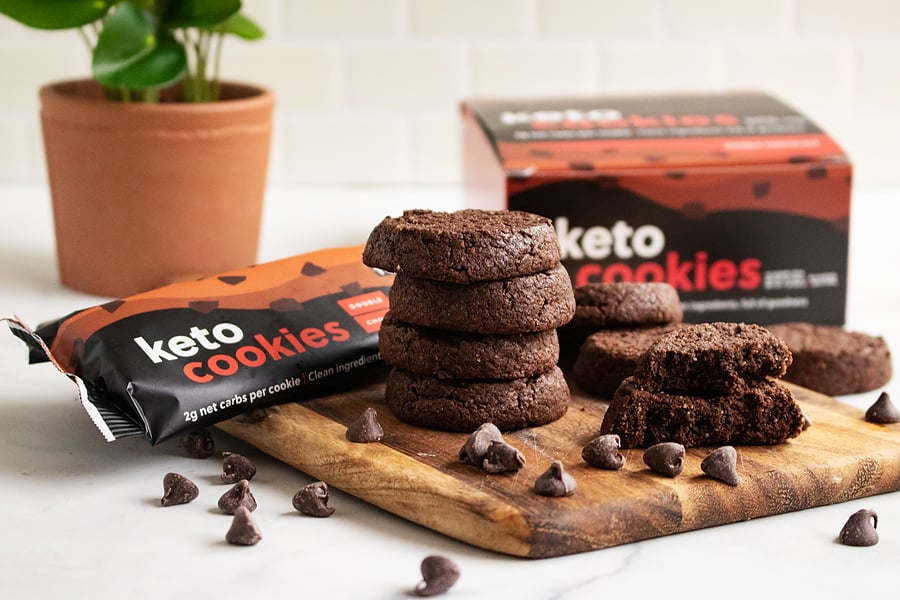 Here is the net carb count (allulose is not represented in the label above):
My Perfect Keto Cookies Review
All of that sounds great, but I know what you're thinking: "Do they actually taste good?"
Perfect Keto sent me a box of each a few weeks ago, and I admit they were not at all what I expected. I'm a soft/chewy cookie kind of gal, but I (for whatever reason) thought these were going to be crunchy chocolate chip cookies like Chips Ahoy.
Imagine my delight when I pulled out two lovely soft cookies from a package! 😍 In fact, the Chocolate Chip Cookies remind me so much of my absolute favorite cookie pre-keto: Keebler Soft Batch Cookies. They are chewy and perfectly sweet and oh-so-fabulous.
And then you have the Double Chocolate Cookies! Chocolate Chip Cookies will always have my heart, but these are wonderful too and I highly recommend them (especially if you have a serious chocolate craving!).
Get the Launch Week Discount!🍪
From Monday, March 30, until 11:59 PM PST on Friday, April 3, you can grab the following discount on your purchase of keto cookies:
Get 15% off 1 box
Get 20% off 2 boxes
Get 30% off 3+ boxes
Plus FREE shipping in the U.S.!
No discount code is needed (just add the cookies to your cart and the discount will automatically apply), and you can mix n' match your desired flavors.
One last thing: these cookies contain a blend of two keto-friendly sweeteners: erythritol and allulose. Allulose is an exciting up-and-coming keto-friendly sweetener that isn't a sugar alcohol (so it won't be listed on the label under "sugar alcohols"), but it can be subtracted from the net carb count because, like sugar alcohols, it doesn't raise your blood sugar. Plus, it has no aftertaste!
​Want to learn more about allulose? Check out this comprehensive guide!