This post may contain affiliate links, which means I'll make a small commission if you purchase through one of my links at no extra cost to you. See my Terms of Use.
Perfect Keto has launched keto cookies in three absolutely delicious flavors: Chocolate Chip, Peanut Butter and Double Chocolate! 🍪
They've given us an exclusive discount. (15% off 1 box, 20% off 2 boxes, 30% off 3+ boxes)
Each box of cookies contains 12 packages of cookies, and each package of two cookies contains only 4g net carbs, 6g protein (including grass-fed collagen), plus 19g of high-quality fats (from almonds, coconut oil, and grass-fed butter).
Keto Cookies are a must have when you are trying to eat healthier.
How to Buy Perfect Keto Cookies 🍪
Make sure to use one of the exclusive coupon codes below to lock in a great discount! 🙂
Perfect Cookies Coupon Codes 🍪
Use code FSFCOOKIES15 for 15% off 1 box
Use code FSFCOOKIES20 for 20% off 2 boxes
Use code FSFCOOKIES30 for 30% off 3+ boxes
+ FREE shipping in the US
Perfect Keto coupon codes expire Sunday, June 28 at 11:59 PM PST.
Keto Chocolate Chip Cookies
Here is the net carb count (allulose is not represented in the label above):

Learn to make your own delicious Keto Chocolate Chip Cookies and Keto Peanut Butter Chocolate Chip Cookies here.
Keto Peanut Butter Chocolate Chip Cookies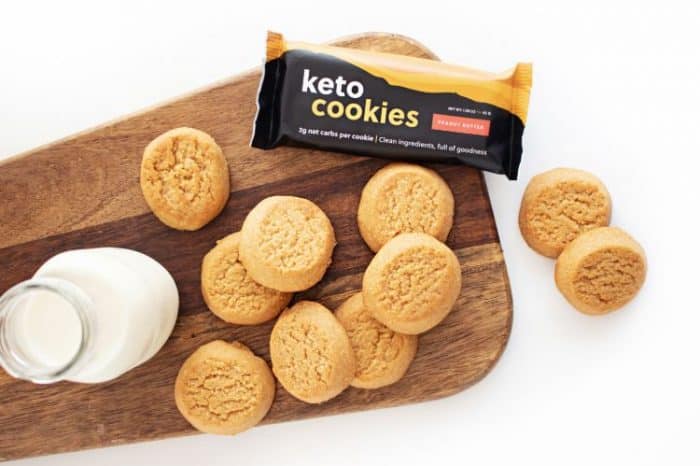 Here is the net carb count (allulose is not represented in the label above):
Keto Chocolate Cookies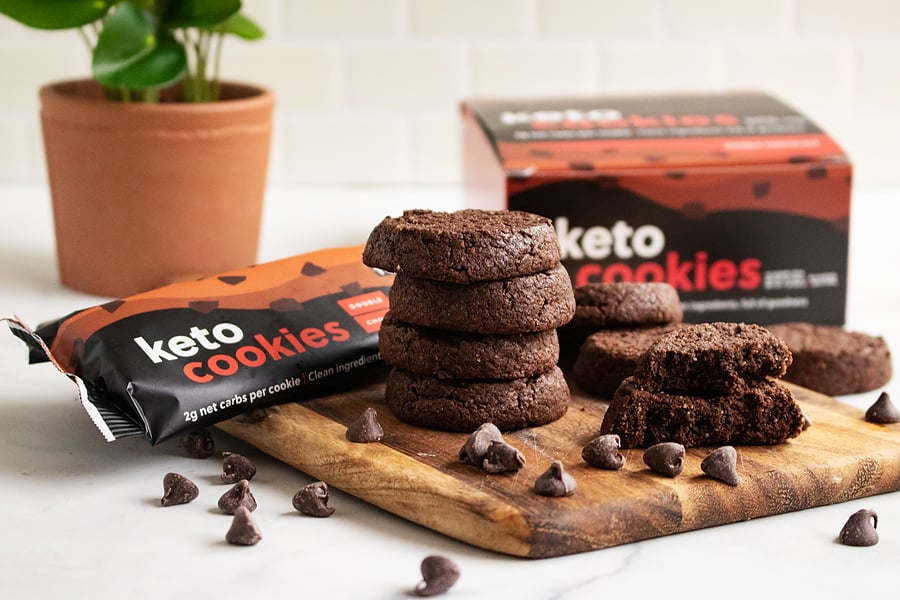 Here is the net carb count (allulose is not represented in the label above):
My Perfect Keto Cookies Review
All of that sounds great, but I know what you're thinking: "Do they actually taste good?"
Perfect Keto sent me a box of each a few weeks ago, and I admit they were not at all what I expected. I'm a soft/chewy cookie kind of gal, but I (for whatever reason) thought these were going to be crunchy chocolate chip cookies like Chips Ahoy.
Imagine my delight when I pulled out two lovely soft cookies from a package! 😍 In fact, the Chocolate Chip Cookies remind me so much of my absolute favorite cookie pre-keto: Keebler Soft Batch Cookies. They are chewy and perfectly sweet and oh-so-fabulous.
The Peanut Butter Cookies are my second favorite. Soft, chewy, and peanut buttery. Yum!
And then you have the Double Chocolate Cookies. Chocolate Chip Cookies will always have my heart, but these are wonderful too and I highly recommend them (especially if you have a serious chocolate craving!).
One last thing: these cookies contain a blend of two keto-friendly sweeteners: erythritol and allulose. Allulose is an exciting up-and-coming keto-friendly sweetener that isn't a sugar alcohol (so it won't be listed on the label under "sugar alcohols"), but it can be subtracted from the net carb count because, like sugar alcohols, it doesn't raise your blood sugar. Plus, it has no aftertaste!
​Want to learn more about allulose? Check out this comprehensive guide!
Recipes You Can Make with Perfect Keto's Cookies
While eating Perfect Keto's cookies straight out of the package is definitely a fantastic way to eat them (they're an ideal grab-and-go snack or dessert), you can use them to make a wide variety of recipes such as:
Also, if you are looking to make homemade cookies then try our convenient to make and amazing keto cookie casserole, as well as these other flavors we have created. The cookie casserole is the best tasting time-saving cookie you will ever eat!
If you are like me and you make cookies for the holidays, try our seasonal favorites like our Keto Snowball Cookie, Keto White Chocolate Macadamia Nut Cookies and Keto Pumpkin Cookies. Each of these cookie recipes are simply amazing! Also, check out our Keto Thanksgiving menu for awesome holiday recipe ideas.
Happy cookie-eating!
ChocZero Coupon
Remember to use your discount ChocZero Coupon for any chocolate chips and syrups you may need for cookie making.