Looking for a keto-optimized bar that tastes great, is full of flavor, and won't kick you out of ketosis? Check out my review of Perfect Keto's Keto Bars! I'll also show you how to save between 15% and 37% on your bars purchase.
This post contains affiliate links, which means I'll make a small commission if you purchase through one of my links, at no extra cost to you. Additionally, Perfect Keto provided me with a box of keto bars, but all opinions are my own. Thank you for your support!
Confession: As much as I love whipping up keto treats in my kitchen, sometimes I just want something convenient. I want to grab something pre-packaged from my pantry, throw it in my purse, and know that I can trust the ingredients.
I love what keto has done for my body and my life, and I am willing to make sacrifices (like that time I carried around an avocado in my purse…), but I'm also human and I want to be lazy sometimes! 😉
Needless to say, I was thrilled when my favorite keto company, Perfect Keto, announced that they would be creating packaged bars that were optimized for the keto diet. They:
Are research-based. It took Dr. Anthony Gustin of Perfect Keto one year and 18 different iterations to create a bar that won't kick you out of ketosis!
Do

not

contain artificial sweeteners, dairy, gluten, soy, or corn.
Have keto-optimized macros. Each bar is low in net carbs (between 2g and 3g) and a great balance of protein and fat. Because of this, they're extremely satisfying and will keep you full for hours.
Taste amazing! They are rich, flavorful, and (thankfully!) lacks that syrupy-sweetness that makes so many energy bars taste like protein-filled candy bars. Keep reading for my favorite flavor!
Needless to say, I'm in love!
If you want to skip the rest of this review and grab some Perfect Keto Bars for yourself, use this link and enter coupon code FORGETSUGARFRIDAY at checkout. You can get 15% off UNLIMITED boxes as long as you order them all in the same order!
If you want to learn how to save even more than 15%, scroll down to the section "How to Get Perfect Keto Bars at a Massive Discount!" at the end of the post.
What Flavors of Perfect Keto Bars are Available?
Perfect Keto currently offers six flavors of keto bars with more on the way! The available flavors:
It's hard to pick a favorite out of all six flavors (I love and eat all of them!), but if I had to choose, my line-up is like this:
If I were stranded on a

desert

island

and could only have one flavor available to me, it would be Chocolate Chip Cookie Dough.
If a ship came to rescue me, I'd be thrilled if they brought a box of both Birthday Cake and Salted Caramel with them.
Once I got back to civilization, I'd be hoping that I could quickly locate boxes of Almond Butter Brownie and Cinnamon Roll.
After I was all settled in, I'd eventually make sure I grabbed a box of Lemon Poppyseed.
Once you pick up all six, I'd love to know your desert island flavor line-up. 🙂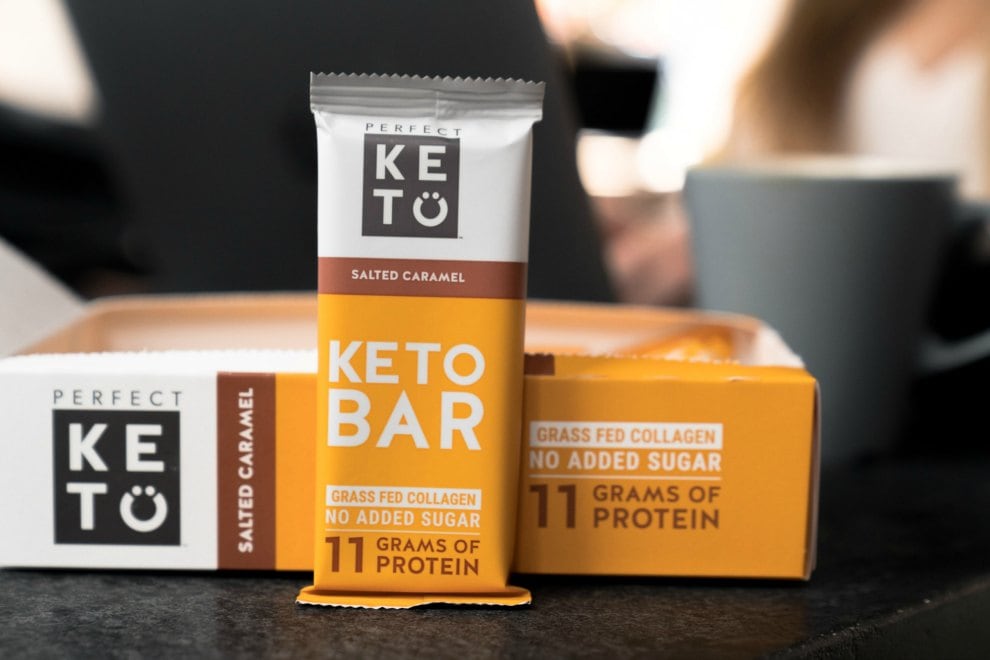 How Many Net Carbs are in the Keto Bars?
Birthday Cake
3g net carbs
17g fat
13g protein
230 calories
Chocolate Chip Cookie Dough
2g net carbs
18g fat
11g protein
210 calories
Cinnamon Roll
3g net carbs
17g fat
11g protein
220 calories
Almond Butter Brownie
3g net carbs
19g fat
10g protein
230 calories
Salted Caramel
2g net carbs
18g fat
11g protein
230 calories
Lemon Poppyseed
2g net carbs
18g fat
11g protein
230 calories

Because of their nutrition profile, Perfect Keto bars make an excellent grab-and-go meal or snack! (Case-in-point: I helped a family member move this past weekend and it was an allllll day event. I had a Perfect Keto Bar with me and it sustained me through the entire process!)
What are the Ingredients in Perfect Keto Bars vs. Other Bars?
Here are the ingredients in Perfect Keto's Chocolate Chip Cookie Dough Bars:
Organic Almond Butter, Soluble Tapioca Fiber*, Grass Fed Collagen Protein, 100% Cacao Chocolate Chips, Cacao Butter, Sunflower Lecithin**, MCT Oil, Organic Vanilla Extract, Natural Flavors, MCT Oil Powder, Sea Salt, Monk Fruit Extract, Stevia.
*Uniquely formulated to reduce the risk of increased blood sugar
**NOT soy lecithin like a lot of companies!
By contrast, here are the ingredients in a Pure Protein Chewy Chocolate Chip bar. This is a bar I used to love:
Protein Blend (Whey Protein Concentrate, Whey Protein Isolate, Milk Protein Isolate), Chocolate Flavor Coating (Maltitol, Fractionated Palm Kernel Oil, Whey Protein Concentrate, Cocoa (processed with Alkali), Calcium Carbonate, Natural Flavors, Soy Lecithin, Sucralose), Hydrolyzed Collagen, Glycerin, Soy Crisps (Soy Protein Isolate, Tapioca Starch, Salt), Milk Chocolate Drops (Sugar, Whole Milk Powder, Chocolate Liquor, Cocoa Butter, Milk Fat, Soy Lecithin, Natural Vanilla Flavor), Maltitol Syrup, Water, Maltodextrin, Soy Protein Isolate, Canola Oil, Natural Flavors, Cocoa Powder, Sucralose, Xanthan Gum, Peanut Flour, Soy Lecithin, Almond Butter.
YIKES! That is a whole lot of sugar, soy, palm oil, and artificial sweeteners… in a "pure" protein bar!
How Do Perfect Keto's Bars Impact Blood Sugar vs. Other Bars?
This is a must-watch video if you are even mildly interested in keto, metabolism, and snack food. If you don't have time to watch it right now, the short version is:
Quest and Dang bars spiked his glucose by 20-30 points.

Bulletproof bars spiked it by 40 points for 5 hours.
Perfect Keto Bars increased his glucose by 3 points. That's about as much as you would expect from standing up or sitting down.
How Can You Use These Keto Energy Bars?
These bars are ideal for any time you need an on-the-go snack or meal or whenever you're in a time crunch and need something keto-friendly fast. Think…
Pre-workout. A bar about an hour before a workout. Even better if combined with Perform Pre-Workout!
In your purse. You'll never find yourself stopping at a gas station desperately looking for a bag of pork rinds or pecans when you have a Perfect Keto Bar in your purse at all times!
Camping. I get so many questions about what to pack on camping trips. Perfect Keto Bars are perfect for camping!
As dessert. Slather a keto bar with some Perfect Keto nut butter and call me from heaven (haha).
As on-the-go fuel. Take one with you when you leave the house in a hurry.

How Much Do These Low Carb Bars Cost vs. Other Bars?
First, let me show you the price of some other energy and protein bars out there right now. I pulled these from GNC's website:
Amazing Grass Protein Superfood: $2.99 per bar, available in a box of 12
Chef Robert Irvine's Fit Crunch: $2.79 per bar, available in a single bar
Grenade Carb Killa (yes, it's called that…): $2.50 per bar, available in a box of 12
MuscleTech Protein Candy Bar (at least they're not hiding that it's a candy bar!): $2.50 per bar, available in a box of 12
RXBAR: $2.17 per bar, available in a box of 12
GNC Total Lean Bar: $1.99 per bar, available in a single bar
Based on GNC's prices, it's normal to spend between $1.99 and $2.99 per bar.
The problem is, with the exception of the Amazing Grass bar and RXBAR, many of these bars are loaded with crazy ingredients like I showed you above. The Amazing Grass bar and RXBAR, while more natural, are loaded with carbs.
Perfect Keto's bars are normally priced at $39.99 per box, which is $3.33 per bar. To get a bar loaded with high-quality (and some organic ingredients), I think an extra 30 cents or so is not a big deal at all. You get what you pay for!
However, I have an awesome coupon for you that will get you the bars at between $2.29 and $2.76 per bar!
How to Get Perfect Keto Bars at a Massive Discount!
I have an exclusive coupon code to share with you, AND I have advice on how to make the coupon code even more valuable thanks to some discounted combo packs offered by Perfect Keto.
Enjoy!