Cold weather has arrived, so that means soup season is officially here! Let's celebrate it by digging into these 7 keto soup recipes that will warm you up and keep you on track with your keto diet. Net carbs are provided for each recipe.
This post contains affiliate links, which means I'll make a small commission if you purchase through one of my links.
Cold weather isn't fun, but enjoying a flavorful and filling bowl of soup is! I love how easy it is to whip up a big pot of soup and enjoy it for days on end. Soup is a wonderful choice for lunch or dinner, and it's also a great way to keto meal prep. Make a pot of soup, divide it into portions, and stick it in your fridge or freezer for future enjoyment.
Because it can be tough to sort through the seemingly endless number of keto cookbooks and Pinterest pins out there, I've done the hard work for you and rounded up 7 fabulous keto soup recipes to share. Please leave a comment and let me know your favorite! I'm currently really digging the Chicken Alfredo Soup, but I know I'll probably have a new favorite by the end of winter. 🙂
In this post, you'll find links to the following keto soup recipes:
Chicken Alfredo Soup
Keto Flu Soup
Creamy Tomato Soup
Egg Drop Soup
Hot and Sour Soup
Bacon Cheeseburger Soup
Chicken Kale Soup
Happy soup-eating!
How to Access the Recipes in This Post
This post is a roundup of recipes — some from here at Forget Sugar Friday and some from other high-quality bloggers.
To access the recipes in this post, click on the pink "Get the Recipe Here!" button at the bottom of every recipe summary.
That will take you to the original post where you can find the recipe (usually in a recipe card at the end of the post). 💖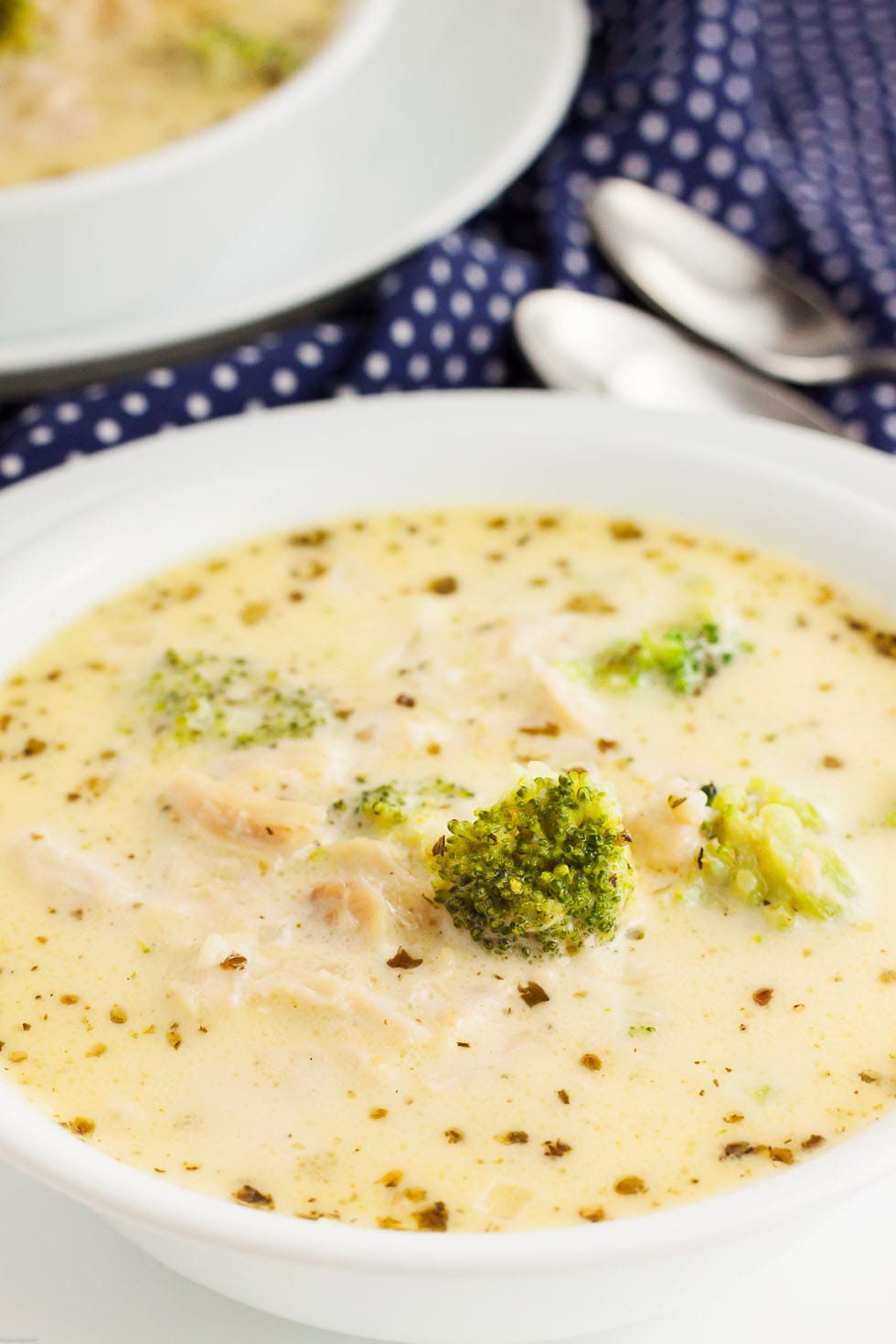 5.2g net carbs: This recipe for Keto Chicken Alfredo Soup infuses the flavors of chicken alfredo into a warming and comforting soup! The perfect keto comfort food for cold fall and winter nights.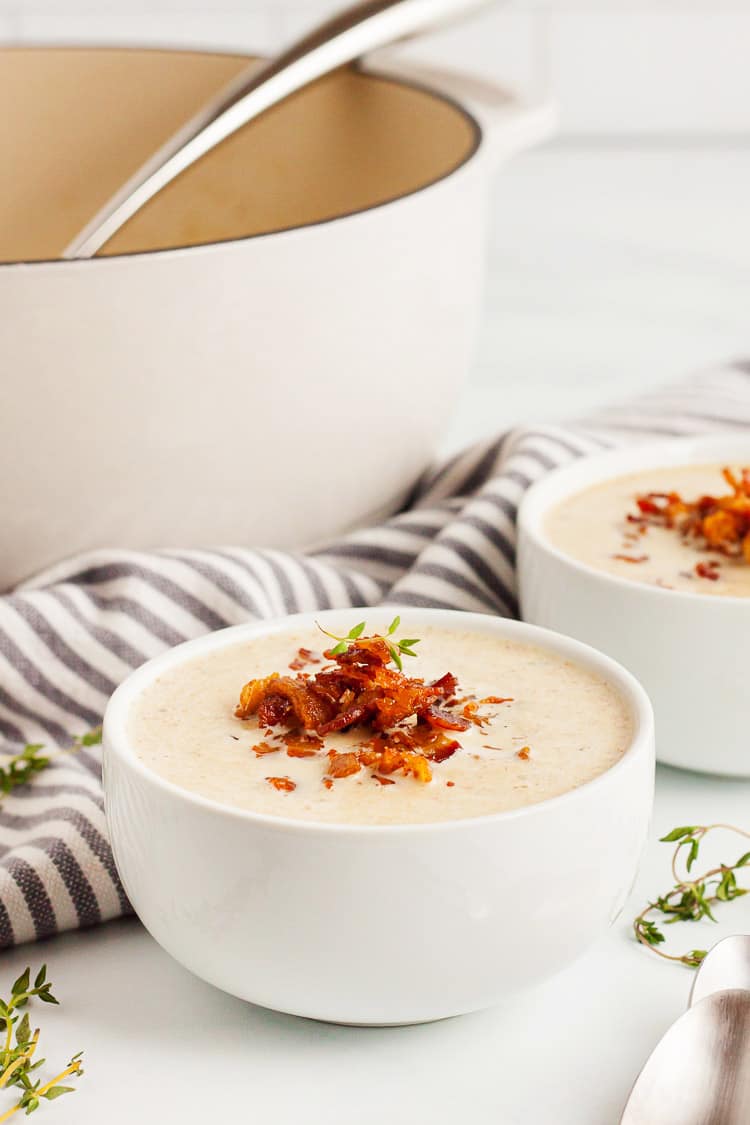 4.7g net carbs: This delicious Roasted Keto Cauliflower Soup with Bacon is oh-so-creamy, comforting, and flavorful thanks to ingredients like butter, heavy whipping cream, and perfectly roasted cauliflower. It's a true keto comfort food!
Keto Soup #3:

Keto Flu Soup

 by Forget Sugar Friday

5.9g net carbs: Want to crush the "keto flu"? Make yourself a big pot of this tasty-and-effective Keto Flu Soup! It's specifically designed to deliver valuable electrolytes, which can help lessen the keto flu. Great for veteran ketoers too!

6g net carbs: This Keto Creamy Tomato Soup is even more amazing when served with a keto grilled cheese and drizzled with truffle oil. Don't you want to dig into a bowl right now?!

Keto Soup #5:

Egg Drop Soup

by Perfect Keto
4g net carbs: This nutritious Keto Egg Drop Soup has a bone broth base, lending the soup restorative qualities thanks to the gelatin and collagen found in bone broth. Learn more about why you should drink bone broth on the keto diet!

5g net carbs: I love the detailed directions on this full-of-flavor Keto Hot and Sour Soup recipe! She gives a great tip about adding in the egg: "pour in the egg in a thin drizzle while the soup is still moving to create the fabulous long egg ribbons that hot and sour soup is known for."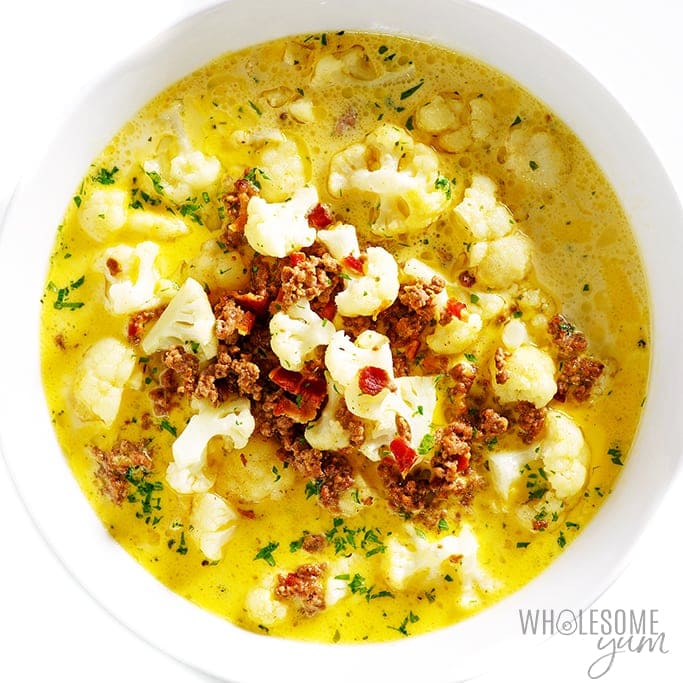 5g net carbs: Yum! A bacon cheeseburger… in a soup?! There is no way you can argue with the deliciousness of a recipe like that. This comforting soup is ready in just 20 minutes using keto pantry staples.

BONUS Keto Soup #8:

Chicken Kale Soup

by Two Sleevers
4g net carbs: Seasoned with spices like clove and cinnamon, this Keto Chicken Kale Soup has a fantastic flavor that just works. Plus, it's filled with healthy kale, which is loaded with valuable nutrients like Vitamins A and K.

Like This Post? Give it a Share!
I hope you enjoyed this low carb soup recipe roundup! If you liked this post, I would so appreciate you giving it a share by using the social sharing icons. THANK YOU!