On the keto diet but craving dessert? Not to worry! These 17 yummy keto cheesecake recipes will satisfy your sugar cravings without kicking you out of ketosis.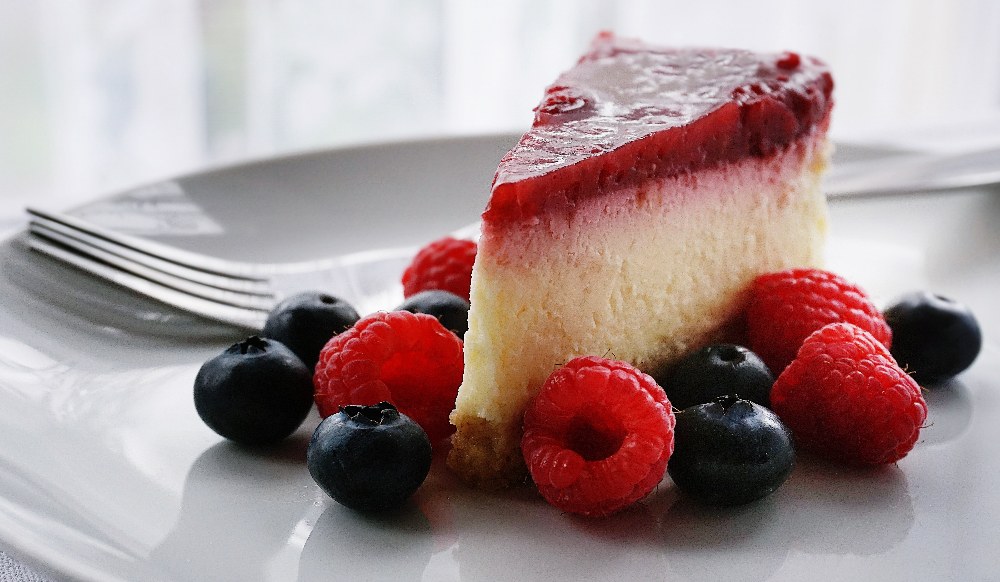 This post contains affiliate links, which means I'll make a small commission if you purchase through one of my links. Thank you for your support!
One of the greatest challenges when you're trying to lose weight is avoiding the sweet treats that seem to be everywhere… but I'm going to solve that problem for you with this post! In fact, the unbelievably yummy sweet treats in this post will not only not destroy your diet, but they'll satisfy your sweet cravings just as much as non-keto cheesecake.
What's Especially Awesome About These Low Carb Cheesecake Recipes
Other than the fact that they're ridiculously good and will satisfy your sugar cravings in a single serving, a big benefit to these cheesecakes is they're high in fat without also being high in protein (or carbs). Something that trips a lot of people up with the keto diet is eating too much protein. Too much protein can actually prevent you from entering ketosis because your body will convert the excess protein into carbs!
If you're confused about how many grams of protein, fat, and carbs you should be eating on the keto diet, just use this handy (and free) Keto Diet Macro Calculator.
This fact makes these cheesecake recipes an excellent keto dessert… OR even a keto snack or keto breakfast. Yep, you can eat cheesecake for breakfast or a snack and not feel one bit guilty about it. 🙂
A Few Common Keto Cheesecake Ingredients
Here are a few quick links to common keto cheesecake ingredients:
Swerve looks, tastes, and measures just like real sugar, and you can get it in granular or powdered form. Because sugar alcohols do not count toward net carbs, it contains 0g net carbs.
Anthony's almond flour is a quality almond flour that tastes great.
A nice vanilla extract with a good flavor.

Ingredients you can find at the store:
Cream cheese
Heavy whipping cream
Butter
Eggs
… all the typical cheesecake ingredients!
17 Keto Cheesecakes with Net Carb Counts
Note: I have listed all of the Net Carbs below each drink for simpler diet planning. The net carb count is the final amount of carb grams the body must burn after you remove the total dietary fiber grams.
5g Net Carbs – This is a classic tasting New York Style cheesecake.  Add fresh raspberries or cherries to this traditional cheesecake.

5g Net Carbs – This cheesecake is thick, creamy, and rich.  A wonderful chocolate treat to satisfy those chocolate cravings!
4g Net Carbs – As "easy" as this lemon treat is to make, it is even easier to eat.
7g Net Carbs – The blueberry swirl topping tastes as good as it sounds! (Note: This one is a bit high in net carbs, so you may want to save it for a special occasion.)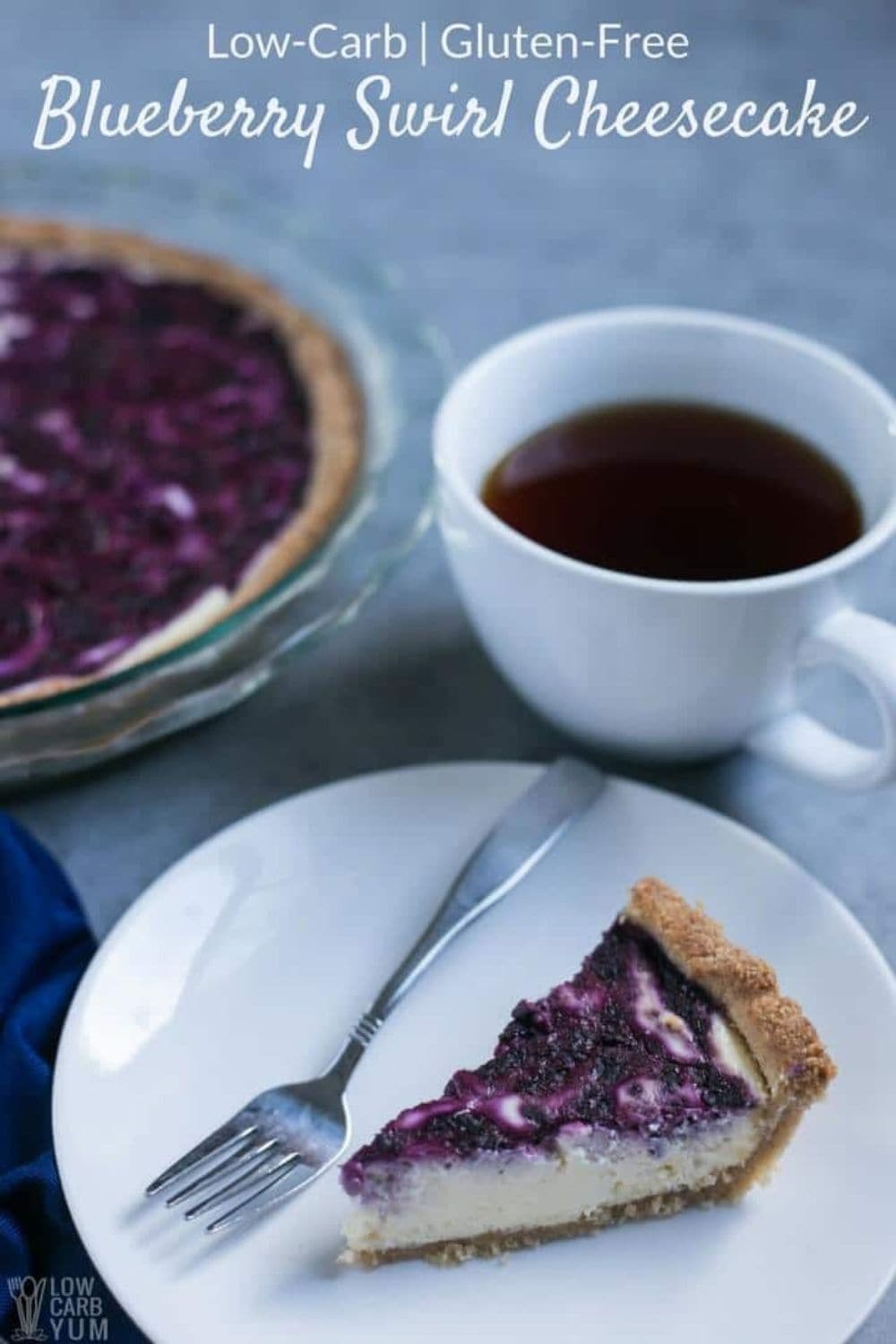 3g Net Carbs – Yesss, you can eat pecan pie and cheesecake mixed together and you don't have to feel bad about it!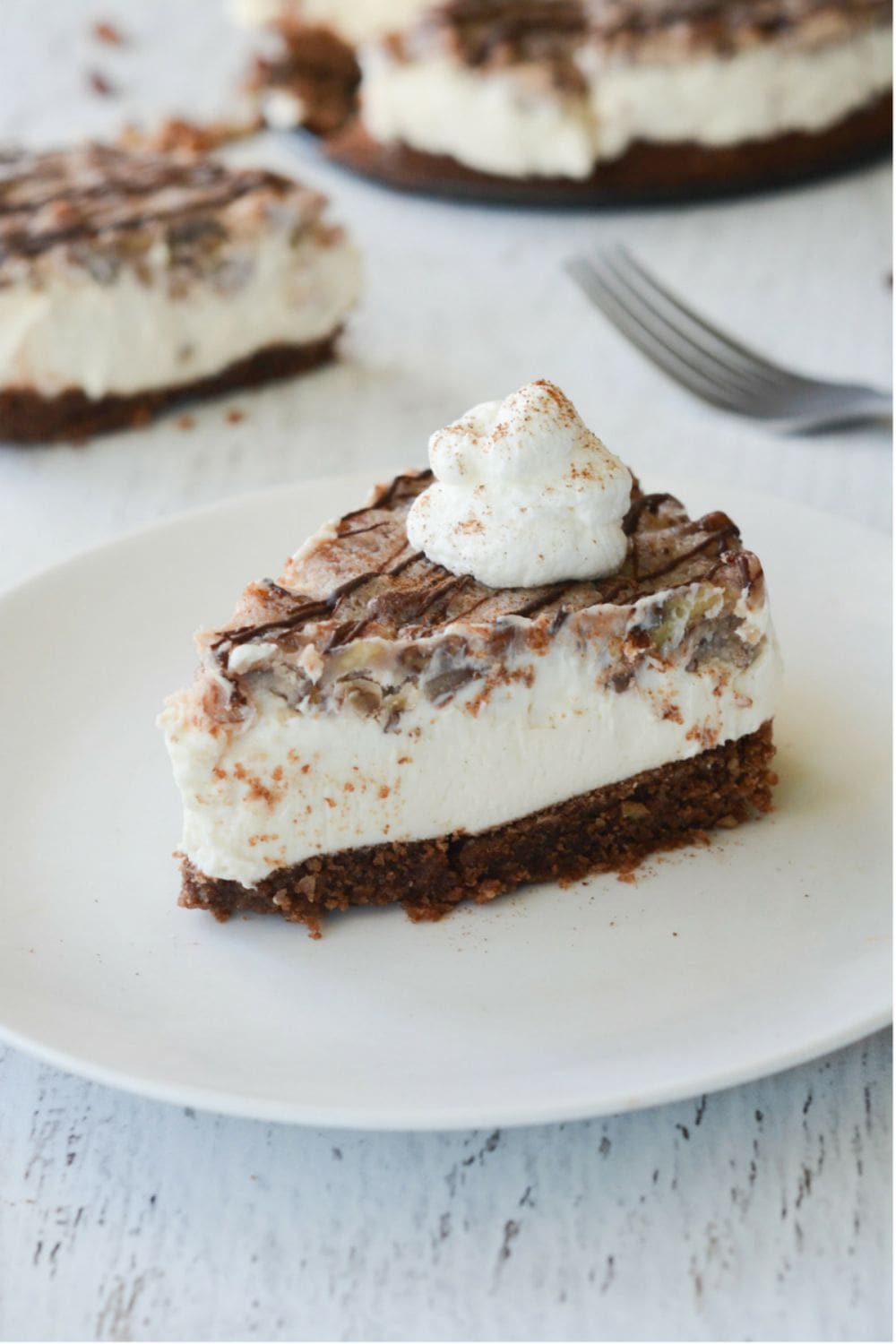 5g Net Carbs – One look at this treat will make you want to make it.. one taste of this treat will make your head swirl. 🙂
4.2g Net Carbs – Who doesn't love carrot cake?! Especially when it's made into cheesecake like this yummy recipe from Sugar Free Mom!
6g Net Carbs – Try this cheesecake that is fluffy and bursting with peanut butter flavor.
5.22g Net Carbs – While you won't actually die when you eat this (whew), it really is to die for.
Join The Keto Living List! (it's FREE!)
Want to succeed on the keto diet? Join The Keto Living List to receive via email a weekly roundup of the best keto recipes and keto living tips, plus new keto recipes when they're released!
5g Net Carbs – Try this keto version of a traditional New York style cheesecake.
4g Net Carbs – You will satisfy your sweet and sour cravings with this lemon-blueberry cheesecake mix.
3g Net Carbs – This traditional treat is so delightful!  A perfect compliment with a cup of Keto Crack Coffee.
4g Net Carbs – You can never have too many chocolate swirls with whipped cream on top.  Extra swirls seem to make it taste better.
6g Net Carbs – This blueberry treat is quick and easy to make with a unique coconut macaroon crust made from unsweetened coconut flakes.
4g Net Carbs – Anything pumpkin and you can sign me up to eat it.  Thankfully, this one is keto approved!
4.68g Net Carbs – This isn't just chocolate cheesecake, this is TRIPLE CHOCOLATE cheesecake.  What else can you say about that?
3.06g Net Carbs – Just a wonderful fruit-flavor with a hint of tangy lime.
There you have it… 17 keto cheesecake recipes! The only "trouble" with this list is trying to decide which one you're going to try first!
More Yummy Keto Recipes
Want more? Check out my popular roundups of 17 of the Best Keto Coffee Drinks (to Help You Rock the Keto Diet) and 17 Genius Keto Cookies Recipes You'll Want to Make ASAP!
Like This Post? Give it a Share!
I hope you like this roundup of keto cheesecakes! If you liked this post, I would so appreciate you giving it a share by using the social sharing icons. THANK YOU!
Join The Keto Living List! (it's FREE!)
Want to succeed on the keto diet? Join The Keto Living List to receive via email a weekly roundup of the best keto recipes and keto living tips, plus new keto recipes when they're released!