This super yummy Keto Cheeseburger Casserole has all the flavors of a cheeseburger without all the carbs! It's easy to make with simple keto staples and will be a huge hit with the whole family.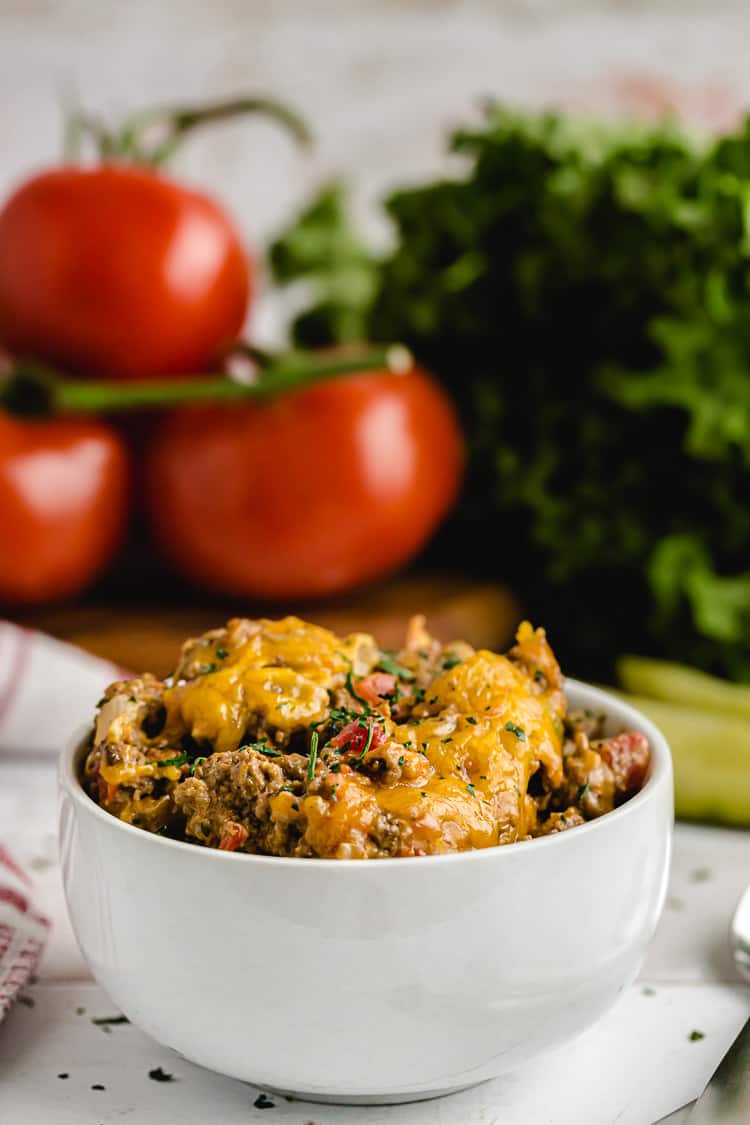 This post contains affiliate links, which means I'll make a small commission if you purchase through one of my links.
Mmmm, cheeseburgers! 🍔 It's hard to resist the yummy flavors of a cheeseburger, but the carbs sure do add up. (A single McDonald's cheeseburger, for example, contains a whopping 31g net carbs!) To solve the "cheeseburger problem," I made this amazing Keto Cheeseburger Casserole that has all the flavors of a cheeseburger with only 6g net carbs per serving.
As far as keto meals, casserole dishes are some of the best you can make that the whole family will enjoy. Some other easy keto dinner ideas that the whole family will enjoy includes keto soup and keto pizzas.
Keto Cheeseburger Casserole & Why You'll Love This Recipe
It's made with easy-to-find keto pantry staples. No hard-to-find ingredients here!
It's an easy-to-make casserole. Who doesn't love a good casserole recipe?!
The whole family will love it! It's a great meal to sit down to and enjoy with your family.
It contains only 6g net carbs per serving.
Ingredients Needed to Make Keto Low Carb Cheeseburger Casserole
Ingredient quantities are located in the recipe card at the end of the post.
Onion
Garlic
Ground beef (90/10)
Cream cheese
Tomatoes
Yellow mustard
Worcestershire sauce
Dill pickles
Eggs
Cheddar cheese
How to Make Easy Keto Cheeseburger Casserole
This is just a quick overview of how to make the low carb cheeseburger casserole. For the recipe in detail, scroll to the recipe card at the end of the post.
Saute onions, garlic, and beef until cooked through, then add the cream cheese.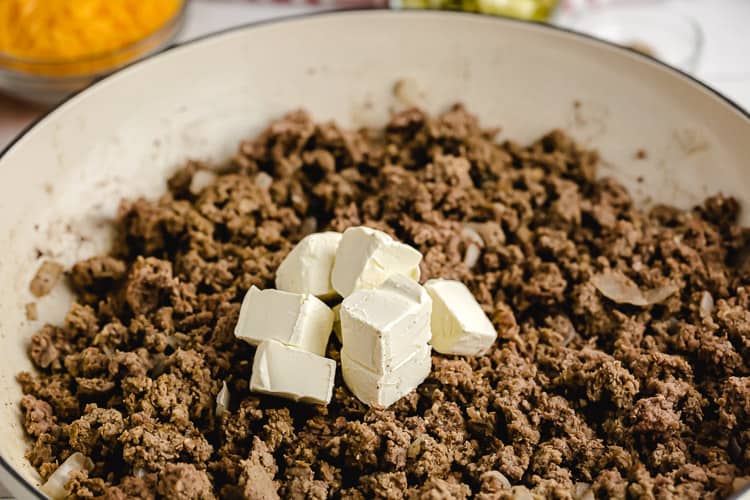 In another bowl, combine the ingredients that will add so much of that magical cheeseburger taste: tomatoes, mustard, Worcestershire, pickles, eggs, and most of the cheese. Don't forget to inhale the delicious cheeseburger smell!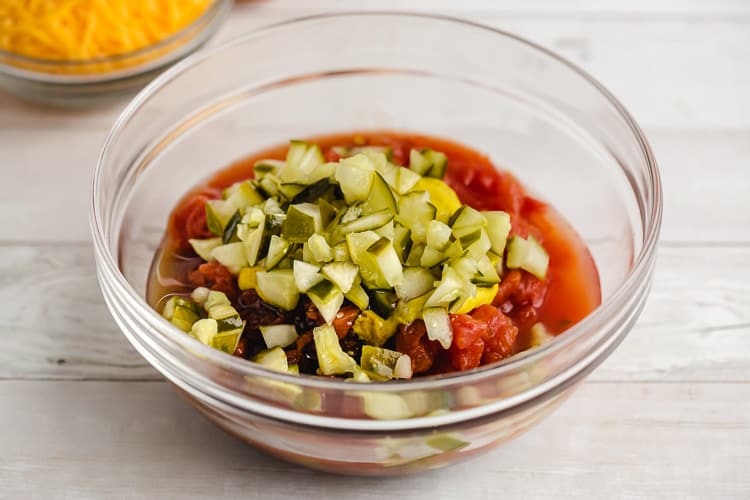 Stir in the beef, transfer the mixture to a casserole dish, and sprinkle with the remaining cheese.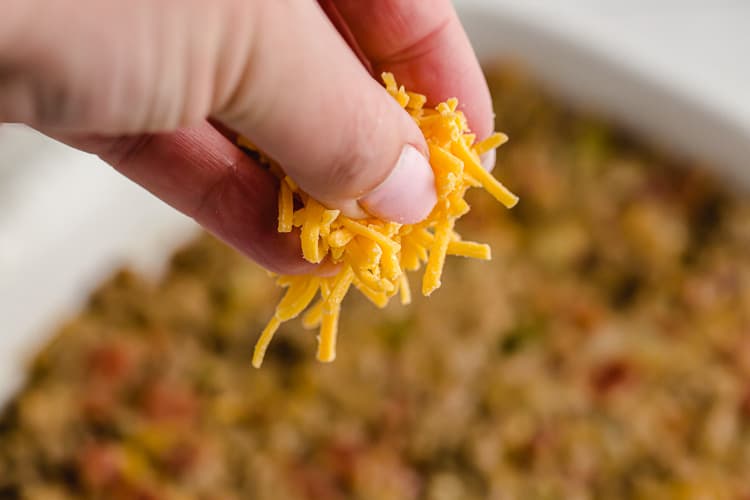 Bake until you get this cheesy beauty. Your kitchen will smell amazing!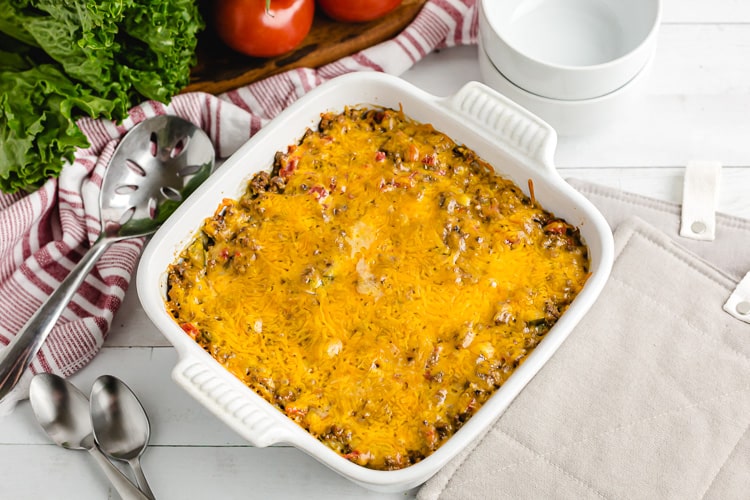 Serve and enjoy!
TIP: This is quite a hearty recipe. Feel free to increase the number of portions to make it fit better into your macros. And for keto side dishes, try keto French fries or keto radishes with keto ranch dressing. Also, if you really love cheese try this keto mac and cheese on the side.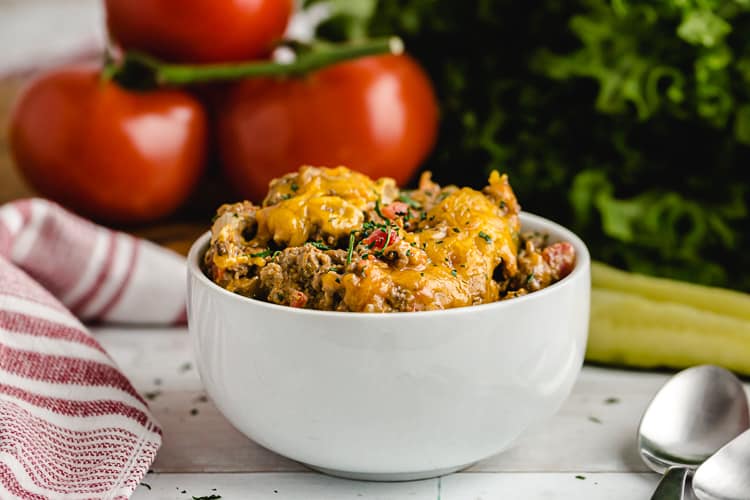 Get the Web Story for this post.
More Easy Keto Ground Beef Recipes?
Here are even more keto casseroles with ground beef that you will love! One of my favorite for Super Bowl party food and parties is our delicious low carb meatball casserole.
Looking for that fun keto taco Tuesday meal? Well here it is with our taco recipe and keto taco cups as the shells. Also, you can make this amazing low carb taco casserole dish that the entire family will love! Each recipe uses our easy keto taco seasoning recipe that will keep you coming back for more.
Make a delicious low carb chili that the whole family will enjoy! Made from our homemade chili seasoning it always hits the spot.
For warmer weather you can make our easy keto burger recipe with some keto BBQ sauce as a topping and to dip your keto fries in.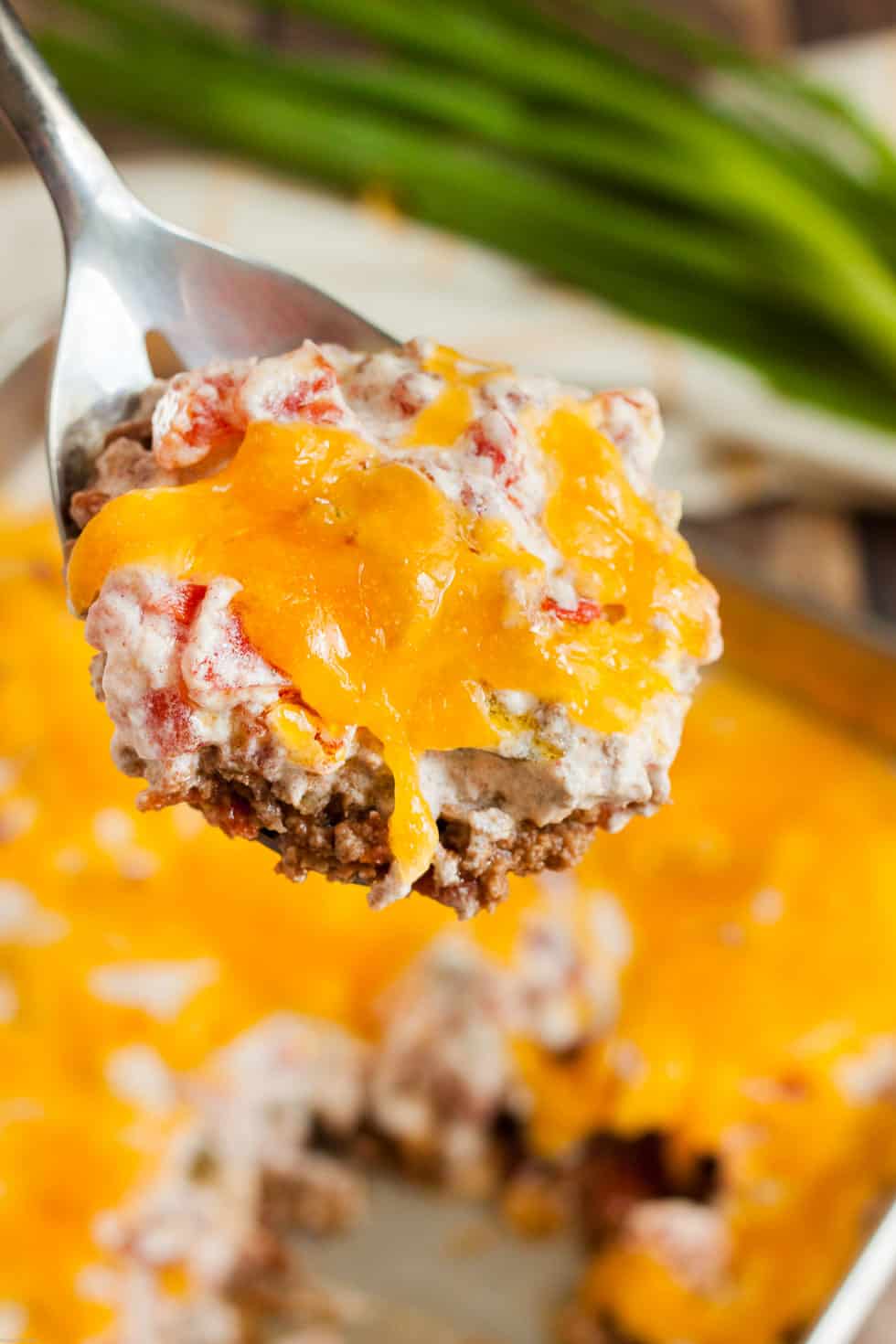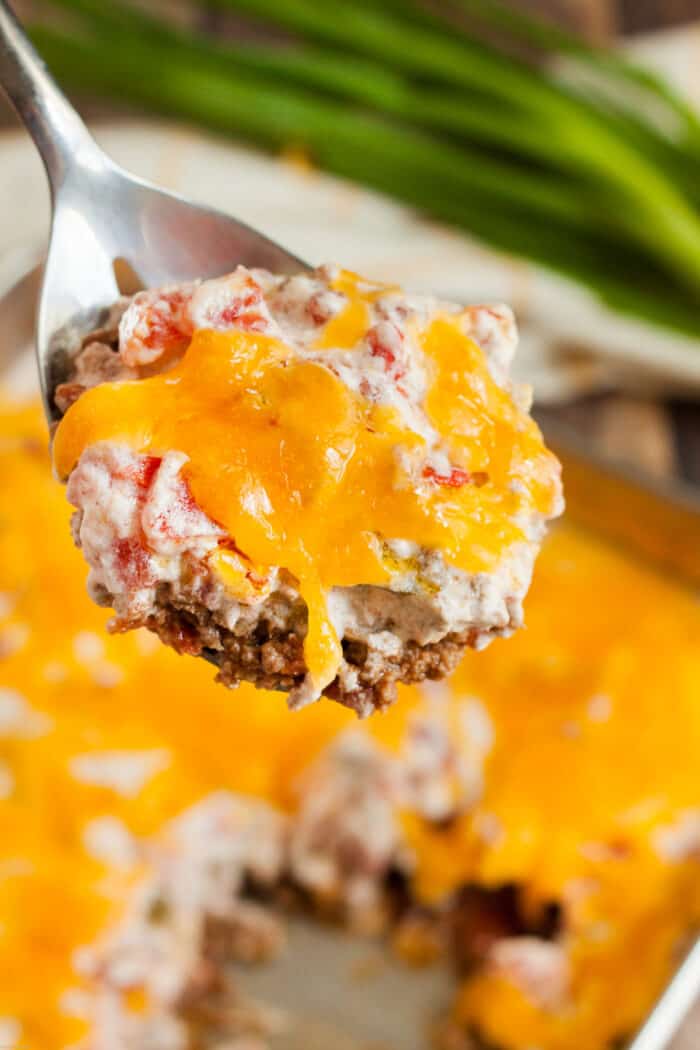 Can I Eat Cheeseburger Casserole on the Keto Diet?
You can eat cheeseburger casserole on the keto diet as long as you substitute the high carb ingredients with low carb ingredients. Heavy carb ingredients like elbow macaroni and milk boost the carbs of traditional cheeseburger casserole and they must be avoided if you are on a low carb or keto diet.
How Do I Make Cheeseburger Casserole Keto-Friendly?
You can make cheeseburger casserole keto-friendly by substituting low carb ingredients for the high carb ingredients. When you make keto cheeseburger casserole you substitute ingredients with more fat and lower carbs in place of the high carb elbow macaroni, milk, ketchup, etc. The end result is a delicious meal with higher amounts of fat and a dramatically lower amount of carbs, without sacrificing for taste.
Nutrition Facts for Keto Cheeseburger Casserole
Per serving:
533 calories
36g fat
45g protein
6g net carbs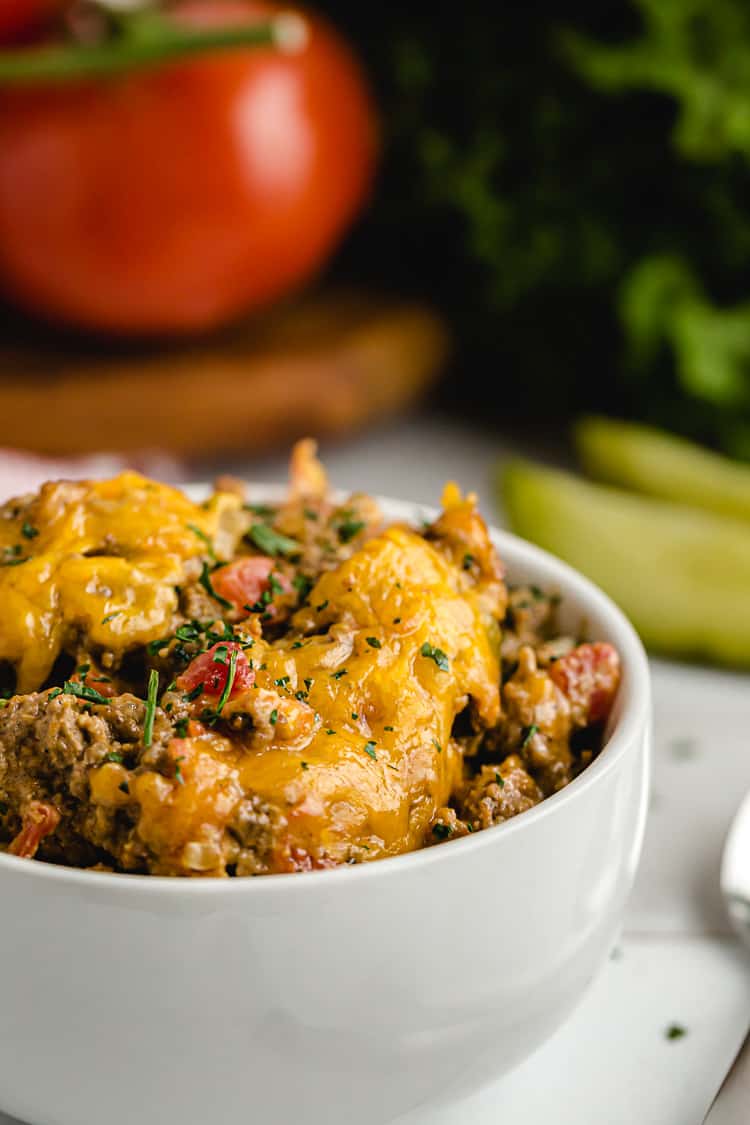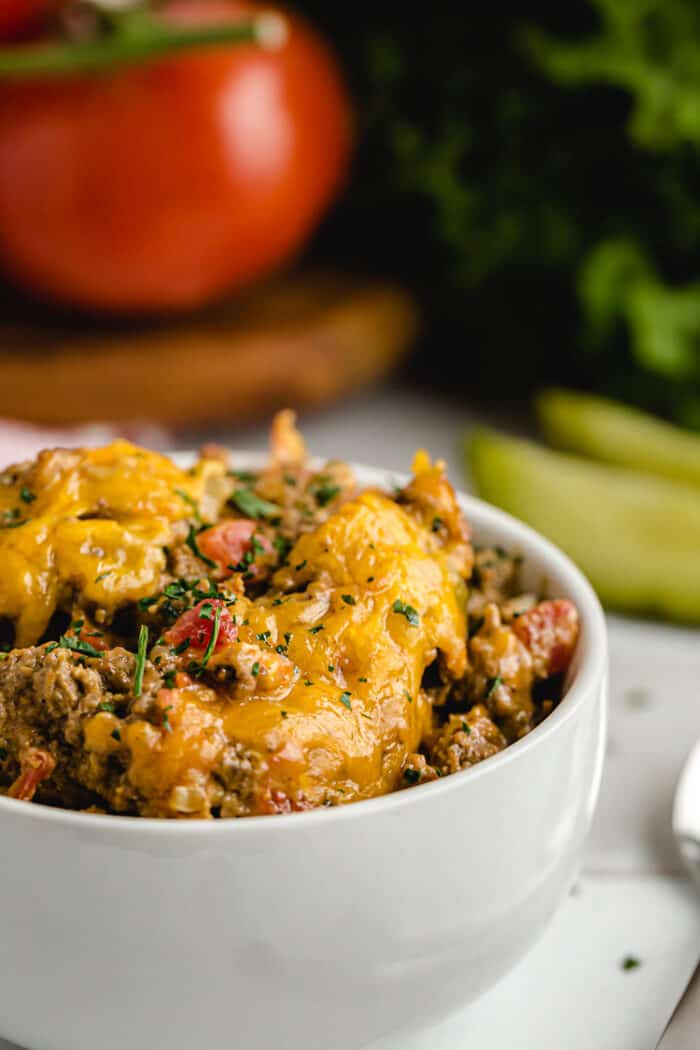 Want More Easy Keto Casserole Recipes?
If casseroles are your thing (they certainly are mine!), you'll want to try more of my easy keto casserole recipes: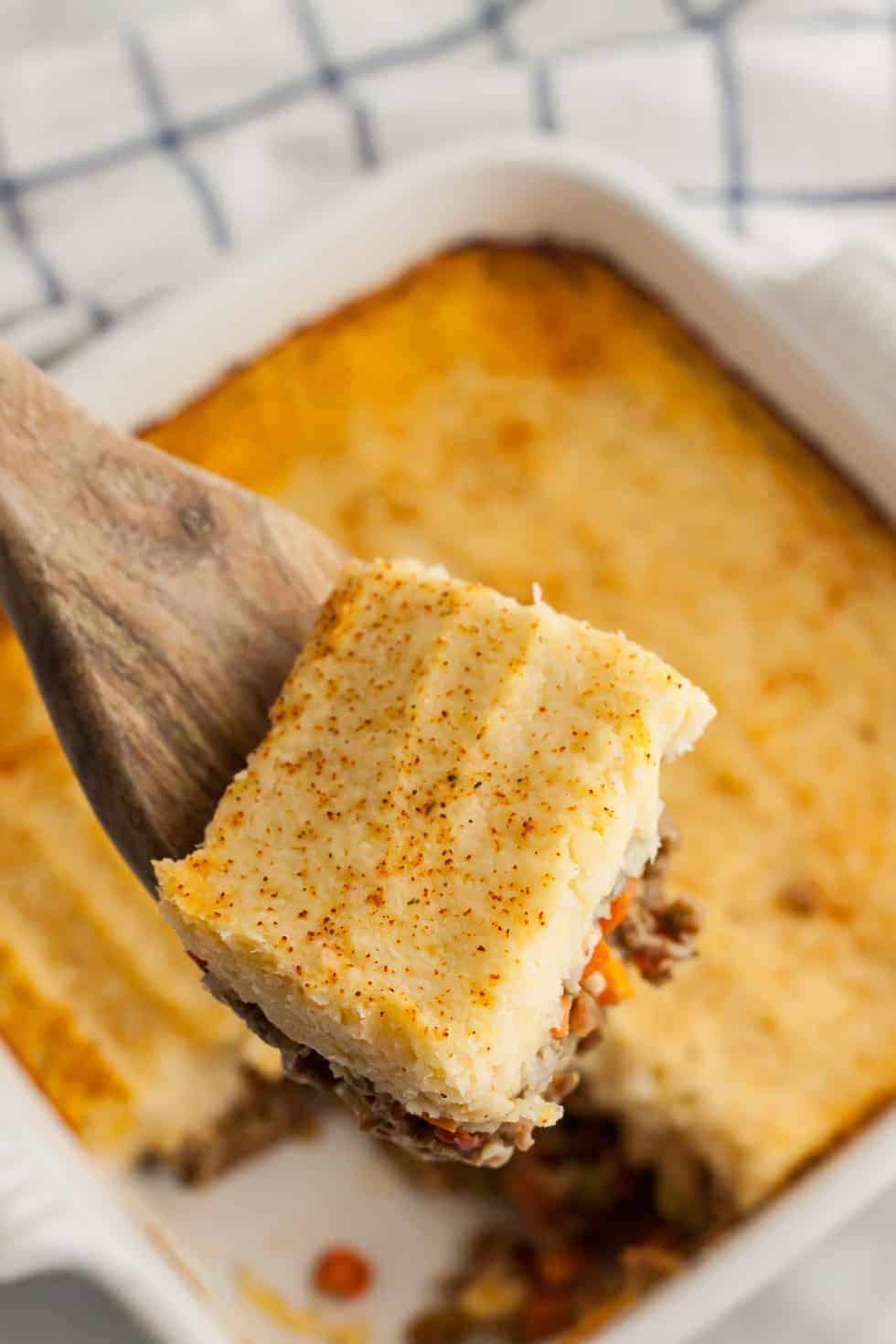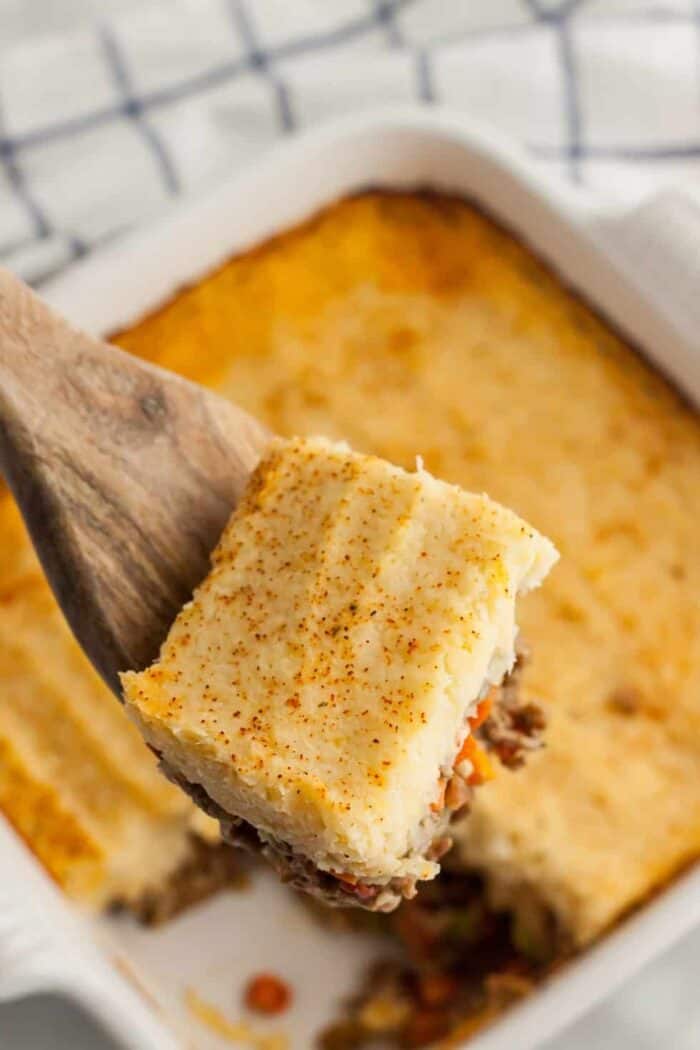 Like This Post? Give it a Share!
I hope you love this easy low carb sheet pan chicken thighs recipe! If you liked this post, I would so appreciate you giving it a share by using the social sharing icons. THANK YOU!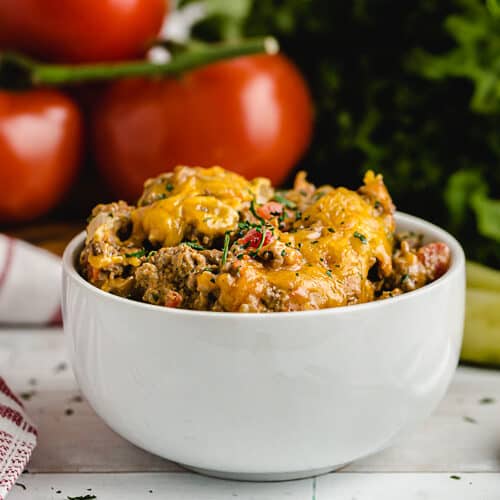 Ingredients
Instructions
Preheat oven to 350°.

Sauté onion, garlic, and beef in a large skillet over medium-high heat until onions are translucent, and beef is cooked through.

Stir in salt, pepper, and cream cheese. Stir until cream cheese is melted and combined.

In a large bowl, combine tomatoes, mustard, Worcestershire, pickles, eggs, and 1 1/2 cups Cheddar cheese. Stir in beef mixture.

Transfer mixture to an 8- x 8-inch baking dish. Sprinkle top with remaining 1/2 cup Cheddar cheese.

Cover with foil and bake at 350° for 25 minutes. Uncover and bake an additional 10 minutes or until cheese is melted.
Nutrition Facts
Keto Cheeseburger Casserole
Amount Per Serving
Calories 533
Calories from Fat 324
% Daily Value*
Fat 36g55%
Carbohydrates 8g3%
Protein 45g90%
* Percent Daily Values are based on a 2000 calorie diet.
Nutrition Disclaimer


Nutrition facts are included as a courtesy only. They are accurate to the best of our knowledge based on the ingredients and brands used, but their accuracy is not guaranteed. If applicable, sugar alcohols have already been removed from the total carb count.
More Keto Family Meals
Learn how to make low carb meals for the whole family.