A Keto Fiber Bomb will become an important part of your keto diet. Loaded with valuable fiber, tons of nutrients and a yummy flavor, you'll want to whip one up every day!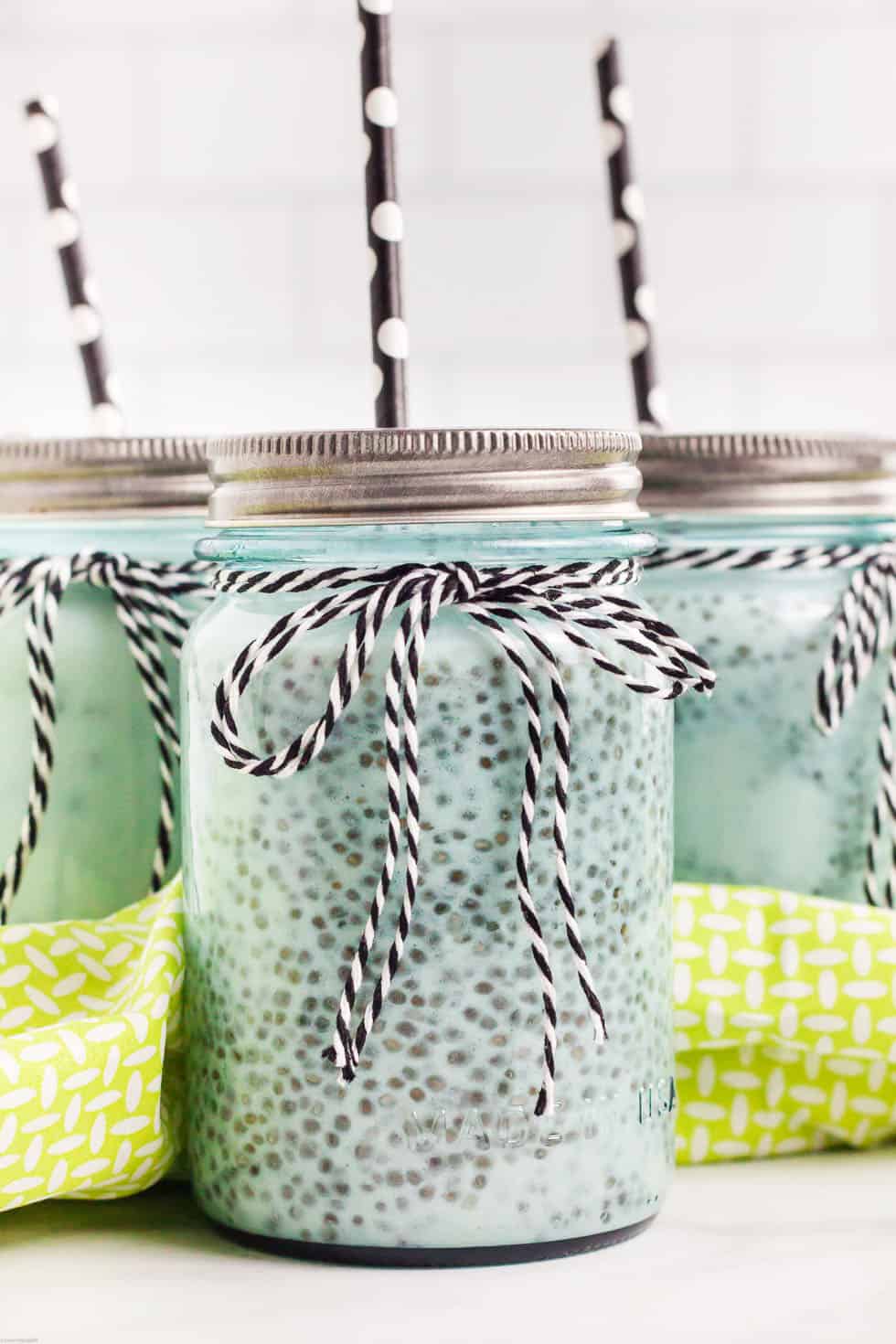 This post contains affiliate links, which means I'll make a small commission if you purchase through one of my links.
One of the big mistakes I see people making on the keto diet is not eating enough fiber. While some people seem to get by just fine without a lot of fiber (i.e., no change in bathroom habits), others seriously struggle. Although it's not glamorous to discuss, constipation can be an unfortunate side effect of a low-fiber keto diet.
The Keto Fiber Bomb to the rescue! Fat bombs are already big on keto, so why not a fiber bomb? This drink delivers a "bomb" of fiber (don't worry; the amount can easily be adjusted to suit your preferences) all in a yummy drink that you can flavor many different ways.
Why You'll Love This High Fiber Keto Food Recipe
A Keto Fiber Bomb contains a whopping 8g fiber! (but you can adjust that to suit your preferences)
It can be flavored many different ways, like with cinnamon or pumpkin pie spices.
It also contains MCT oil, which helps deliver valuable, energizing fats.
It's fun to drink. (The chia seeds gel up and make for a fun texture.)
It's also loaded with tons of important nutrients like Omega 3s.
Two Key Ingredients You'll Need to Make this Keto Fiber Bomb Recipe
NOTE: Full ingredients for the keto fiber bomb recipe are located in the recipe card at the end of the post.
Use coupon code FORGETSUGAR20 for 20% off your order!

How to Make an Easy Keto Diet Fiber Bomb
This is just a quick overview of how to make the keto diet fiber bomb. For the recipe in detail, scroll to the recipe card at the end of the post.
Add all ingredients to a jar with a lid. TIP: I love to use a mason jar or even a clean coconut oil jar!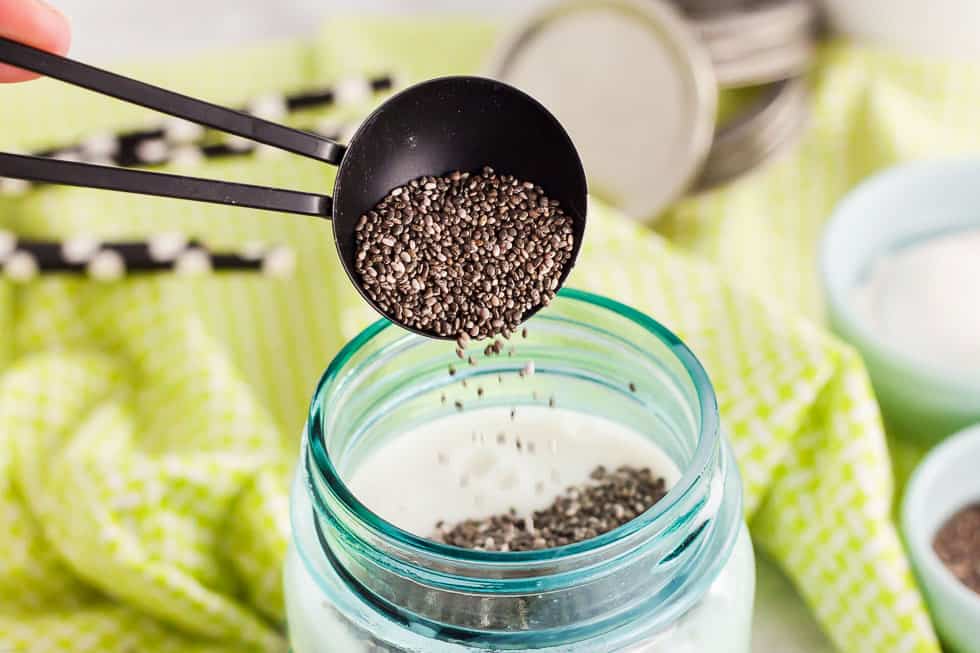 Give everything a good shake, then put it in the fridge so the chia seeds can do their thing. Chia seeds expand up to 27 times their original size!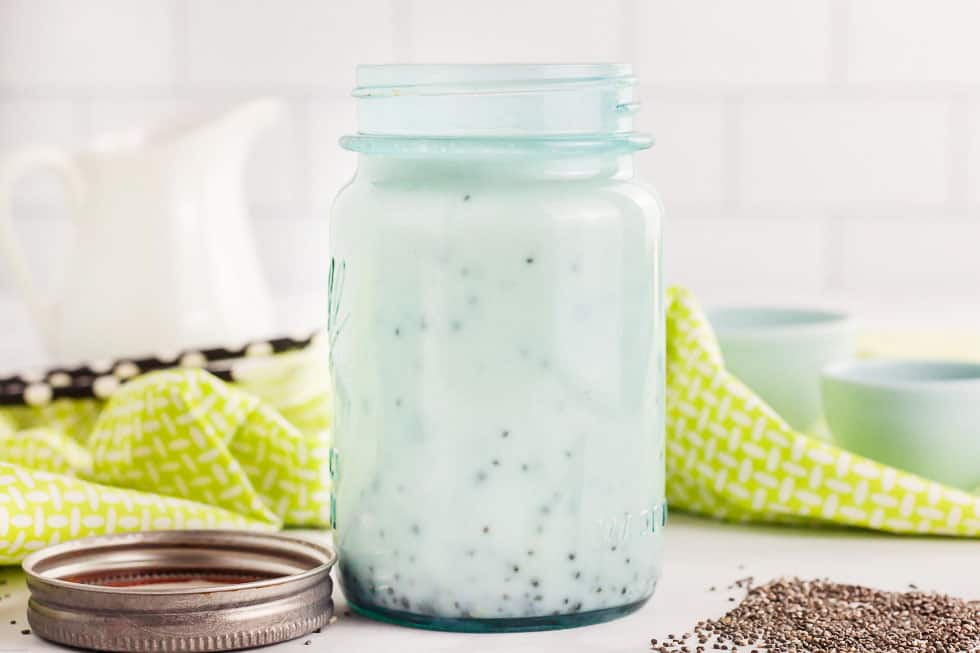 At least six hours later, pull it out of the fridge to get this! Enjoy it with a straw or spoon.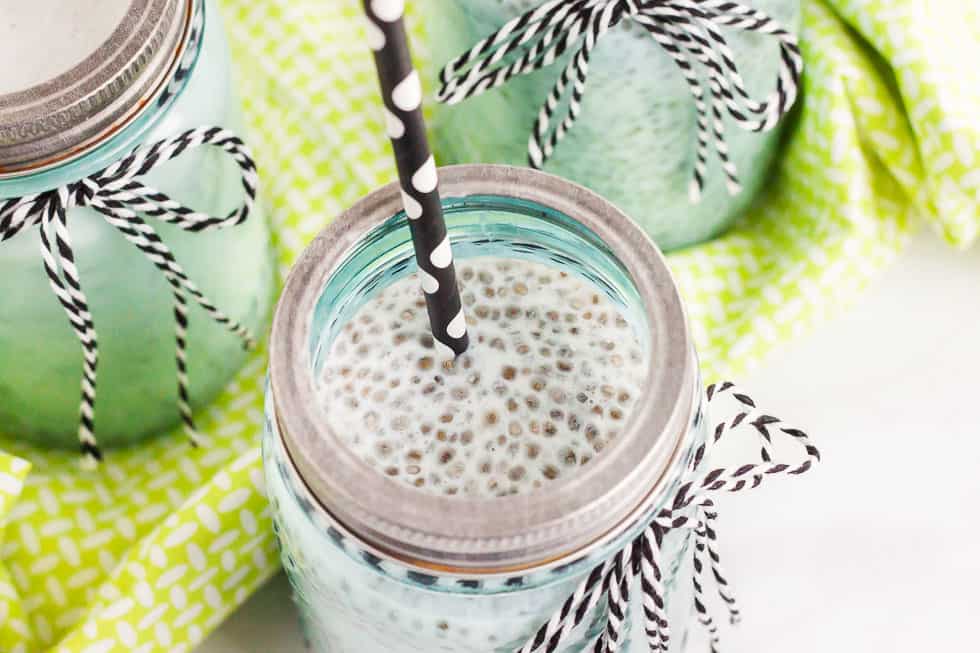 TIP: If your sweetener or additional seasonings (like cinnamon or banana extract, as in my Keto Banana Smoothie) aren't yet to your liking, feel free to adjust them before drinking.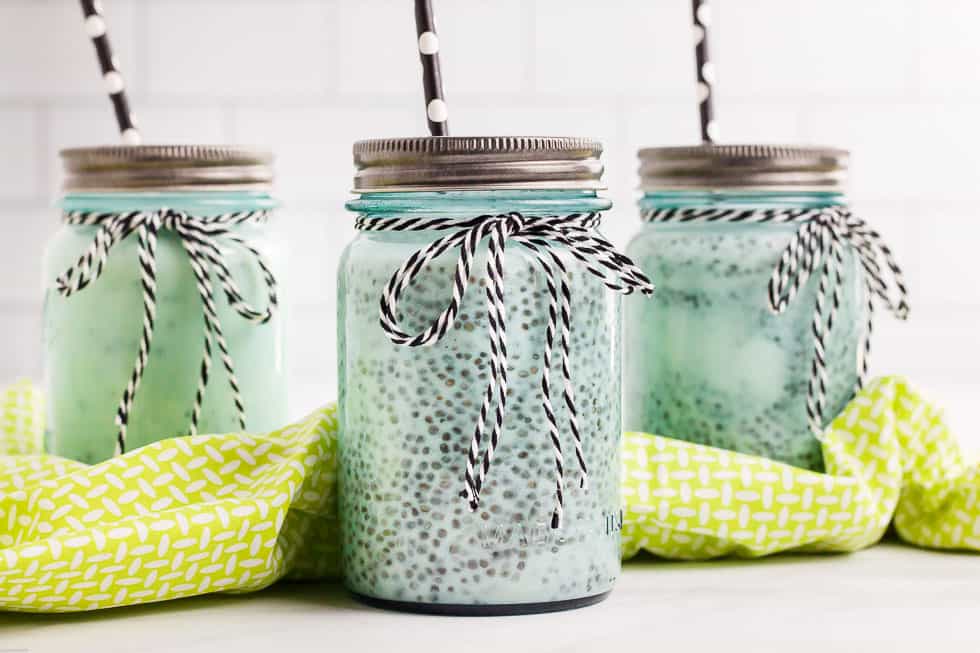 Tips for Drinking Your Fiber Bomb
If you are new to chia seeds, you can start with only 2-3 tsp.
If you are new to MCT oil, you can start with only 1 tsp.
Play around with different spices and sugar-free extracts to taste.
Make sure to drink plenty of water too!
Frequently Asked Questions:
How Much Fiber Should I Consume a Day on Keto?
According to the Mayo Clinic:
Adult women should consume 21 to 25 grams of fiber a day
Adult men should consume 30 to 38 grams of fiber a day
What are the Health Benefits of Chia Seeds?
According to this Healthline article about chia seeds, some of the benefits are:
Chia seeds are loaded in nutrients with few calories compared to other foods.
They contain a large amount of antioxidants.
Chia seeds are very low in carbs and contain large amounts of fiber.
They may help to reduce hunger cravings because they contain high levels of protein.
Their high fiber and high protein levels may assist in weight loss.
They are high in Omega-3 Fatty Acids.
They may help to lower your risk of heart disease.
Chia seeds are high in calcium, magnesium, and phosphorus which help to protect bone strength.
Their high fiber content may help to reduce blood sugar levels.
They may assist in reducing chronic inflammation.
Chia seeds are can be added to your diet with relative ease.
Check out the full Healthline article for more details and the references for the above information.
Pretty amazing, huh? Chia seeds are some seriously impressive little seeds!
What is MCT Oil?
MCT stands for "medium-chain triglycerides." It's a type of oil that is quickly absorbed into the body to be utilized for energy and is popular in the keto community.
MCT oil can also help things move along in the bathroom department. For that reason, if you're new to MCT oil, start with only 1 tsp in this recipe and work your way up to the full amount.
What are Some High Fiber Keto Foods?
Finding a healthy balance of low carb foods that are high in fiber is essential to a successful keto diet. The following list of foods are high in fiber and low in carbs compared to most other foods.
Chia Seeds
Keto Fiber Bomb 😉
Broccoli
Artichokes
Avocado
Brussels Sprouts
Kale
Spinach
Carrots
Almonds
Coconut Flour
Dark Chocolate
Nutrition Facts for the Keto Fiber Bomb
Per serving:
295 calories
26g fat
6g protein
8g fiber
3.5g net carbs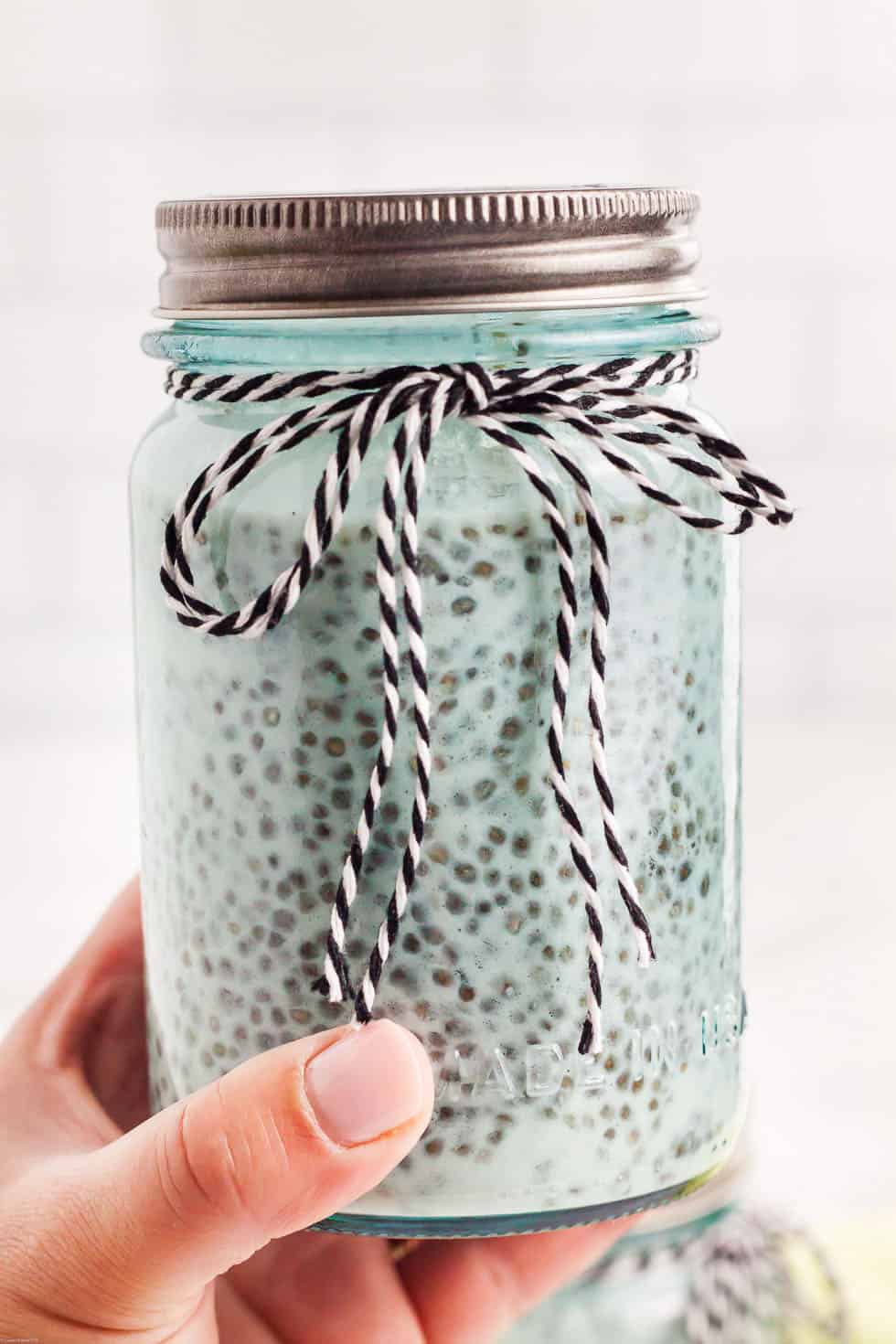 Like This Post? Give it a Share!
I hope you love this easy low carb sheet pan chicken thighs recipe! If you liked this post, I would so appreciate you giving it a share by using the social sharing icons. THANK YOU!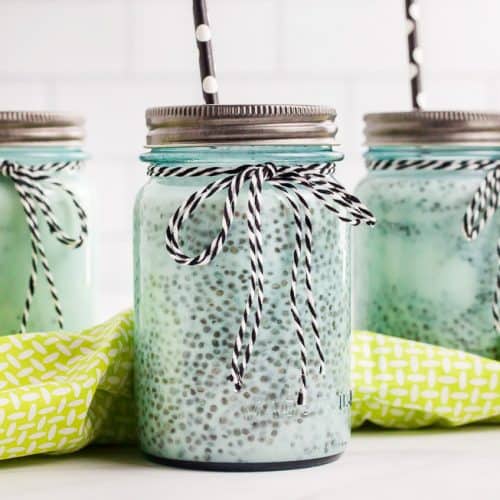 Ingredients
1 1/2

cups

unsweetened vanilla almond or coconut milk

2

tbsp

chia seeds

or less if desired (see notes)

1

tbsp

MCT oil

Keto-friendly sweetener to taste

I use 3 tbsp Swerve Confectioners
Instructions
Add all ingredients to a jar with a lid (I love to use a mason jar or even a clean coconut oil jar!).

Give it a good shake and then place it in the fridge.

Refrigerate for at least six hours (this will give the chia seeds the chance to fully expand). If you can, give it another shake or two during this time period.

Take it out of the fridge and shake it one more time before removing the lid. Consume or with a straw or spoon! (If you don't consume it all in one sitting, store the remainder in the fridge.)
Notes
You can also add spices and extracts to taste. It is great with cinnamon, banana extract, pumpkin pie spice, etc.
If you're new to chia seeds, you can start with 2-3 tsp and work your way up from there.
If you're new to MCT oil, you can start with 1 tsp and work your way up from there.
Make sure to consume plenty of water too! That will help the fiber in the chia seeds do its job.
Want to make these in advance? How long the Fiber Bombs will last in the fridge will depend on how long ago you opened your coconut or almond milk, which typically need to be consumed within 7-10 days after opening (double-check your carton). That said, even if you opened a fresh carton of coconut or almond milk for the recipe, the flavors will be best within 3-5 days of making the Fiber Bombs.
Nutrition Facts
Keto Fiber Bomb
Amount Per Serving
Calories 295
Calories from Fat 234
% Daily Value*
Fat 26g40%
Carbohydrates 11.5g4%
Protein 6g12%
* Percent Daily Values are based on a 2000 calorie diet.
Nutrition Disclaimer


Nutrition facts are included as a courtesy only. They are accurate to the best of our knowledge based on the ingredients and brands used, but their accuracy is not guaranteed. If applicable, sugar alcohols have already been removed from the total carb count.