Want to make delicious keto-friendly tacos? It starts with a keto taco seasoning like this one! With only 3g net carbs per serving (which will season an entire pound of meat), you'll be able to indulge in tasty tacos without blowing your carb macros!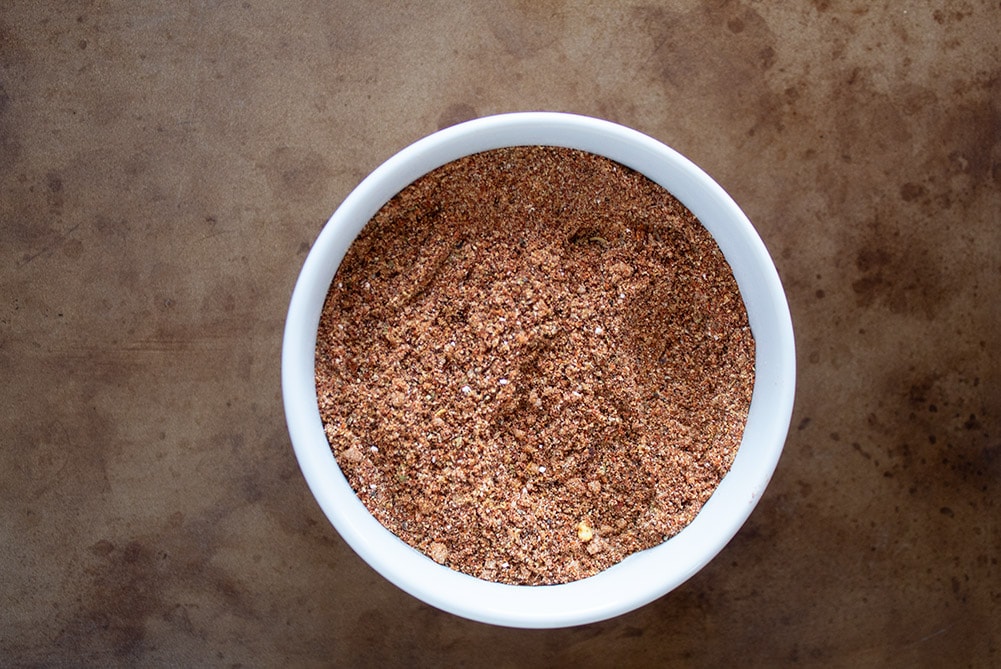 This post contains affiliate links, which means I'll make a small commission (at no extra cost to you) if you purchase through one of my links. Thank you for your support!
Did you know that most keto taco seasoning packets contain a ton of carbs? It's not unusual for a taco seasoning packet to contain 18 to 24 grams of carbs. If you add that to 1lb of beef and eat 1/4 of the resulting mixture, that's an extra 4.5 to 6 grams of carbs!
The reason for this is most taco seasoning packets are loaded with sugar, flour, and other starchy fillers. Not to mention a bunch of crazy-sounding additives that you really don't want to eat if you're trying to stick to a clean diet on keto. (I just found a taco seasoning packet that added caramel color to it… why?! So unnecessary.) In addition, when you make homemade taco seasoning you get the added benefit of the spice cumin. There are many health benefits to cumin, including better digestion and diabetes.
Thankfully, I've come up with an easy homemade Keto Taco Seasoning that only requires a minute or two of your time. Measure your ingredients, add them to a jar, stir and/or shake, and you're done. Even better, you can season an entire 1lb of meat (beef, chicken, or turkey) with only 3 grams net carbs! Taco night is officially back ON, friends. 🙂
Ingredients in Keto Taco Seasoning
To make this easy keto taco seasoning, you'll need the following:
Chili powder
Ground cumin
Sea salt
Garlic powder
Black pepper
Dried oregano
Onion powder
Paprika
Crushed red pepper
Plus…
This will thicken your taco seasoning a bit and is used in place of the starchy thickeners used in a lot of storebought taco seasoning mixes.
If you like your taco seasoning with a bit of sweetness (which is what you'll find in most storebought mixes), you'll definitely want to add a keto-friendly sweetener.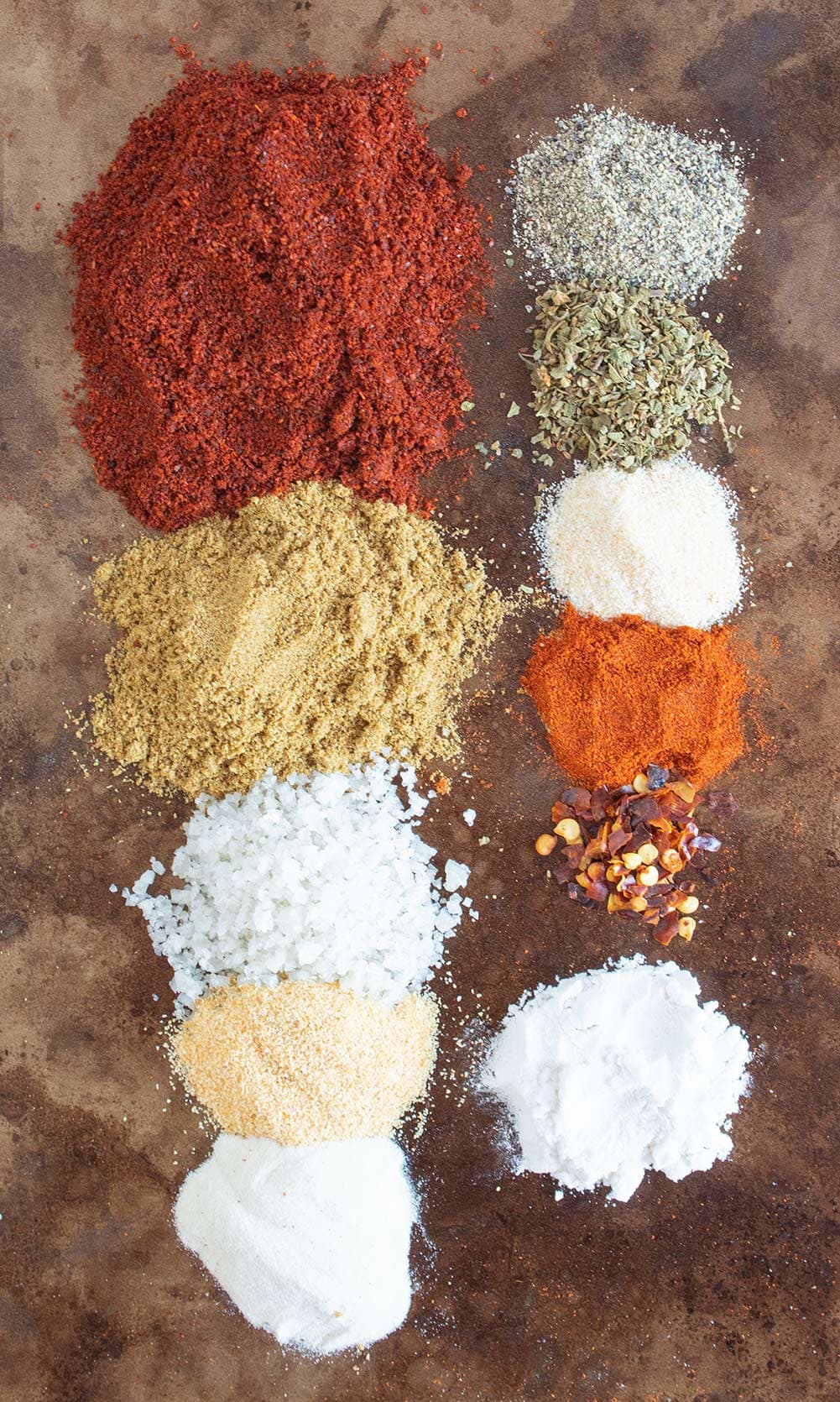 How Do You Like Your Taco Seasoning?
There must be a million different taco seasoning recipes floating out there! The one I'm giving you in this post is a household favorite (with a nice mild flavor — not overly spicy or salty like some recipes), but there is definitely not a "one-size-fits-all" keto taco seasoning recipe.
If you modify this recipe by adding a little bit of this or a little bit of that, I'd love to hear about it in the comments! What did you add to make it your own, and what is the resulting flavor?
How to Use Keto Homemade Taco Seasoning
One serving of this homemade taco seasoning recipe (see the recipe card notes for serving size) is enough to season one pound of ground meat of your choice (beef, turkey, chicken). I follow a "lazy method" when adding taco seasoning; I don't drain off the fat (especially not for keto!) and I don't add any water. Here is what I do…
Adding Keto Homemade Taco Seasoning to ground beef: Cook the beef thoroughly, then reduce the heat to low. Sprinkle the keto taco seasoning evenly over the ground beef, mix to combine, then allow to cook for another 1-2 minutes until the mixture has thickened slightly.
Adding Keto Taco Seasoning to ground turkey or ground chicken: Add 1 tbsp oil of choice (e.g., olive oil, beef fat) to a pan, then add ground turkey or chicken. Cook thoroughly, then reduce the heat to low. Sprinkle the keto taco seasoning evenly over the ground chicken or turkey, mix to combine, then allow to cook for another 1-2 minutes until the mixture has thickened slightly.
How to Serve Your Low Carb Taco Seasoning with Meat
So you have some yummy low carb taco seasoning with meat… now what?! Lettuce wraps are an awesome crunchy option. Load 'em up with your taco favorites:
Cheese
Sour cream
Chopped tomatoes
Salsa (just make sure you find a brand that doesn't add sugar)
Guacamole
Chopped avocado
Etc… and dig in! (Please ignore my sad cheese "shreds" below… all I had was sliced cheese. You do what you have to do to enjoy tacos, right? 😉 )
Alternatively, you can also make keto cheese taco shells! These are really easy to make by baking cheese and hanging them over a wooden handle. Learn how to make keto cheese taco shells here.
Happy taco-eating!
Psst – Want another fast keto meal? Check out my comprehensive guide to keto at McDonald's!
Like This Post? Give it a Share!
I hope you love this homemade Keto Taco Seasoning recipe! If you liked this post, I would so appreciate you giving it a share by using the social sharing icons. THANK YOU!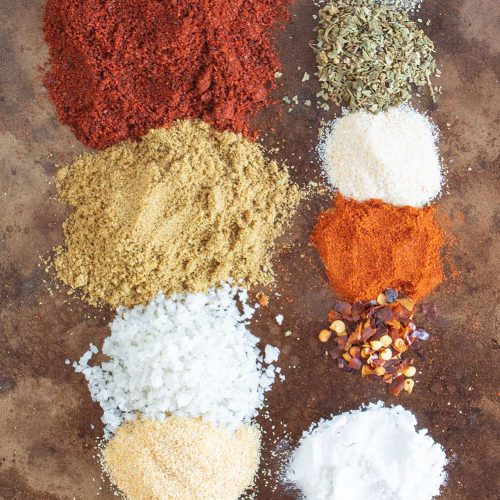 Homemade Keto Taco Seasoning
Goodbye, taco seasoning packets! This homemade taco seasoning is just as good (if not better), a heck of a lot cheaper, and contains NO added fillers like most taco seasoning packets.

Print
Pin
Rate
Ingredients
2

tablespoons

chili powder

1

tablespoon

ground cumin

2

teaspoons

sea salt

1

teaspoon

garlic powder

1/2

teaspoon

black pepper

1/2

teaspoon

dried oregano

1/2

teaspoon

onion powder

1/2

teaspoon

paprika

1/4

teaspoon

crushed red pepper

1/2

teaspoon

xanthan gum

(to thicken)

1

teaspoon

Swerve Confectioners

(optional, but highly recommended)
Instructions
Combine all ingredients in a glass jar. Stir or shake well to combine.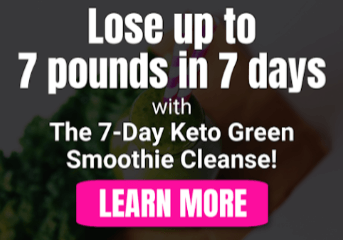 Notes
One serving of this mixture is enough to season one pound of ground meat of your choice (beef, turkey, chicken).
Each serving is 1 tbsp + scant 2 tsp (or 1 tbsp + 2 tsp if you include the Swerve). For most accurate measurements, weigh all of the seasoning and divide by 3.
Nutrition Facts
Homemade Keto Taco Seasoning
Amount Per Serving
Calories 31
Calories from Fat 9
% Daily Value*
Fat 1g2%
Cholesterol 0mg0%
Sodium 1659mg72%
Potassium 151mg4%
Carbohydrates 5g2%
Protein 1g2%
Vitamin A 1820IU36%
Calcium 42mg4%
Iron 2.4mg13%
* Percent Daily Values are based on a 2000 calorie diet.
Nutrition Disclaimer


Nutrition facts are included as a courtesy only. They are accurate to the best of our knowledge based on the ingredients and brands used, but their accuracy is not guaranteed. If applicable, sugar alcohols have already been removed from the total carb count.