New to Chaffles or want to know all the details about Chaffles? These keto-friendly waffles have been taking the keto world by storm… learn more in this comprehensive keto Chaffles post!
This post contains affiliate links, which means I'll make a small commission if you purchase through one of my links.
Have you heard of "Chaffles"? They've been taking the keto world by storm and, judging by how popular they are, they're here to stay! This post will help you navigate the overwhelming world of Chaffles so you can get started making the best Chaffles in your kitchen ASAP. I've also included plenty of links to Chaffle recipes.
I've had my head down focusing on a few blog projects and enjoying the last of the summer weather, so I am a bit late to the Chaffle party. They started blowing up in early August (case-in-point: there is a keto Chaffle Facebook group that was started on August 10 and has 23,000+ members as of September 1!) and I somehow didn't find out about them until late August. It's possible I heard the name before that but didn't realize they were such a thing until early last week. Forgive me, keto world!
I'm going to try to make up for it with this comprehensive Chaffle post. While I was scouring the internet for all things Chaffles, I realized I might as well compile it into a post for those of you who are also new to the Chaffle trend. I hope you find it helpful!
What is a Chaffle?
Chaffles are delicious, crispy keto-friendly waffles made with two simple ingredients: cheese and eggs. They:
Look like a waffle
Taste like a waffle
Have the mouthfeel (crispy on the outside, soft on the inside) of a waffle (some recipes more than others)
The base Chaffle recipe can be perfected and modified in a zillion ways, hence the 23k-members-and-counting Chaffle Facebook group.
What Does "Chaffle" Mean?
Chaffle = Cheese + Waffle! (Technically, Chaffles are Cheese + Egg, but "Chaffle" sounds a lot better than "Chegg." Sorry, Chegg.com!)
Where Did Chaffles Originate?
Chaffles seem to have magically popped up on the internet. Does anyone know for sure who created them? YouTuber Sonal's Food says in the comments of this video that it was her recipe (posted over a year ago) that was modified to make Chaffles.
What Appliance Do You Use to Make a Chaffle?
The obvious answer to this is "a waffle maker," but there is a particular type of waffle maker that many ketoers are using: the Dash Mini Waffle Maker. You can get one of your own below:
Pros of the Dash Mini Waffle Maker for Making Chaffles
It makes perfect Eggo-like Chaffles, one at a time.
It's easy to store in your kitchen because it is so tiny. Look at it next to this supplement bottle!
Many ketoers are using it, making it easy to replicate the results of their Chaffle recipe.
It makes the perfect gift. Ketoers and non-ketoers alike will love getting this for a gift! I already have a few people in mind that I want to give one to this holiday season.
Cons of the Dash Mini Waffle Maker for Making Chaffles
The long wait time on Amazon. Ketoers are a mighty group and can really move the market! Definitely look for it locally, although I've heard that it is selling out rapidly in local stores too.
It only makes one Chaffle at a time. They cook quickly, but if you're making Chaffles for a group, it can be a long process.
There isn't a timer. When the machine is warmed up, the blue light on top turns off so you know when to add your batter. However, once you've added the batter, the machine itself doesn't have any way to tell you when it's done; you have to set a separate timer or check it visually.
You have to pour carefully. Since it's such a small machine, it fills up quickly. You have to spoon on the Chaffle mix carefully so you don't overfill it. I read somewhere that you can also use a plastic squeeze bottle/condiment bottle.
How to Make a Basic Chaffle: Video + Recipe
Here is the video I watched before I made my first Chaffle:
So easy! The basic recipe is some variation of:
1 egg
1/2 cup shredded cheese (here is where you can get really creative with different types of cheese)
There are multiple techniques out there. Some people mix the shredded cheese in entirely with the egg, some people mix in only half of the shredded cheese and use the rest on the top and bottom of the batter to make it crispier on the outside, etc.
Chaffle Recipes to Enjoy
Many people have taken the basic Chaffle recipe and have modified it to make all sorts of Chaffle variations. They've added gluten-free flours like almond flour and coconut flour, spices, sweeteners, and extracts. Never underestimate the creativity of the keto community! 🙂
Here are a few recipes to try:
Here is a helpful Chaffle recipe graphic:

View this post on Instagram
Top Chaffle-Making Tips
I highly recommend this helpful post from Two Sleevers. She has tons of helpful Chaffle-making tips in one place as well as 15+ Chaffle recipes! Here are some of her delicious creations (as you can see, she uses a regular-sized waffle maker and not the mini):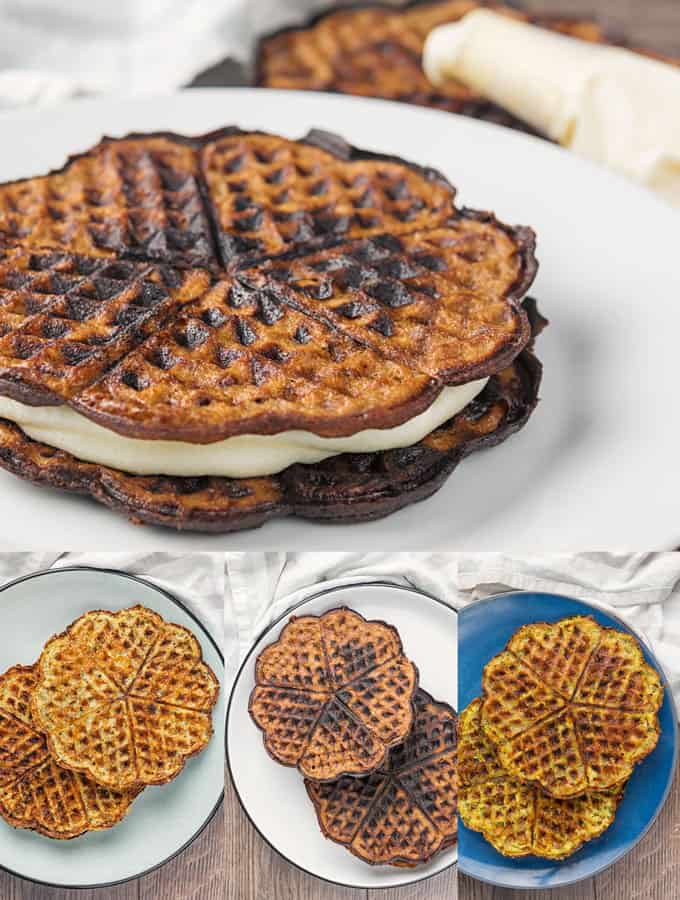 How to Serve Chaffles
You can serve Chaffles:
Just like you would a regular breakfast waffle
As a dessert waffle (the Oreo Chaffle is a popular recipe)
Cut into strips and used as a dipper (check out these Garlic Bread Chaffles dipped into keto soup)
As a Chaffle sandwich, as demonstrated in this photo from @healthyketochick (And yes, she put it in the toaster for extra yumminess!):
If you want to use syrup on your Chaffles, I highly recommend ChocZero Maple Syrup. It is keto-friendly and absolutely delicious! Use coupon code FORGETSUGARFRIDAY for 10% off your order!
How to Find Chaffle Recipes + Tips on Instagram
Just search the hashtag #chaffle or #chaffles. You will be able to make a different Chaffle every day for the rest of your life!
How to Find Chaffle Recipes + Tips on YouTube
Check out these search results. There are so many to watch, like this amazing Keto Chaffle Churros video:
Chaffle Recommendations from Readers
Katie says: "The Hangry Woman's has been my FAVORITE. It's fool-proof! I made it 5 times and it hasn't failed." Get the recipe!
What Are Your Favorite Keto Chaffle Recipes and Tips?
If you have Chaffle recipes and tips to share, please submit them in the comments! I'd love to learn from Chaffle experts. 🙂