Think you can't have fruit on keto? Think again! With these 7 keto strawberry recipes, you'll enjoy the fresh flavors of strawberries without breaking your diet. Net carbs are provided for each recipe.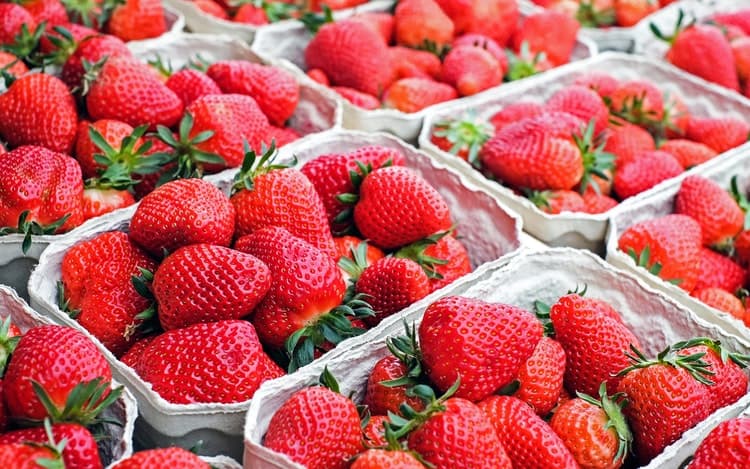 Are you ready to whip up some ridiculously good keto strawberry recipes? This post is here to deliver with seven keto-friendly recipes containing the glorious (and keto-friendly!) fruit.
In this post, you'll find links to the following keto strawberry recipes:
Keto Strawberry-Chicken Salad with Maple-Balsamic Vinaigrette
White Chocolate Keto Mousse with Berries
Keto Layered Strawberry Crisp
Keto Strawberry Cheesecake
Strawberry Keto Scones
Keto Strawberry Jam
Keto Strawberry Cheesecake Ice Cream
How to Access the Recipes in This Post
This post is a roundup of recipes — some from here at ForgetSugar and some from other high-quality bloggers.
To access the recipes in this post, click on the pink "Get the Recipe Here!" button at the bottom of every recipe summary.
That will take you to the original post where you can find the recipe (usually in a recipe card at the end of the post). 💖 Every post includes nutrition information, so you'll be able to plug the nutrition facts into your favorite tracking app.
How Many Carbs are in Strawberries?
According to the USDA food database, 1 cup of halved raw strawberries contain:
47 calories
0.5g fat
1g protein
11.7g carbs
3g fiber
8.7g net carbs
Are Strawberries Bad for the Keto Diet?
Not at all! Strawberries are rich in nutrients, making them great for the keto diet. They're rich in vitamin C, manganese, folate, and potassium.
How Many Strawberries Can I Eat a Day on Keto?
Most people on keto eat between 20 and 30g net carbs per day. At 8.7g net carbs per 1 cup of strawberries, eating a full cup of strawberries per day may not be the best usage of your daily carb allotment. However, eating 1/2 cup of strawberries per day (4.35g net carbs) will fit easily into most keto plans.
To make the most of your strawberry consumption on keto, add them to a recipe like those below, or pair them with a high-fat keto-friendly food (like a small amount of full-fat Greek Yogurt).
Keto Strawberry Recipes #1: Keto Chicken Salad with Strawberries by ForgetSugar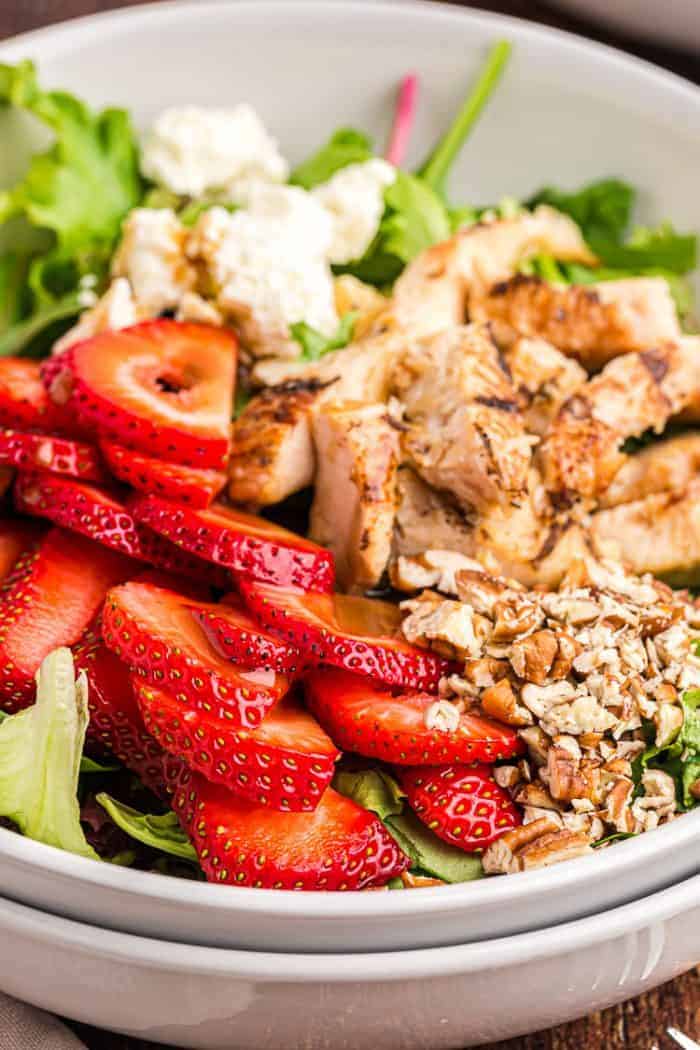 6.5g net carbs: Get ready for one of THE BEST keto salads you've ever tasted! In fact, this Keto Strawberry-Chicken Salad with Maple-Balsamic Vinaigrette may just end up being your favorite.


6g net carbs: Looking for a sweet keto treat? Look no further than this elegant White Chocolate Keto Mousse with Berries! To keep the carb count lower, it contains a mixture of strawberries and blackberries, but feel free to use all strawberries if you would prefer.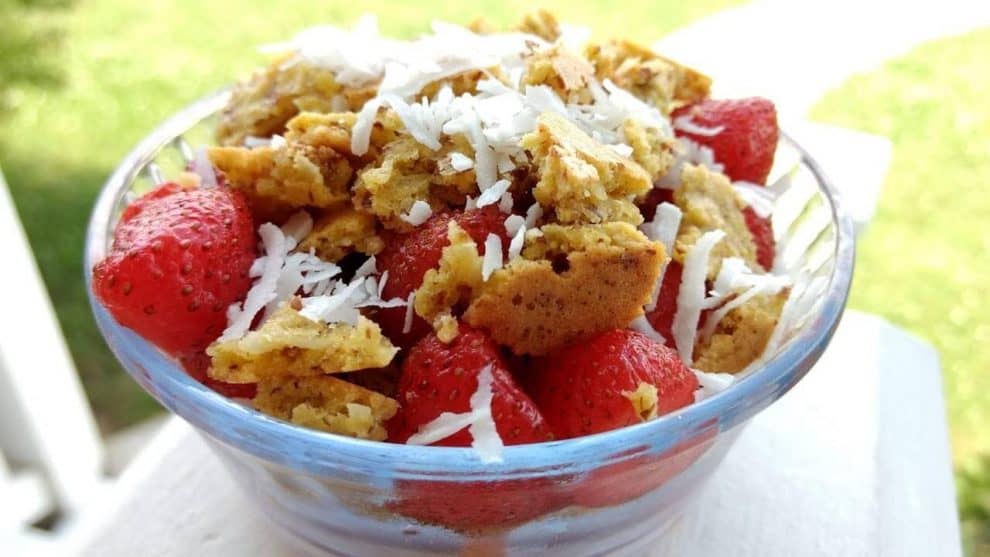 2g net carbs: This low-carb crisp recipe contains a yummy crisp layered with strawberries and topped with coconut flakes. Makes a great sugar-free breakfast, dessert, or snack!

Keto Strawberries Recipe #4:
Keto

Strawberry Cheesecake

by Joy Filled Eats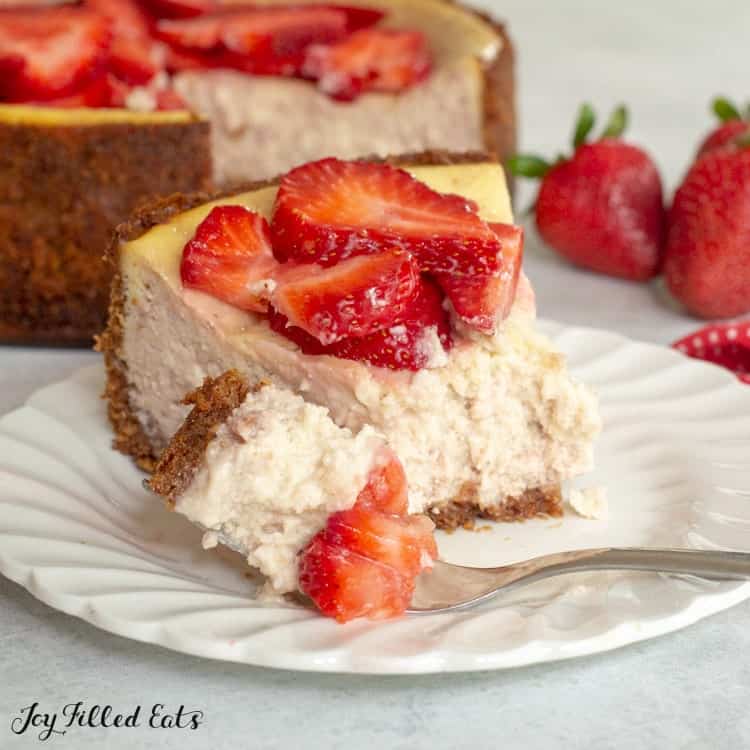 5g net carbs: This incredible Keto Strawberry Cheesecake recipe is beautiful and delicious! For a traditional keto cheesecake, simply omit the strawberry topping.

Keto Strawberries Recipe #5: Keto Strawberry Scones by Keto Connect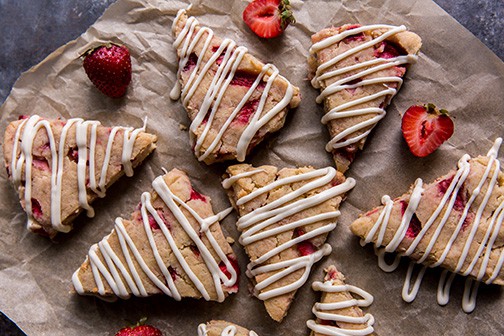 5g net carbs: Start your day off right with these Keto Strawberry Scones made with almond flour. Don't forget to top them with the included keto-friendly glaze recipe!

Low Carb Strawberry Recipe #6: Keto Strawberry Jam by Low Carb Maven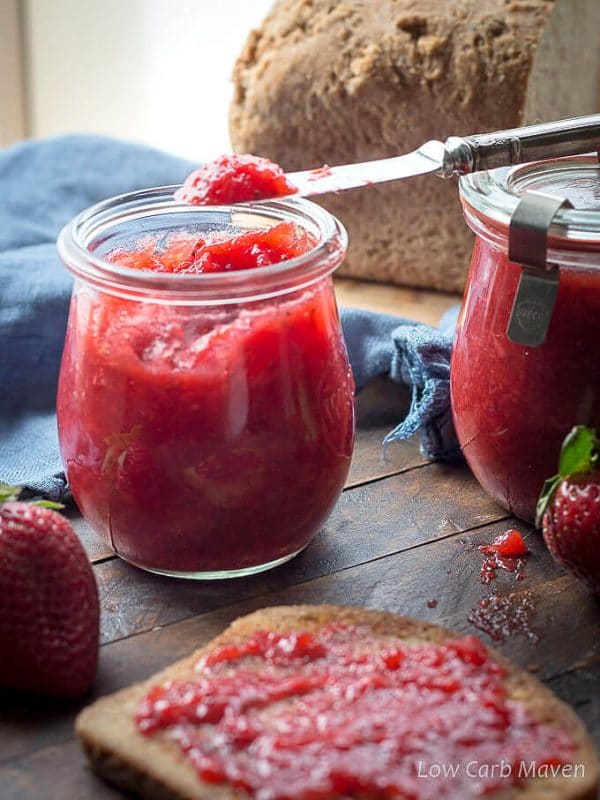 1.15g net carbs: This Keto Strawberry Jam is incredibly popular and for good reason! With only five ingredients and about 30 minutes, you'll have a sweet-and-flavorful strawberry jam recipe. Top your favorite keto bread recipe with this jam and you'll be in heaven.

Low Carb Strawberries Recipe#7:
Keto

Strawberry Cheesecake Ice Cream

by Peace, Love and Low Carb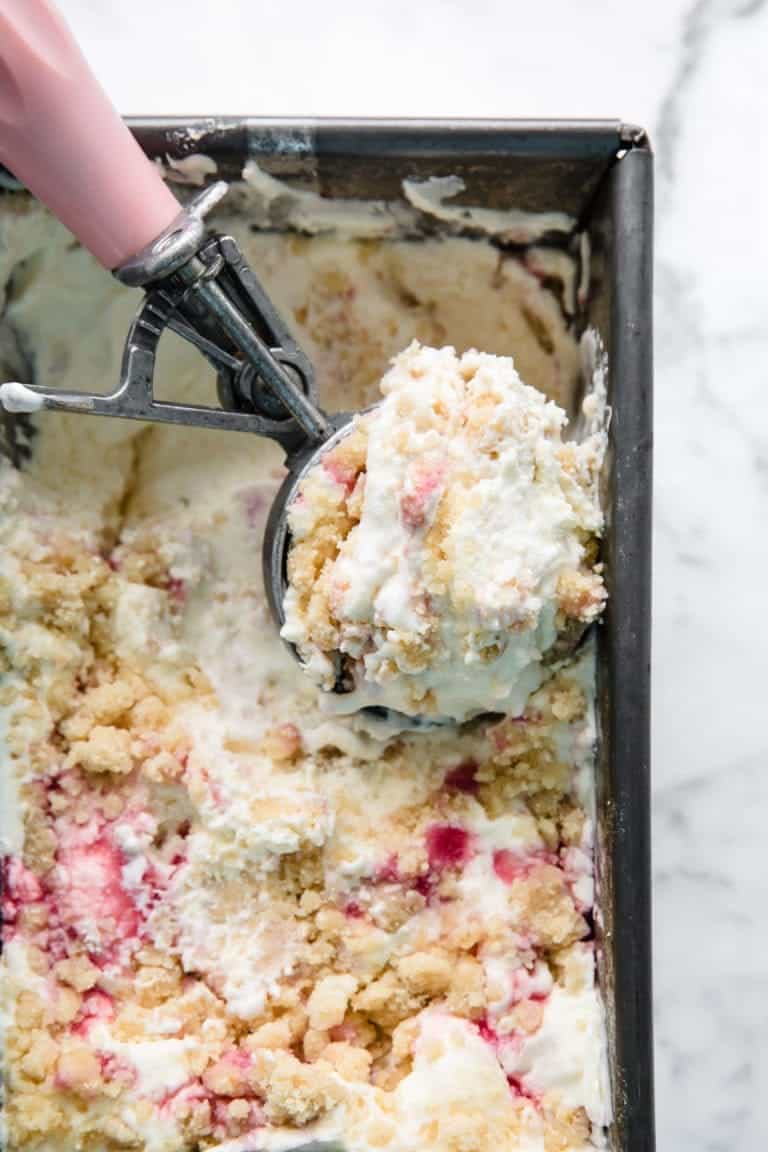 3.3g net carbs: Although it may seem like the recipes on this post can't get any better, I will leave you with one final amazing recipe: Keto Strawberry Cheesecake Ice Cream! Yes, it's just as amazing as it sounds.

Like This Post? Give it a Share!
I hope you enjoyed this low carb keto strawberry recipe roundup! If you liked this post, I would so appreciate you giving it a share by using the social sharing icons. THANK YOU!