Craving sweets on keto? There is no reason to break your diet with a carb-loaded dessert — just try one of these mouthwatering keto dessert recipes instead! Trust me when I say you will NOT miss sugar. I've also loaded this post with a variety of tips to help you crush your sugar cravings on keto.
This post contains affiliate links, which means I'll make a small commission if you purchase through one of my links (at no extra cost to you). Thank you for your support!
Craving Sweets on Keto?
If you've been craving sugar on keto, this is the post for you! The amazing thing about keto is you can make Sugar Free Dessert Recipes taste just as good, if not better, than their carb-heavy counterparts. Thanks to advances in natural sweeteners that don't raise blood sugar (and thus aren't counted toward your net carb count), you can whip up some AMAZING treats.
Even better, I find that the sweeteners used in these recipes don't cause further sugar cravings. Plus, since the recipes are higher in fat, one small serving will keep you satisfied and full. I've personally been off sugar for a decade now and am amazed by the fact that I can recreate some of my old favorites… without the sugar cravings that I used to get when I ate sugar-filled desserts!
You'll also find more of my tips for defeating sugar cravings on keto at the end of this post.
My Favorite Keto-Friendly Sweeteners
Before I share the recipes with you (because that's what you're here for, right?! 😊), I want to quickly share my three favorite keto sweeteners:
Swerve Confectioners uses (natural) sugar alcohols which have zero effect on blood sugar, meaning you can subtract them from the net carb count. (That gives Swerve zero net carbs.) It also measures just like sugar, so there isn't any guessing about how much to use. I purchase the 48 oz. bags because they are convenient and a much better price per ounce than the 12 oz. bags.
Stevia is another keto-friendly choice. It is much, much sweeter than sugar, so you only need a tiny amount. Swerve Confectioners is better for replicating sugar-sweetened desserts because it measures just like sugar, but stevia is great if you want an easy sweetness boost (like in coffee, tea, etc.) and don't need the bulk of sugar.
If you need a maple syrup substitute, this is the best! It is divine and tastes so much like the real thing.
Note: Sugar alcohols do NOT count toward net carbs. If you're using a sugar replacement that contains sugar alcohols, you can subtract those from total carbs, just like you do fiber.
Now let's get to the keto dessert recipes!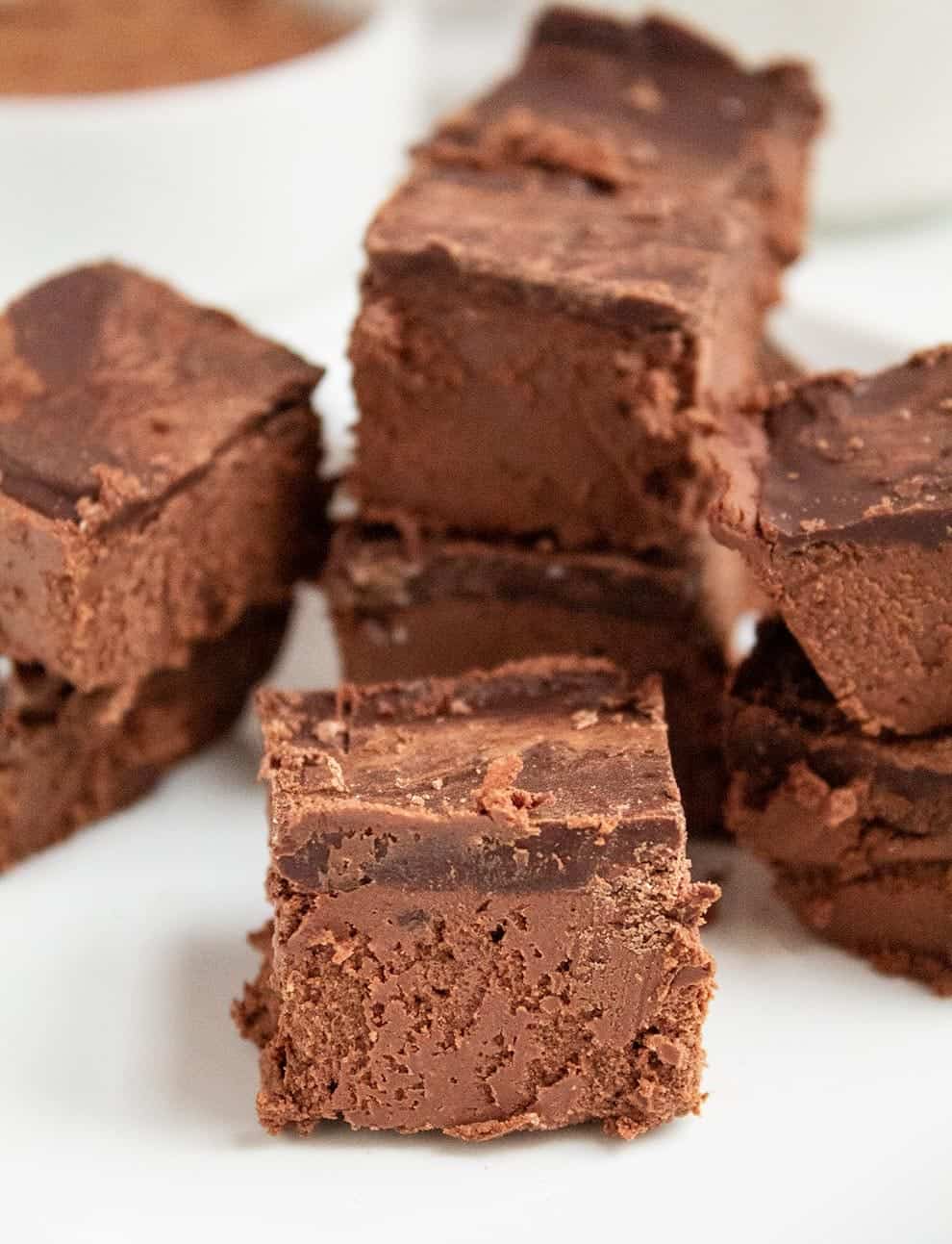 1g net carbs per piece — Once you try this ridiculously good keto chocolate dessert, you'll see why I had no choice but to call it "Keto Chocolate Heaven." Each piece is oh-so-decadent and will satisfy all your chocolate cravings! This is hugely popular choice from our Keto Chocolate Recipes.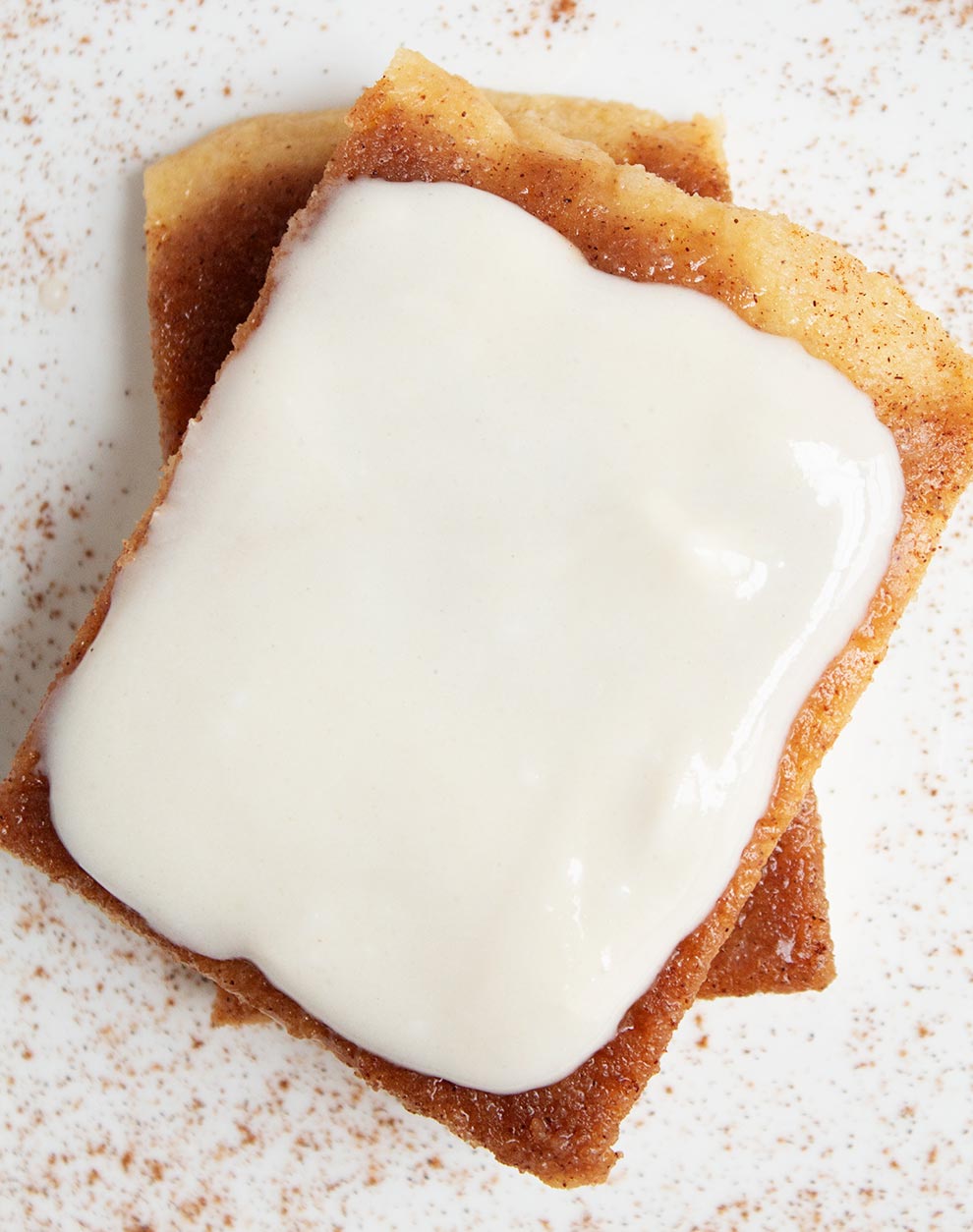 2.6g net carbs per piece — No need for extra ingredients or steps… this simple recipe uses Fathead dough to make Keto Cinnamon Roll Flatbread that tastes just like cinnamon rolls! Can be served with icing or without.

0.58g net carbs per serving — Eating fat on keto just got a lot easier with these to-die-for Keto Frosting Shots! They're ideal for a snack or dessert and will be a HUGE hit at parties with ketoers and non-ketoers alike. If chocolate is your thing, try my Keto Chocolate Cream Cheese Frosting recipe instead.

3.4g net carbs per mug cake — Keto pancake for one, please! This easy Keto Pancake Mug Cake is SO good that it will make getting out of bed every morning a total breeze.

0.37g net carbs per fat bomb — These Chocolate Peppermint Fat Bombs will remind you of the yummy, minty, chocolaty flavor of Andes Mints! What better way to boost your fat intake than these tasty treats?

0.84g net carbs per cookie — If you are craving sweets on Keto, how about macaroons that taste like sugar cookies?! Yes, please! With the addition of two extra ingredients, these macaroons truly taste like sugar cookies. Want regular macaroons? No problem! Omit the two ingredients and enjoy delicious low carb macaroons.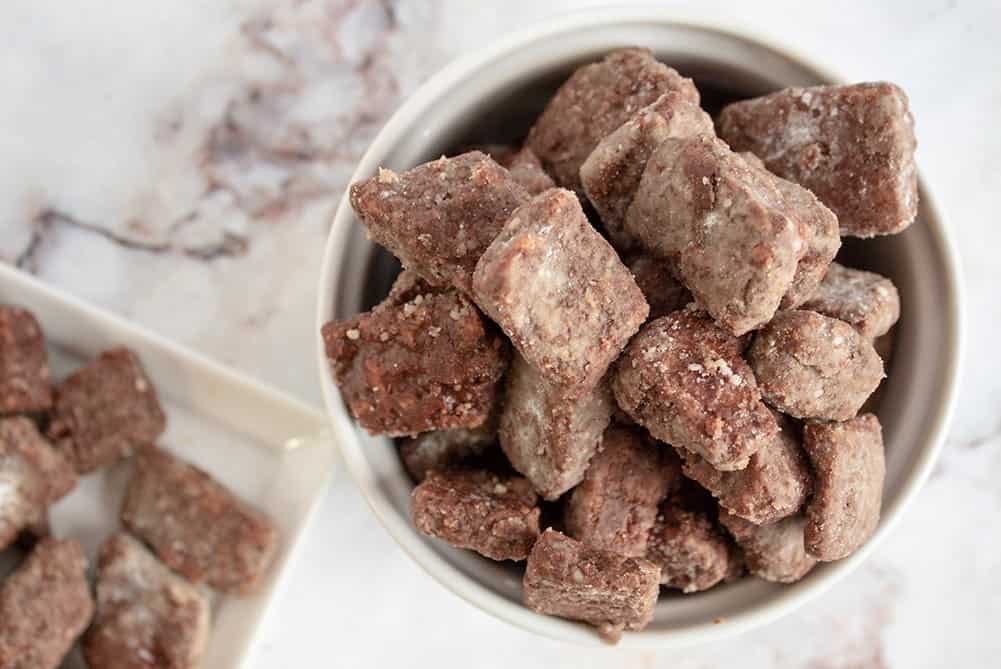 3g net carbs per serving — Whether you call the recipe Muddy Buddies, Puppy Chow, or "that really amazing stuff with peanut butter, chocolate, and powdered sugar," you will go CRAZY over this Keto Candy recipe. It has all the incredible flavors of the original recipe without all the sugar and carbs!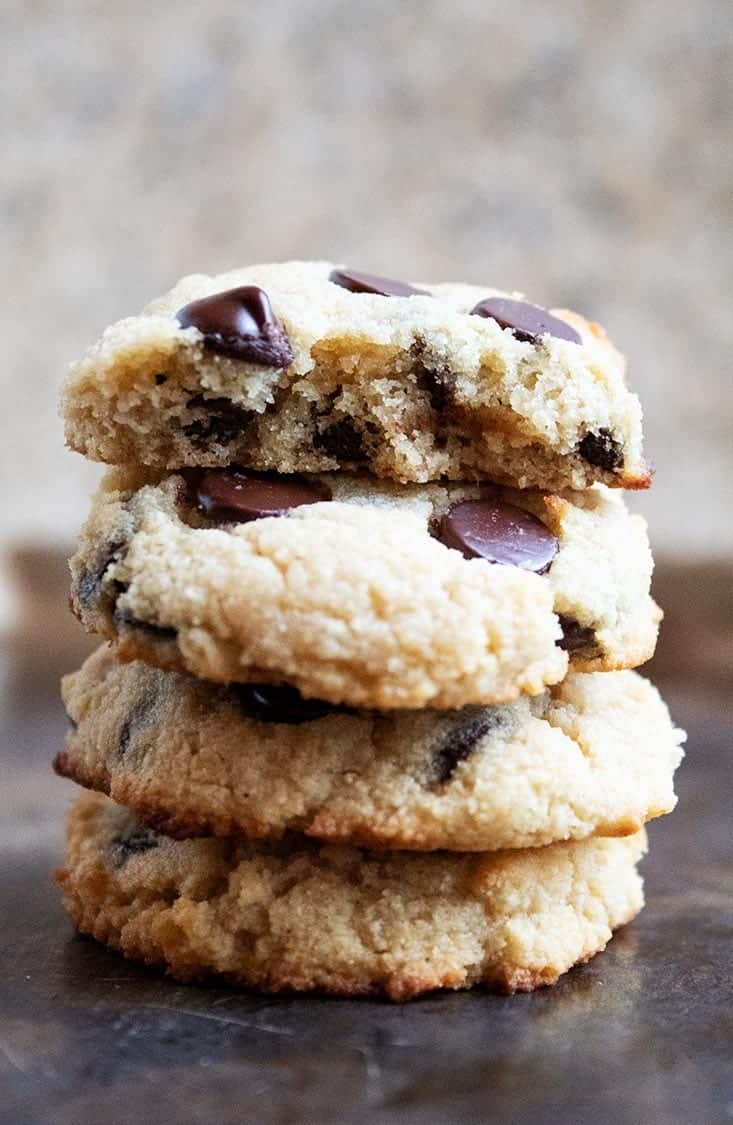 When nothing else sounds good, revert back to the classics, keto chocolate chip cookies! You can never go wrong with our most popular Keto Cookies recipe. These are always and forever your go-to when nothing else sounds good.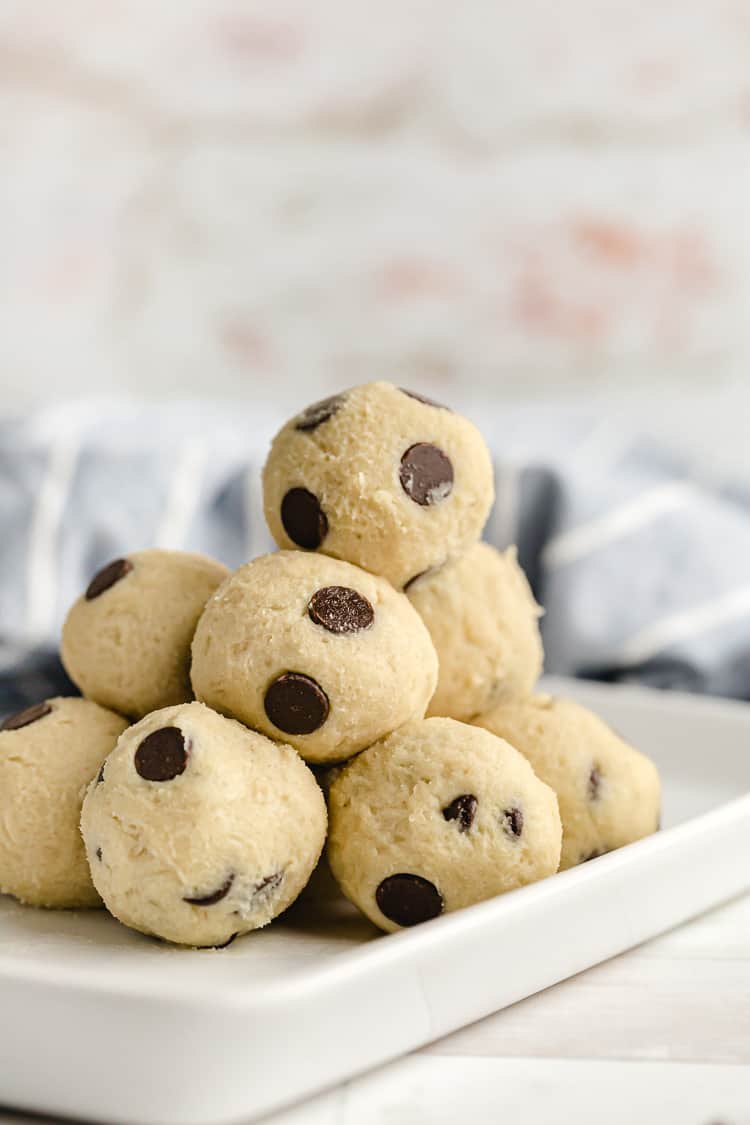 This childhood favorite never gets old and it requires no baking whatsoever. Classic Keto cookie dough cookies are fast and easy to make, and, yes, they satisfy you when you are craving sweets on Keto.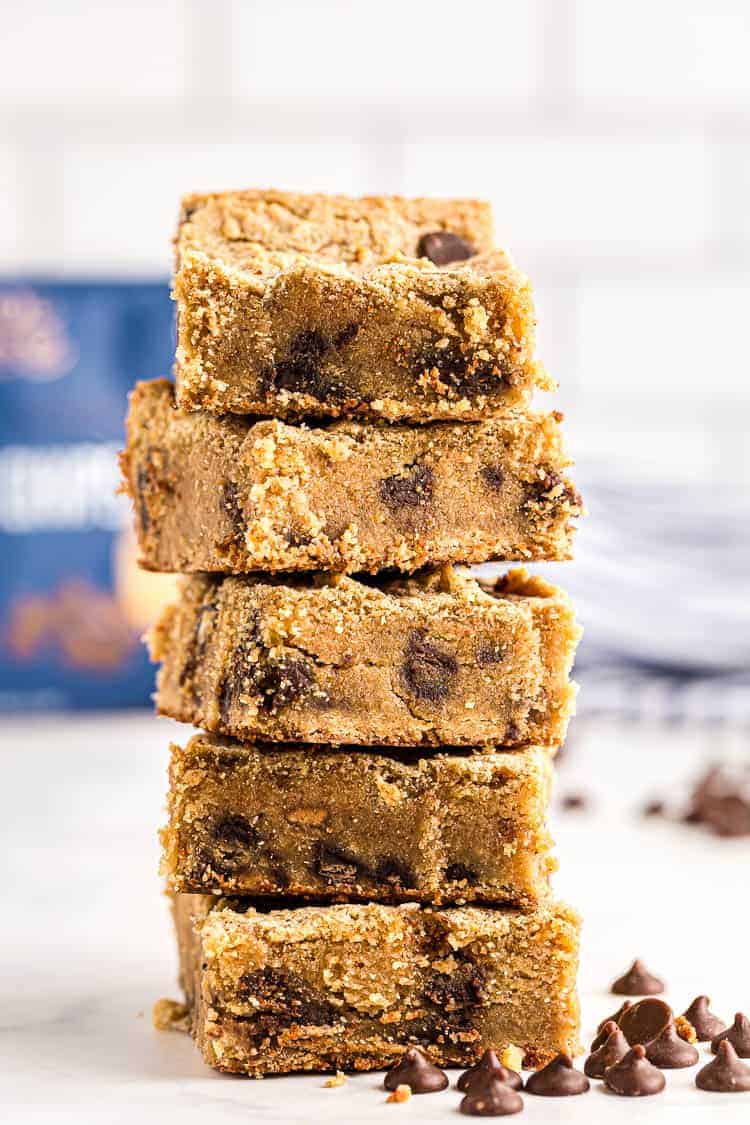 These phenomenal peanut butter cookies are exactly what you need when you love peanut butter and are in need of something to get past those sugar-cravings. Peanut butter lovers also really enjoy our Keto Peanut Butter Dessert, you won't be disappointed.

Yes, this chocolaty classic is a must-eat when you are craving chocolate and cookies, can it get any better?

More Tips for Craving Sweets on Keto
While satisfying a sugar craving with a keto-friendly treat is one way of reducing sugar cravings, you may need to employ a few other strategies for extra help:
Drink more water. Being dehydrated can send your carb and sugar cravings through the roof.
Drink a fruity tea sweetened with a keto-friendly sweetener. I'm a HUGE fan of Tazo Passion Tea (I buy it at Target). I drink 32 oz of it iced a few times a week, and it really hits the spot.
Drink a fruity electrolyte drink. I love Ultima Replenisher, especially the grape flavor.
Eat a small amount of fruit. Small quantities of strawberries, raspberries, and blackberries are perfectly fine on keto. Put together a yummy bowl of them (topped with some whipped cream if you'd like!) and enjoy.
Eat more fat. If you find yourself really struggling with eating enough fat, the lack of fat may be a culprit in your sugar cravings. Try making some fat bombs or adding some extra MCT oil, coconut oil, ghee, butter, or olive oil to your daily meals.
Eat more whole foods. As more keto-friendly products hit the market, it's easy to become overly reliant on keto convenience foods. Sometimes scaling it back to the basics — simple proteins, fat, and veggie combos — can help simplify things and keep the sugar cravings at bay.
Give it time. When I first quit sugar almost a decade ago (long before keto), it took time for the sugar cravings to go away. I could lie to you and say it took just a few days or weeks, but in reality, it took many months for the worst of them to go away, and about a year before I started to feel more comfortable around sugary foods. (More comfortable = didn't want to face plant into whatever dessert was in the room.)
Remember that you are stronger than a cookie. No matter how strong your cravings feel, remember that YOU are in control. The sweets aren't! Acknowledge your cravings, but don't let them control you. Keep moving forward, one step at a time.
Choc Zero Coupons
Don't forget to use your when you buy chocolate chips for any
Like This Post? Give it a Share!
I hope you've found these keto dessert recipes helpful! If you liked this post, I would so appreciate you giving it a share by using the social sharing icons. THANK YOU!