Missing candy on keto? Choose from this list of 7 keto candy recipes to satisfy your sweet tooth, including Keto Andes Mints, Keto Peppermint Patties, Keto Gummy Bears, and Keto Ferrero Rocher! Net carbs are provided for each recipe.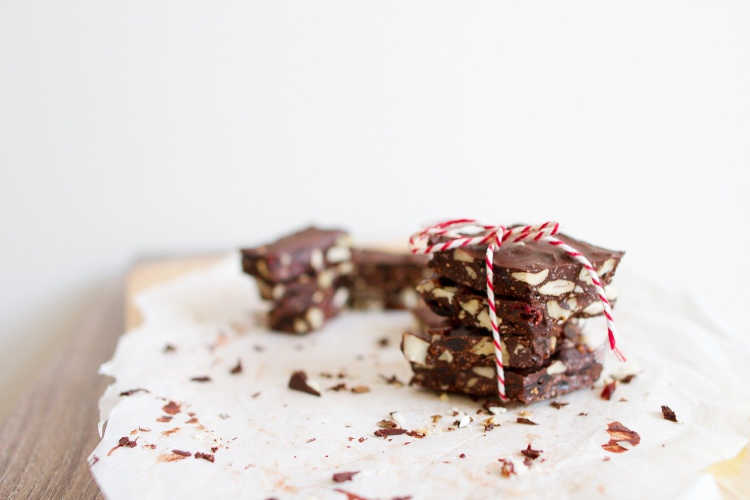 This post contains affiliate links, which means I'll make a small commission if you purchase through one of my links.
Do you miss the pick-me-up of a little candy treat? You'll be happy to know that you don't need to give up candy on keto; you just have to eat "ketofied" versions of your favorite candy treats! I'm super excited to share this post with you because it shows how versatile keto can be if you have the right recipes on hand. Craving gummy bears? No problem! Craving peppermint patties? Solved! Craving chocolate truffles? Craving satisfied!
All of these keto candy treats have ZERO sugar thanks to the usage of keto-friendly sweeteners like stevia and erythritol. You still shouldn't go overboard with these goodies, but you can certainly enjoy a small serving without any worry that you'll be kicked out of ketosis.
In this post, you'll find links to the following keto candy recipes:
Keto Copycat Andes Mints Fat Bombs

Keto Chocolate-Covered Pecans

Keto Peppermint Patties
Keto Gummy Bears

Keto Peanut Butter Cups

Keto Bourbon Chocolate Truffles

Keto Copycat Ferrero Rocher
Plus, at the end of the post, I've shared some keto candies that you can buy online; no effort in the kitchen required!
How to Access the Recipes in This Post
This post is a roundup of recipes — some from here at Forget Sugar Friday and some from other high-quality bloggers.
To access the recipes in this post, click on the pink "Get the Recipe Here!" button at the bottom of every recipe summary.
That will take you to the original post where you can find the recipe (usually in a recipe card at the end of the post). 💖 Every post includes nutrition information, so you'll be able to plug the nutrition facts into your favorite tracking app.
Now let's make some candy!
0.36g net carbs: This refreshing chocolate peppermint candy treat tastes just like Andes Mints candies. They're easy to make and have a wonderful texture… you really can't eat just one! (And that's totally fine since they double as fat bombs. 😉 )

0.6g net carbs: Roasted pecans covered in chocolate… what's not to love? This candy is easy to make and delicious, plus you get all of the healthy nutrients from the pecans. A keto treat that won't leave you feeling guilty!

#3: Chocolate Covered Macadamia Nuts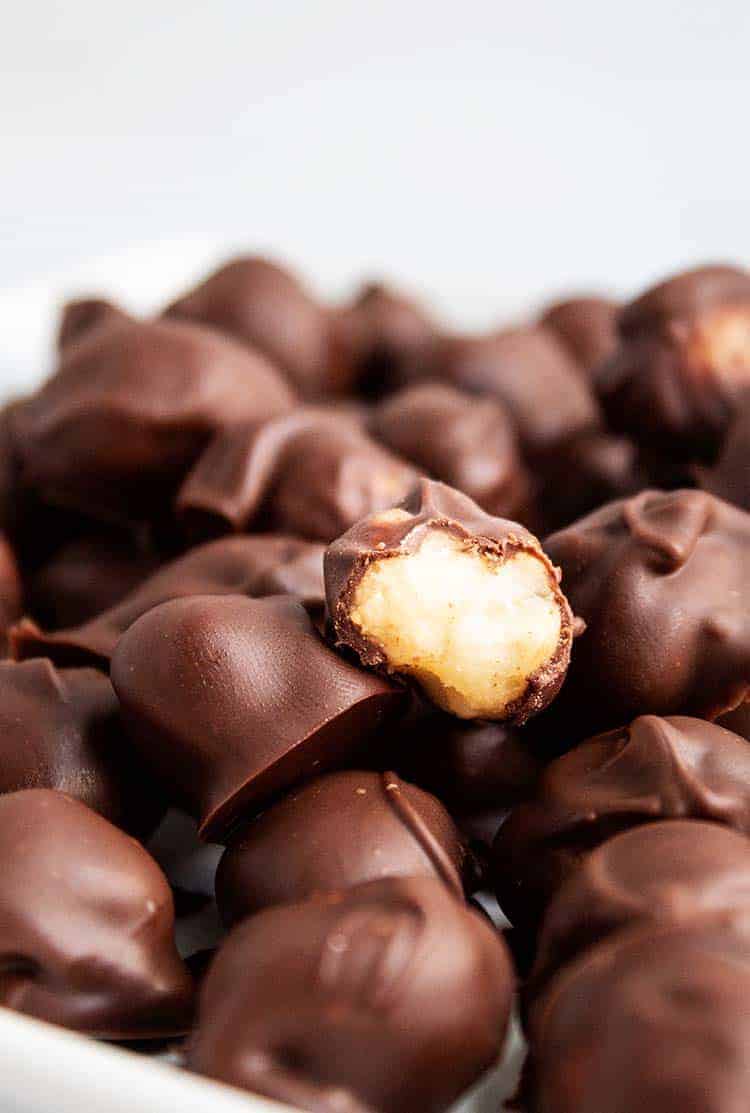 Try these fabulous low-carb chocolate covered macadamia nuts!

Keto Candy Recipe #4:

Peppermint Patties

by Perfect Keto
3g net carbs: Another refreshing chocolate peppermint candy recipe! These keto copycat Peppermint Patties only take three steps to make, so you'll be able to satisfy your candy craving in no time at all.

Keto Candy Recipe #5:

Gummy Bears

by Low Carb Yum
0g net carbs: Admittedly, this keto candy roundup is chocolate candy-heavy. In fact, these keto gummy bears are the only chocolate-free recipe! (Unless you want to take the extra step and dip them in keto chocolate, which, by the way, is fabulous.) They are surprisingly easy to make and have ZERO net carbs!

Keto Candy Recipe #6:

Peanut Butter Cups

by All Day I Dream About Food
2.59g net carbs: This year-round classic is sure to satisfy that candy craving of yours! Peanut butter and chocolate always combine so well when you have a candy craving.

1.5g net carbs: Try this chocolate truffle made of avocado (yes, really!), cocoa powder, coconut oil, and pecans. How can delicious candy be made from such healthy ingredients?! The bourbon is optional, but it really adds to the unique flavor.

3.7g net carbs: You won't want to miss this classic copycat of Ferrero Rocher candy: hazelnuts and hazelnut-flavored chocolate spread topped with chocolate. What a fantastic treat this is!

Keto Candies You Can Buy
If you don't want to head to the kitchen and make your own keto candies, you'll be happy to know that there are buyable options to make things super easy! Here are my favorite keto candies that are available online:
3g net carbs: This fantastic milk chocolate almond bark is free of sugar alcohols and has RAVE reviews online (for good reason!).
If you want to check out the rest of the ChocZero line-up, you can buy straight from the ChocZero site (click here to go to their site) and use the coupon code FORGETSUGARFRIDAY for 10% off your order. They have tons of keto candy: keto bark, keto chocolates, and keto chocolate chips!
1g net carbs: Peanut butter encased in glorious milk chocolate… what's not to love?! Plus, they're individually wrapped for portion control.
What Sweets Can I Eat on Keto?
You can eat many different types of sweets on a keto diet. However, they must be sweetened with keto-friendly sweeteners. For instance, erythritol (learn more in the graphic below) and stevia-based sweeteners have become very popular among ketogenic dieters as a viable replacement for sugar. Many traditional sweets can now be made with these natural sugar replacements, making keto a very easy diet to follow!
Note: As a rule, it's best to avoid artificial (synthetic) sweeteners like sucralose and aspartame. They won't kick everyone out of ketosis, but they should be approached with caution.
Is Sugar-Free Candy Carb-Free?
Usually, but not always. Sometimes recipe creators and manufacturers will sneak carbs in some form into sugar-free candy, so make sure to check the label before digging in.
That said, there are many different artificial sweeteners and natural sweeteners that can be used in candy to make it carb-free. Using sugar-free sweeteners can prevent many health issues such as weight gain and insulin spikes.
Can You Eat Chocolate on a Keto Diet?
You can definitely eat chocolate on the keto diet, but it depends on what the chocolate is sweetened with. Chocolate sweetened with natural sweeteners like stevia, monk fruit, and erythritol, are okay to eat on the keto diet. Researchers have demonstrated that chocolate has health benefits: "…flavanols from cocoa products may provide some cardiovascular benefit if included as part of a healthy diet for patients…" so don't be afraid to give into your chocolate cravings!
ChocoZero Coupon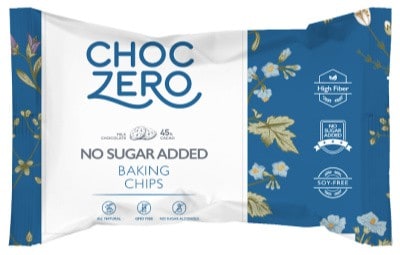 Get your ChocZero discount coupon for all of your keto chocolate goodies!
Like This Post? Give it a Share!
I hope you enjoyed this low carb candy recipe roundup! If you liked this post, I would so appreciate you giving it a share by using the social sharing icons. THANK YOU!