Love chocolate? Then you're going to love these seven amazing keto chocolate recipes that will help conquer your chocolate cravings!
This post contains affiliate links, which means I'll make a small commission if you purchase through one of my links.
Raise your hand if you're a choc-o-holic. 🙋‍♀️🙋‍♀️ I love chocolate so much that, when I first considered trying keto, I raced to Google and typed in: "Is chocolate keto?"
Thankfully, I quickly discovered that, while sugar-filled chocolate is, of course, not keto-friendly, cocoa powder and cocoa beans are, which means keto-friendly chocolate desserts (plus actual chocolate!) are a YES.
Since then, I've gone on to create many chocolate-flavored keto desserts, and in this post, I want to share with you a few of my favorite recipes. You'll find information about and links to:
Keto Chocolate Cookie Casserole (aka Keto Brownie Casserole)
Keto Chocolate Smoothie (can also be made into a chocolate pudding)
Keto Chocolate Frosting
Keto Chocolate Heaven
Keto Chocolate Peppermint Fat Bombs (aka Keto Andes Mints)
Keto Chocolate Covered Pecans
Keto Chocolate Coffee Fat Bombs
Keto Chocolate-Covered Macadamia Nuts
Keto Fudge
Also, check out some of fantastic keto low carb desserts that have chocolate in them like our classic Keto Chocolate Chip Cookies, Keto Puppy Chow. and our Keto White Chocolate Fudge.
Let's get started with the recipes!
Whether you look at these glorious photos and want to call this a Double Chocolate Keto Cookie Casserole or a Keto Brownie Casserole with Chocolate Chips, the end result is the same: total keto dessert bliss!
Net carbs per serving: 3g
Ready in: 35 minutes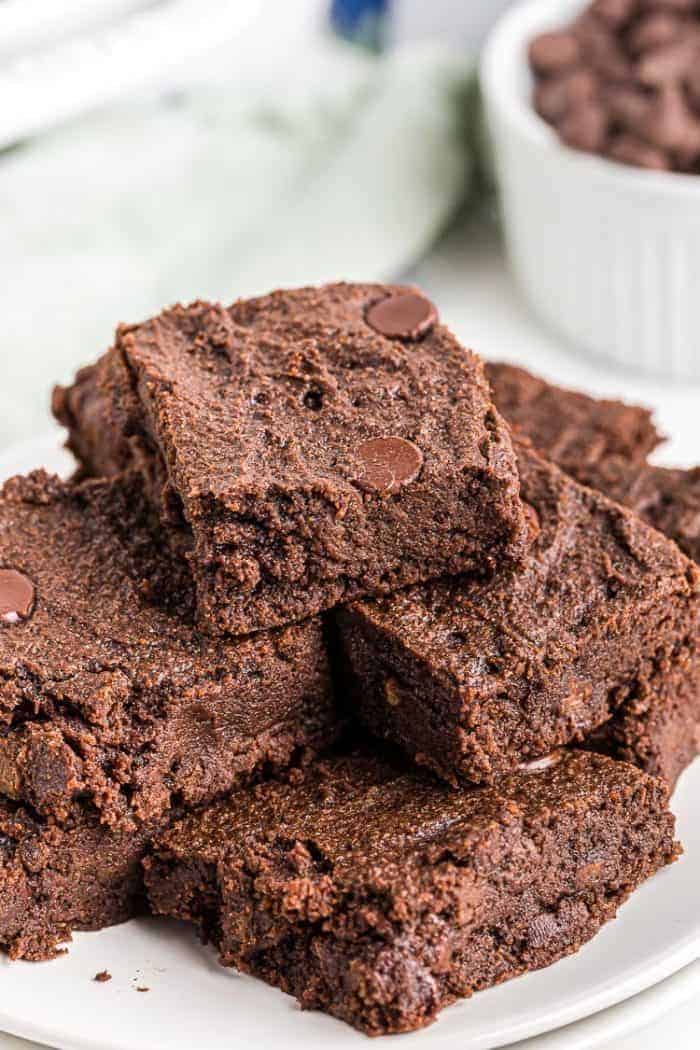 You won't believe the secret ingredient in this creamy and rich Keto Chocolate Smoothie! This recipe can also be easily modified to make a keto chocolate pudding.
Net carbs per serving: 5.6g
Ready in: 2 minutes

Crush your chocolate cravings with this creamy Keto Chocolate Cream Cheese Frosting! Eat a serving or two on its own for a yummy treat, or use it to frost your favorite keto baked goods.
Net carbs per serving: 1g
Ready in: 20 minutes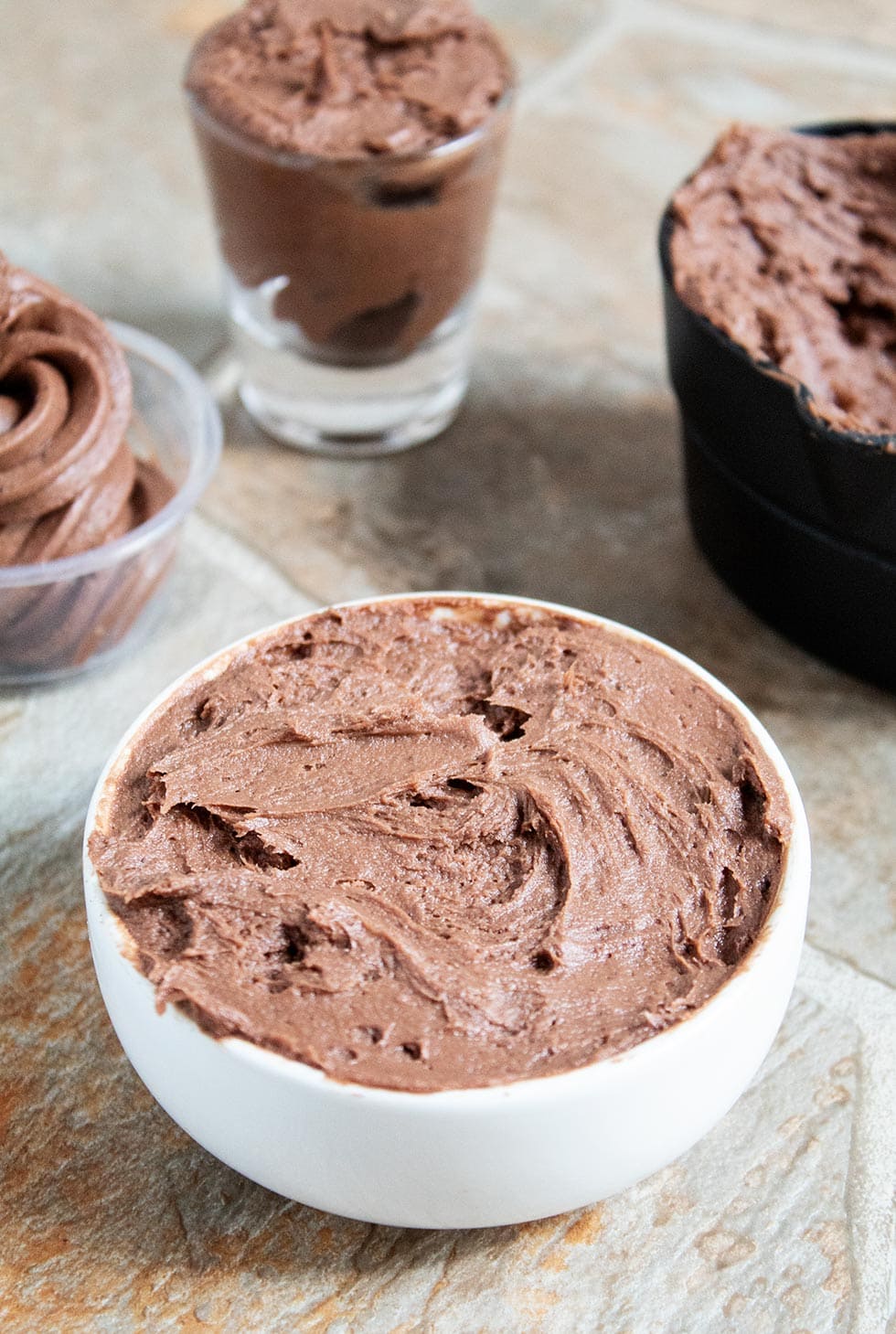 Keto Chocolate Recipe #4: Keto Chocolate Dessert, aka Chocolate Heaven
Once you try this ridiculously good keto chocolate dessert, you'll see why I had no choice but to call it "Keto Chocolate Heaven." Each piece is oh-so-decadent and will satisfy all your chocolate cravings!
Net carbs per serving: 1g
Ready in: 60 minutes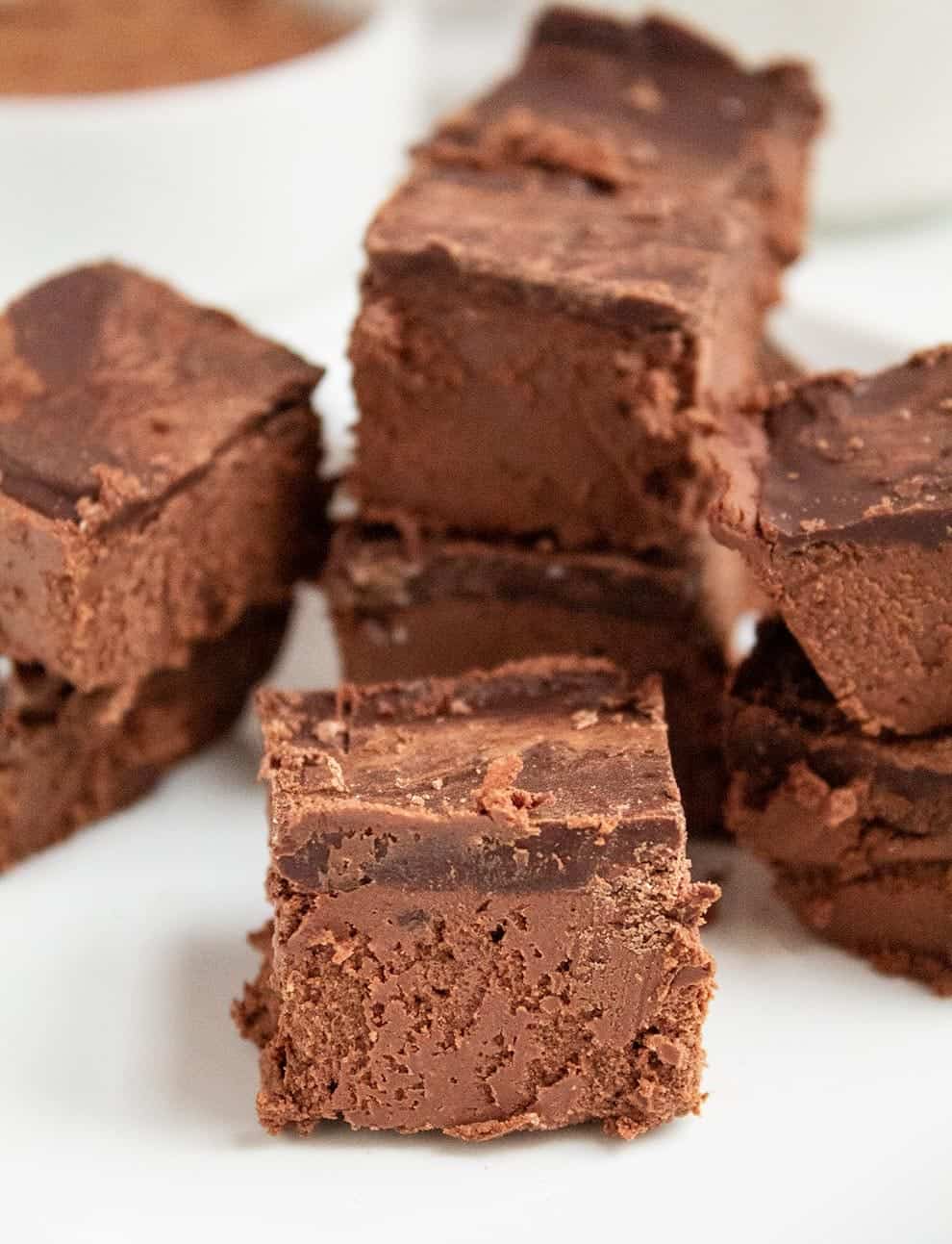 These Chocolate Peppermint Fat Bombs will remind you of the yummy, minty, chocolatey flavor of Andes Mints! What better way to boost your fat intake than these tasty treats?
Net carbs per serving: 0.36g
Ready in: 55 minutes
These Keto Chocolate-Covered Pecans are divine and have less than 1g net carbs per serving (only 0.6g!). Even better, this recipe is actually two recipes in one: butter-toasted pecans and chocolate-covered pecans!
Net carbs per serving: 0.6g
Ready in: 35 minutes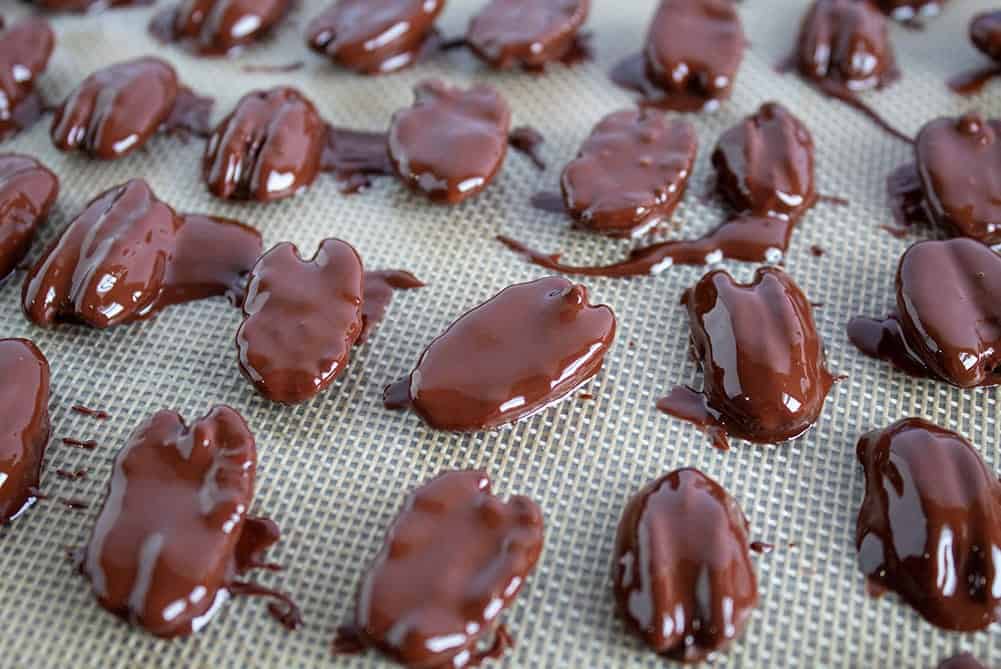 These Keto Chocolate Coffee Fat Bombs are total bliss! They each contain 9g fat, only 1g net carbs, and they're caffeinated. When you want a filling pick-me-up, grab one of these tasty treats!
Net carbs per serving: 1g
Ready in: 8 minutes

This fantastic chocolate-covered macadamia nut keto candy will satisfy your chocolate cravings for sure! Easy to make and even easier to consume, mmmm!
Net carbs per serving: 2g
Ready in: 17 minutes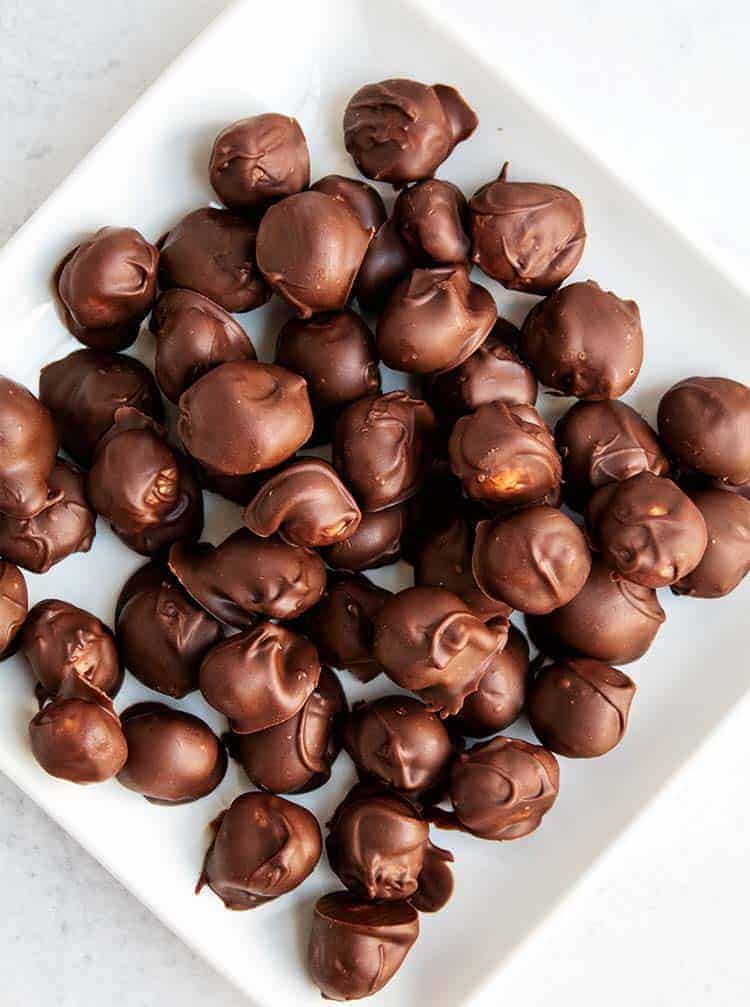 Keto Chocolate Recipe #9: Keto Fudge
Last, but not least, is our rich and decadent sugar free chocolate fudge recipe. It is pure chocolate bliss!
Net carbs per serving: 1g
Ready in: 11 minutes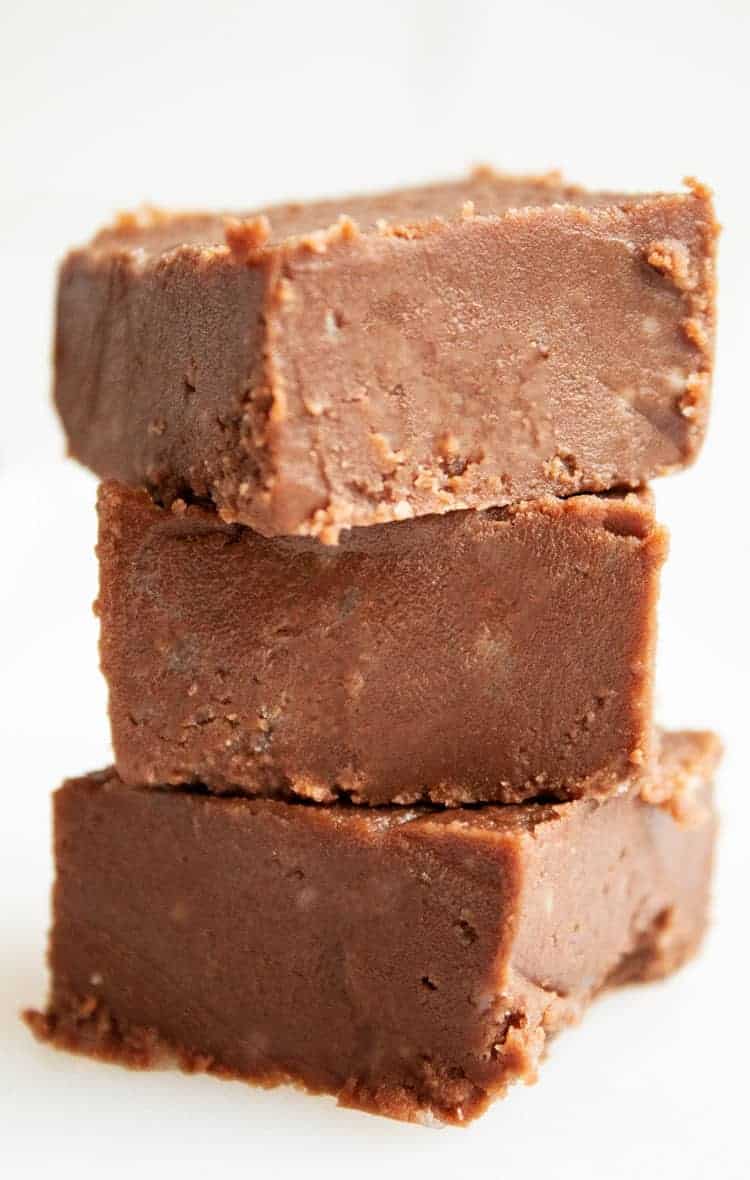 ChocZero Coupon
As many of you know, my favorite keto chocolate (and syrup) company is ChocZero. Check out our page with the best ChocZero Coupon.
They make everything from Keto Low Carb Cookies to bites to cups to bars and so much more! Give them a try and use coupon FORGETSUGARFRIDAY for 10% off your order today and always!
Here are some of most popular cookie recipes to use your ChocZero chocolate chips in including, Keto Peanut Butter Chocolate Chip Cookies, Keto White Chocolate Macadamia Nut Cookies and Keto Cookie Dough.
---
🌟Want more? Check out this excerpt from another one of our articles
🌟
In this post, I want to address the biggest mistake I see people make on keto.
It's not "eating too many carbs" or "being afraid to eat fat" or "checking the scale every day"… although those can all cause issues on keto.
It's not consuming enough electrolytes.
You see, keto isn't any 'ol diet. Keto actually shifts your body into the metabolic state of ketosis, in which it burns fat for fuel instead of glucose. It's pretty neat that we can get our bodies to do this!
Thing is, when you put your body in a state of ketosis, your body flushes out electrolytes (and water) at a faster pace than when you're on a carb-heavy diet. If you don't replace those electrolytes, you can feel like 💩.
Read more at: Keto Electrolytes: Are You Making This Keto Mistake?
---
Like This Post? Give it a Share!
I hope you love these keto coffee recipes! If you liked this post, I would so appreciate you giving it a share by using the social sharing icons. THANK YOU!