Want an easy way to stick to keto in the AM? Try this delicious Bacon Cheddar Keto Breakfast Casserole! It's ready to serve in just under 45 minutes and will make a tasty and healthy start to your day.
I've also included links to seven additional easy keto casserole recipes to make your keto breakfast meal prep a breeze.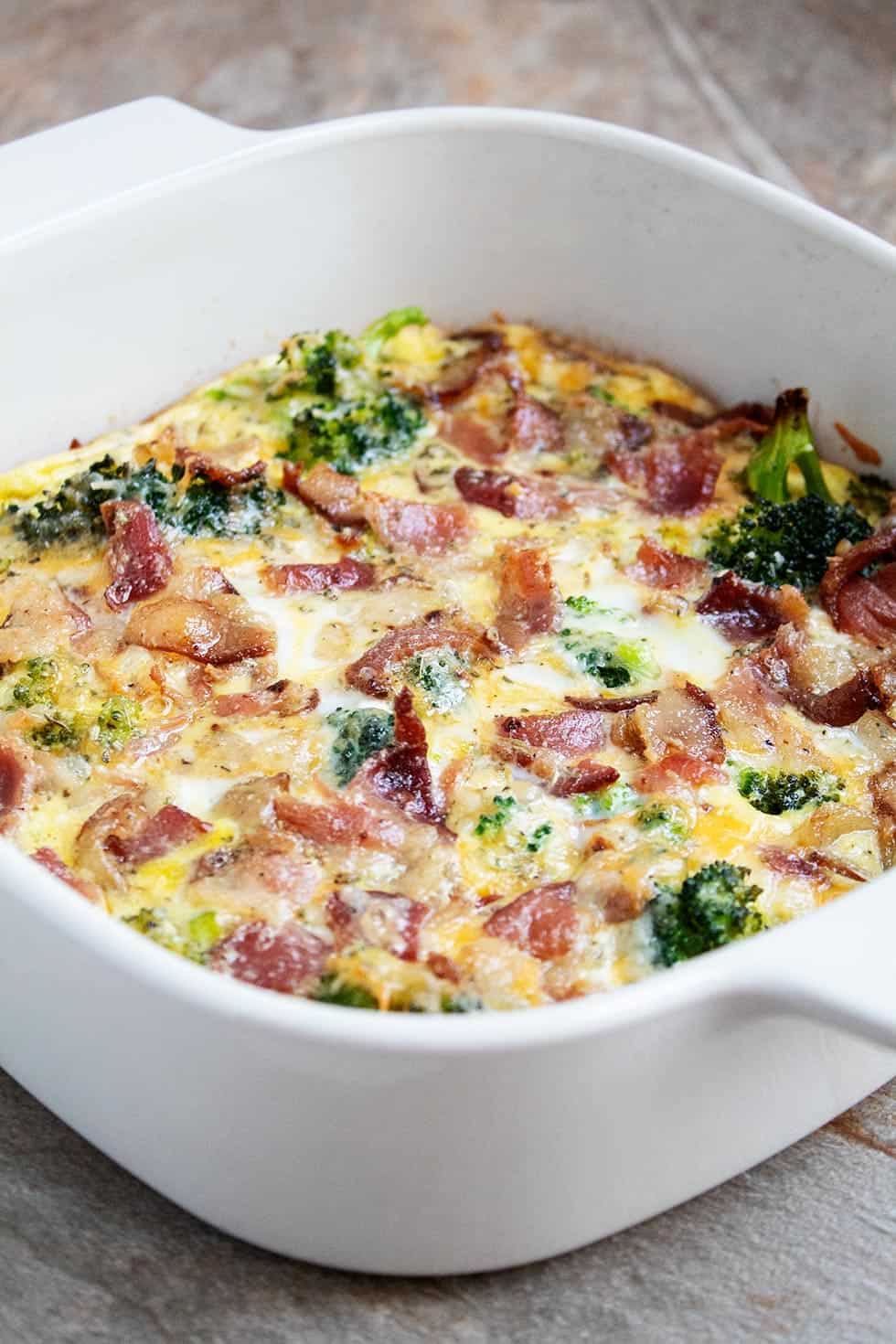 This post contains affiliate links, which means I'll make a small commission if you purchase through one of my links.
Keto Breakfast Casserole
It seems like everyone is obsessed with their slow cooker, Instant Pot, or Air Fryer, but I have to admit I'm still in love with a good oven-baked casserole. There may be no fancy buttons to push or cutting-edge food technology, but casseroles come together with ease and produce a mouthwatering one-dish meal. What's not to love?
I'm paying homage to the timeless casserole with this post dedicated to keto breakfast casseroles. If your morning schedule allows, you can whip up a keto breakfast casserole as soon as you roll out of bed and devour it fresh out of the casserole dish before you head out the door in the morning. Or, if your mornings are bit more rushed, you can make it in the evening and heat up a slice at home or at work. It doesn't get much easier than that!
More Easy Keto Breakfast Casserole Recipes
In addition to giving you the recipe for the Bacon Cheddar Breakfast Casserole (located in the recipe card at the end of the post), I've also rounded up six additional keto breakfast casserole recipes for you. Look for the "More Keto-Friendly Breakfast Casseroles You May Enjoy" section later in the post!
And don't forget the Keto Coffee!
Why You'll Love This Bacon Cheddar Breakfast Casserole
Ready in just under 45 minutes
Perfect for meal prep
Tastes just as good as leftovers
Can be reheated or served cold
Made with simple ingredients
Includes broccoli to boost the fiber content
Ingredients Needed to Make Bacon Cheddar Keto Breakfast Casserole
Ingredient quantities are located in the recipe card located later in the post.
Here's what you'll need to make this easy keto breakfast casserole:
Non-stick cooking spray
Extra virgin olive oil
Broccoli florets (fresh is ideal, but you can also use frozen in a pinch)
Shredded sharp cheddar (or Colby Jack for a different flavor)
Bacon
Eggs
Heavy whipping cream
Onion powder
Garlic powder
Dried thyme
Dried oregano
Salt
Pepper
Parsley (optional garnish)
I bet you have most, if not all, of these ingredients in your kitchen right now!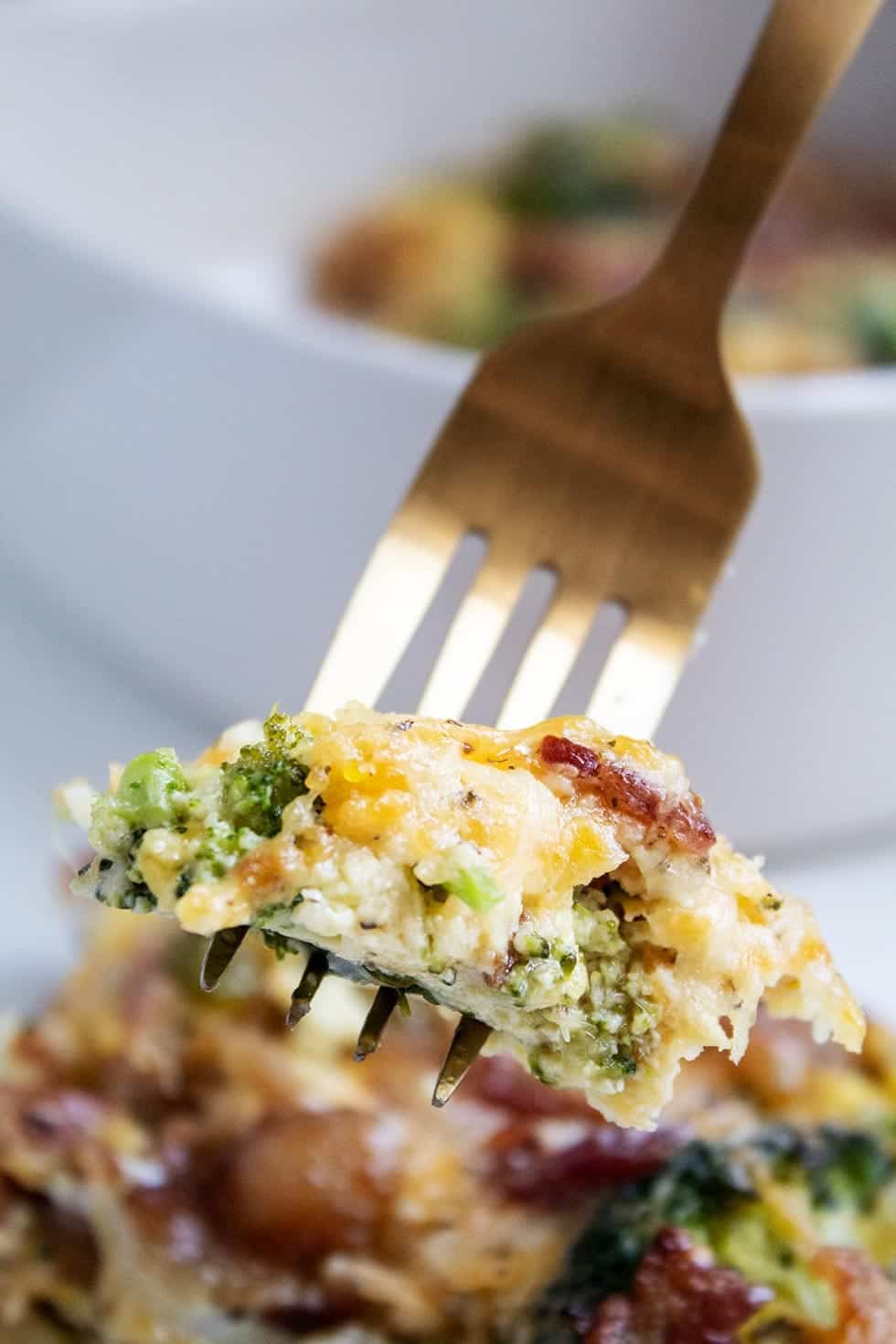 How to Make This Low Carb Breakfast Casserole Recipe
This is just a quick overview of how to make low carb breakfast casserole. For the recipe in detail, scroll to the recipe card located later in the post.
Add steamed broccoli to the bottom of a casserole dish.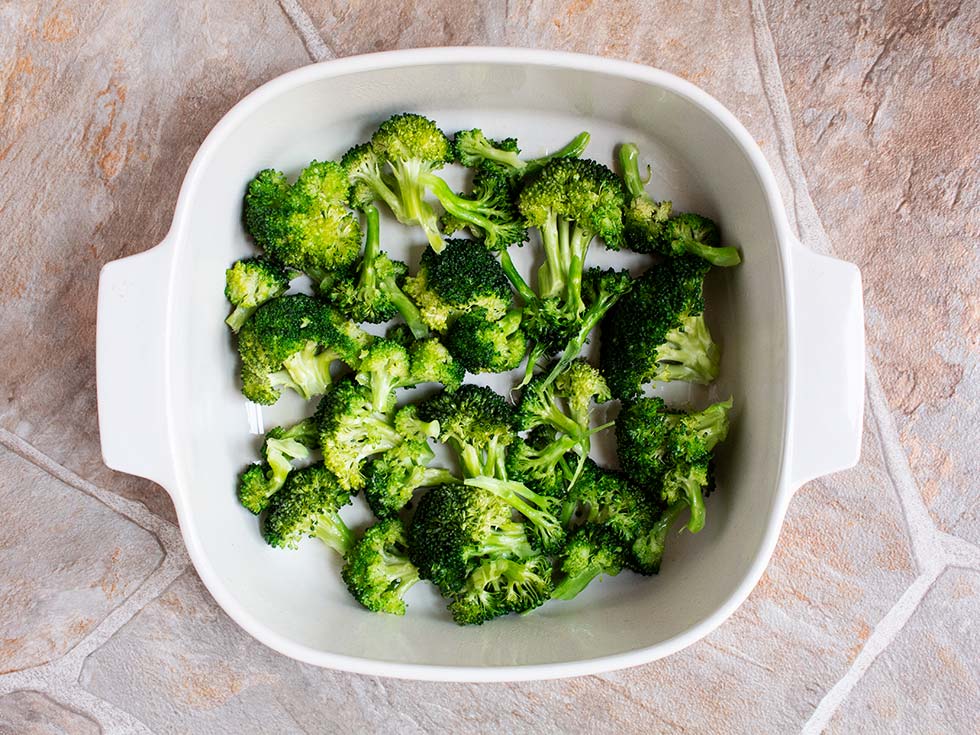 Then add the cheese and bacon. Note about the cheese: You can use sharp Cheddar or Colby Jack (or any cheese, really!). For these photos, I used Colby Jack because it was what I had on hand.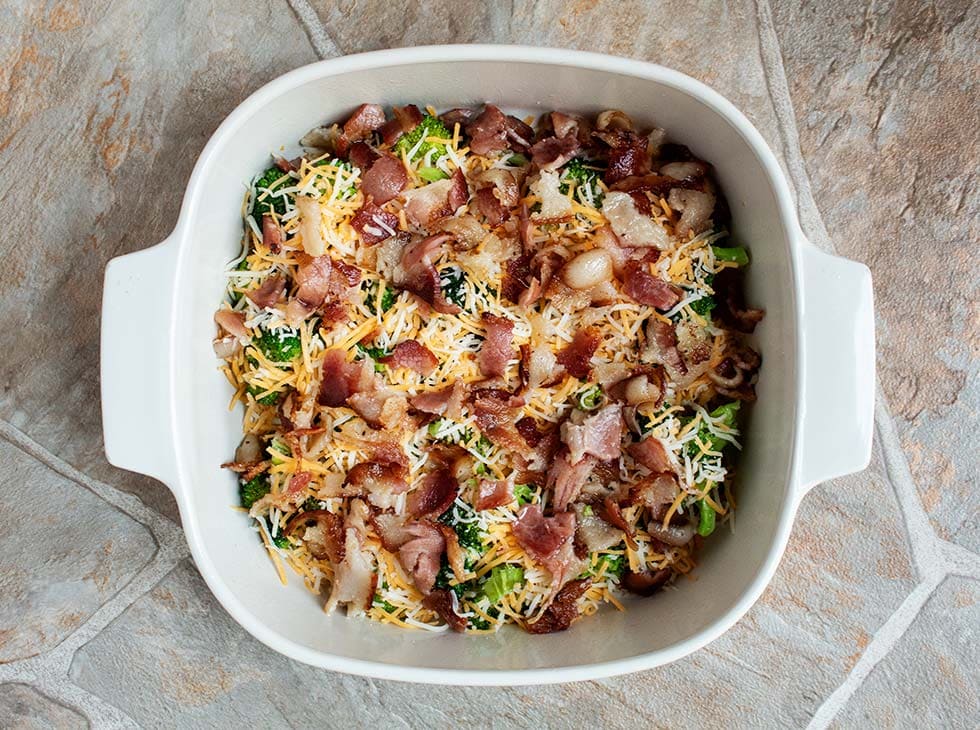 Whisk remaining ingredients and pour over top.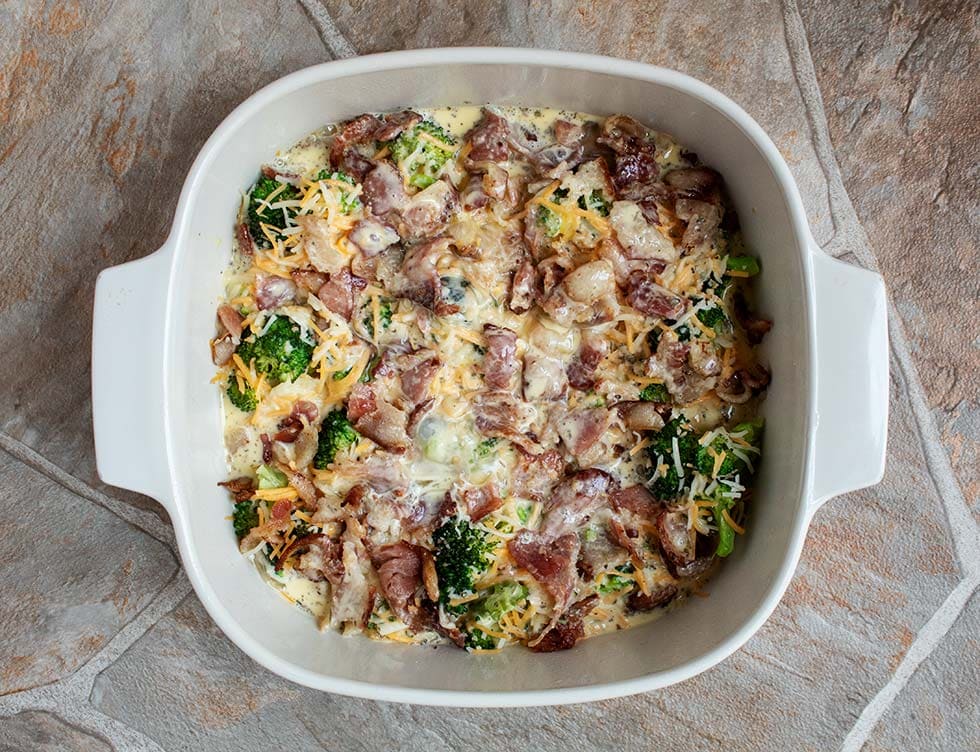 Then place the casserole in the preheated oven. You'll end up with this… yum! Slice, serve, and enjoy.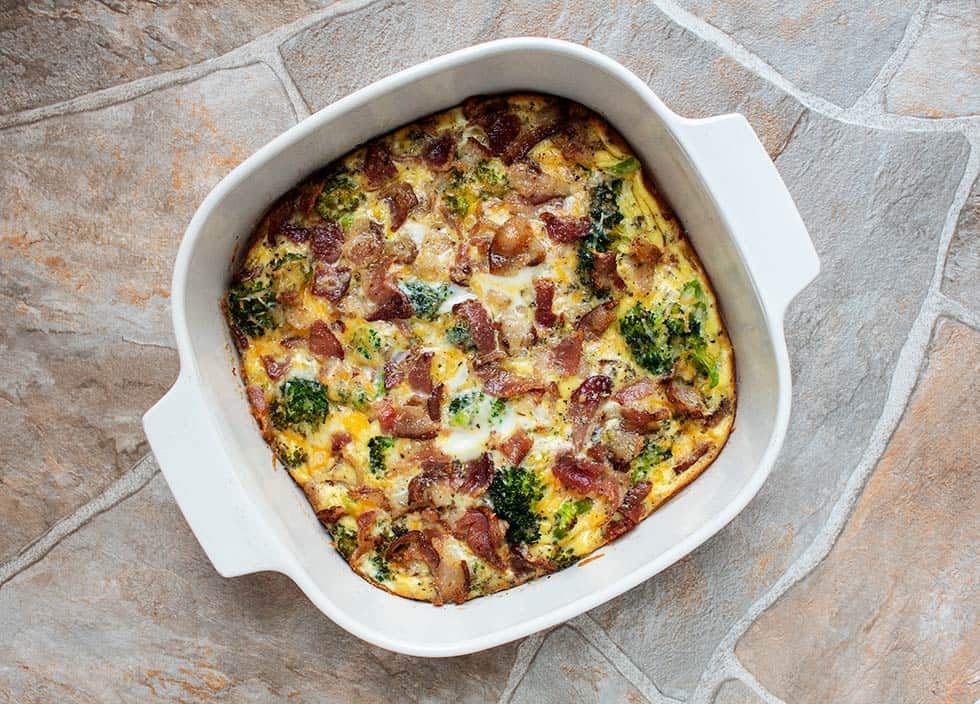 Nutrition Facts for Bacon Cheddar Breakfast Casserole
Per slice (1/6 of the casserole):
252 calories
21g fat
13g protein
3.6g net carbs
If you choose to make this into only four servings, each serving will be 5.5g net carbs.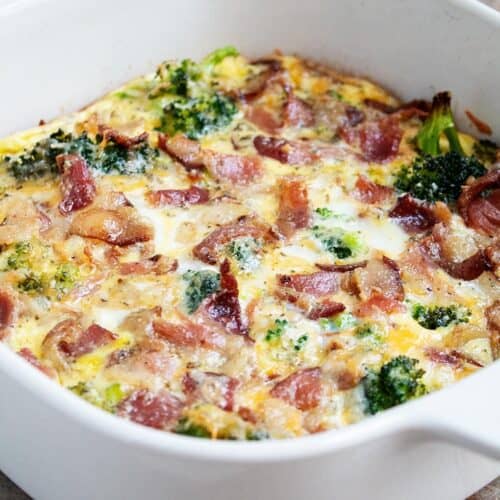 Keto Breakfast Casserole with Bacon
Want to make your morning keto meal prep a breeze? Try this delicious Keto Breakfast Casserole with Bacon! It's ready to serve in just under 45 minutes and will make a tasty and healthy start to your day.
Print
Pin
Rate
Ingredients
Non-stick cooking spray

2

tbsp

extra virgin olive oil

3

cups

broccoli florets

3

tbsp

water

1

cup

shredded sharp cheddar

or Colby Jack

6

slices

bacon

cooked and crumbled

4

large eggs

1/3

cup

heavy whipping cream

1/2

tsp

onion powder

1/2

tsp

garlic powder

1/4

tsp

dried thyme

1/2

tsp

dried oregano

Salt and pepper

to taste

Fresh parsley

optional garnish
Instructions
Preheat oven to 350 F and spray an 8" x 8" casserole dish with non-stick cooking spray. Set aside.

Heat the olive oil in a large nonstick sauté pan over medium heat. Add the broccoli and water and cook for 2-3 minutes, or just until the broccoli softens slightly and turns bright green.

Remove from heat and drain thoroughly. Transfer the broccoli to prepared casserole dish and spread into a uniform layer. Top with shredded cheese and crumbled bacon and side aside.

Whisk the eggs with the heavy cream, onion powder, garlic powder, thyme, and oregano. Season with salt and pepper, as desired. Pour the egg mixture over the broccoli, cheese, and bacon and bake for 17-23 minutes, or until the casserole is set and lightly golden brown on top.

Remove from oven and let cool for 10 minutes before slicing. If desired, sprinkle with fresh parsley.
Notes
You can use frozen broccoli (cooked and drained) in this dish, but be aware that it will likely introduce additional moisture into the casserole.
You can replace the cheddar in this dish with Colby Jack or another cheese of choice. Feel free to experiment!
Nutrition Facts
Keto Breakfast Casserole with Bacon
Amount Per Serving
Calories 252
Calories from Fat 189
% Daily Value*
Fat 21g32%
Cholesterol 162mg54%
Sodium 284mg12%
Potassium 256mg7%
Carbohydrates 4.8g2%
Protein 13g26%
Vitamin A 825IU17%
Vitamin C 41mg50%
Calcium 182mg18%
Iron 1mg6%
* Percent Daily Values are based on a 2000 calorie diet.
Nutrition Disclaimer


Nutrition facts are included as a courtesy only. They are accurate to the best of our knowledge based on the ingredients and brands used, but their accuracy is not guaranteed. If applicable, sugar alcohols have already been removed from the total carb count.
More Keto Breakfast Casserole Recipes You May Enjoy
As promised, I've rounded up six additional breakfast keto-friendly casserole recipes for you to enjoy:
Smoked Salmon Casserole
Sausage Cauliflower and Cheese Casserole
Sausage Casserole
Sausage Ricotta Casserole
Eggs Benedict Casserole
Monte Cristo Casserole
Sausage and Cheese Casserole
To access the recipes in this post, click on the pink "Get the Recipe Here!" button at the bottom of every recipe summary.
That will take you to the original post where you can find the recipe (usually in a recipe card at the end of the post). 💖 Every post includes nutrition information, so you'll be able to plug the nutrition facts into your favorite tracking app.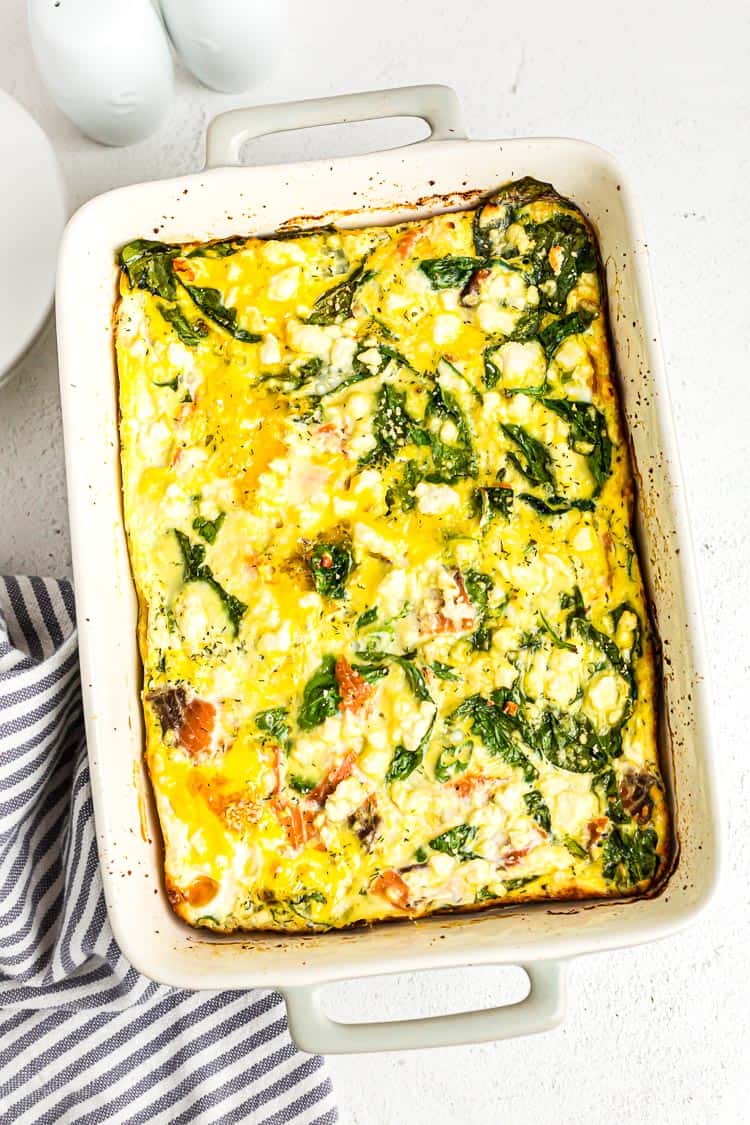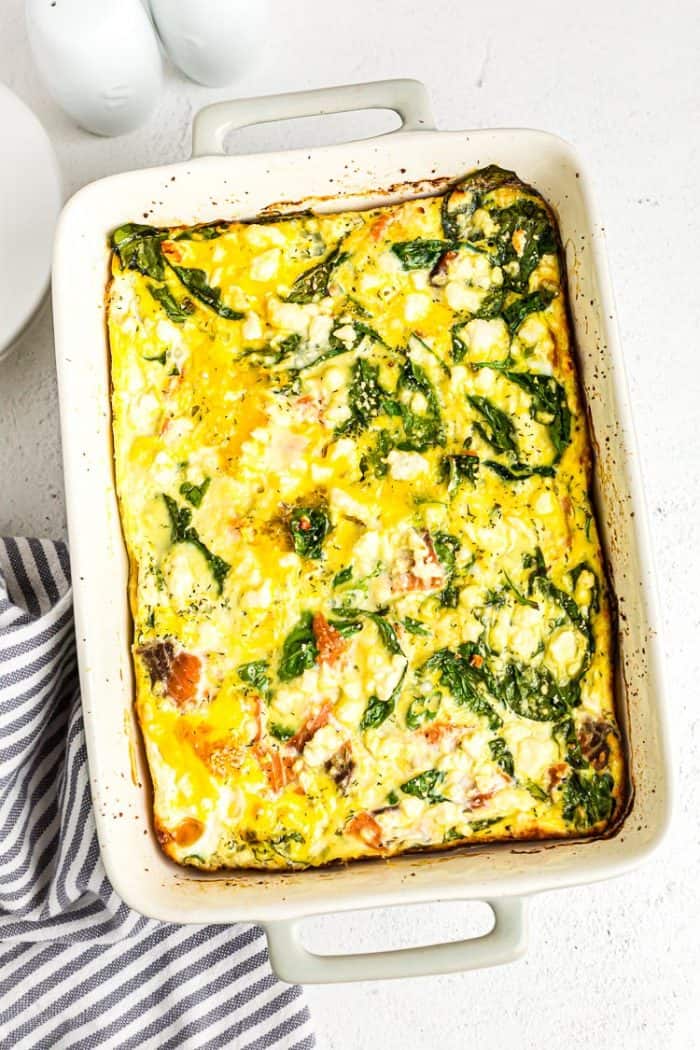 3g net carbs: This Keto Smoked Salmon Breakfast Casserole is made to impress! It is creamy, full of flavor, and contains only 3g net carbs per generous serving.

2.3g net carbs: A tasty combination of sausage, eggs and cheese, plus your daily helping of veggies, cauliflower and scallions. This breakfast is simple to make and tastes great for the whole family! Also, if you like cauliflower, try our Cauli Mash Keto.

Low Carb Egg Bake (#3) –

Sausage Casserole

by Perfect Keto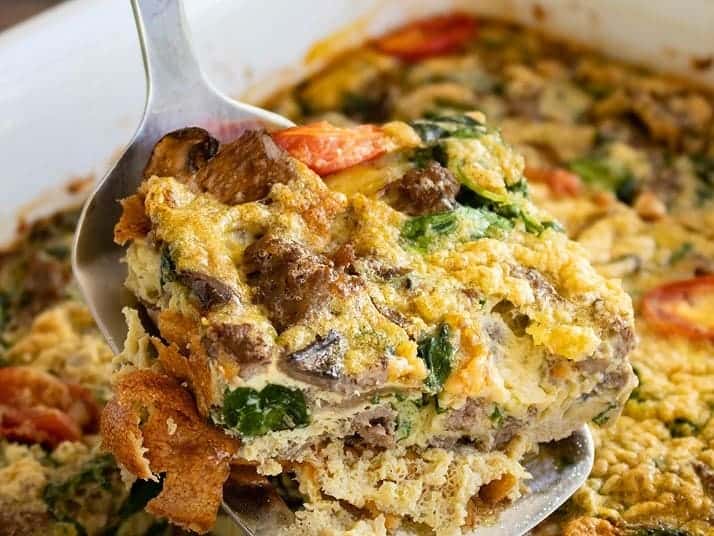 1g net carbs: A sausage and egg casserole that is fast and easy to make! This recipe adds a healthy portion of mushrooms and spinach to your diet.

Low Carb Egg Casserole (#4) –

Sausage Ricotta

by Joy Filled Eats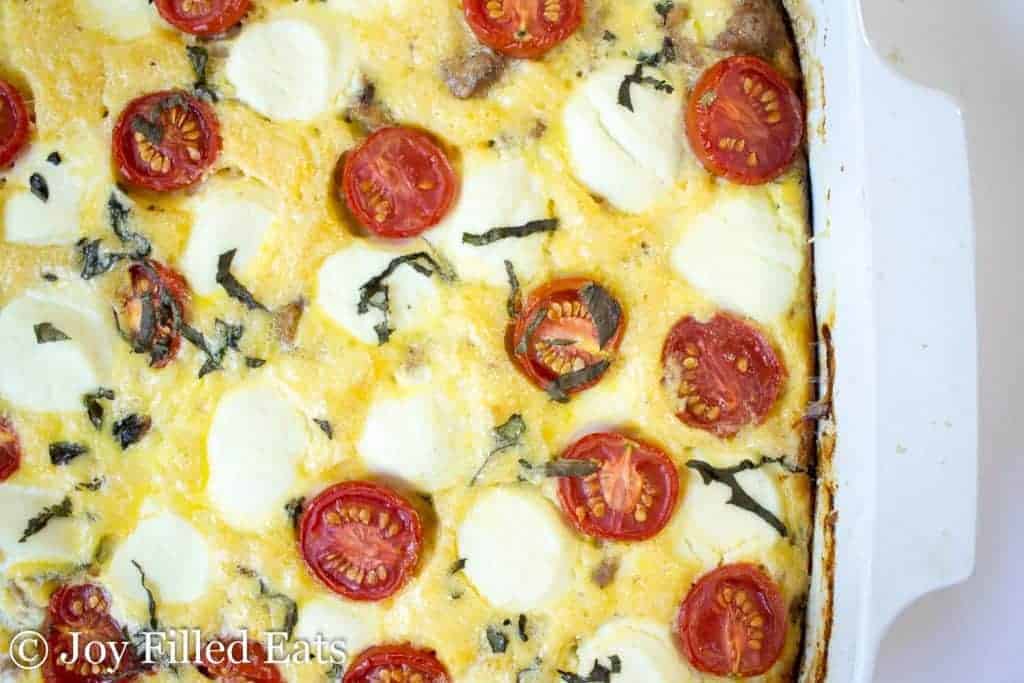 2g net carbs: This fantastic dish includes tomatoes, basil, ricotta cheese and sausage and it tastes amazing! Easy to make, flavorful and delicious, this casserole serves great for the whole family.

Egg Casserole without Bread (#5) –

Eggs Benedict

by Peace, Love and Low Carb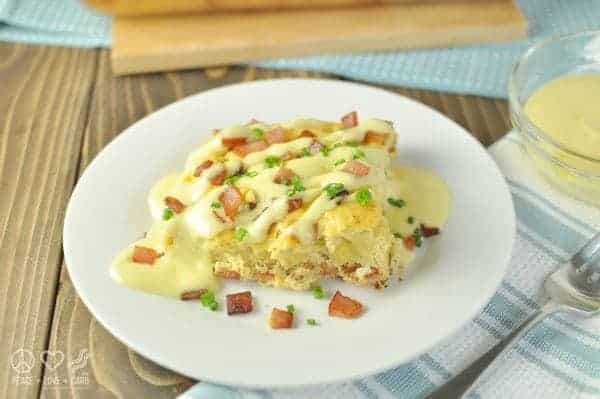 2g net carbs: This dish brings together Canadian bacon, thin-sliced ham, fluffy eggs and a fantastic combination of spices. The taste is "out of this world" and I agree with the recipe's creator, you won't miss that muffin!

Keto Egg Bake (#6) –

Monte Cristo

by I Breathe I'm Hungry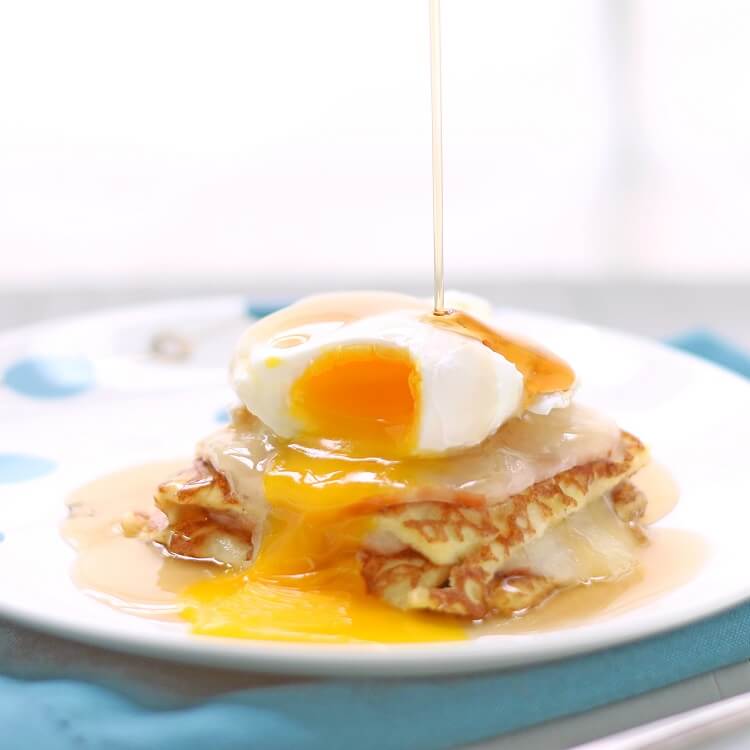 4.5g net carbs: What is a Monte Cristo? It is a fantastic combination of pancakes, Canadian bacon, cheese and maple syrup. As a casserole, the Monte Cristo will leave you feeling completely satisfied! This dish will impress both family and friends.

1g net carbs: Eggs, cheese, garlic and breakfast sausage combine to make a wonderful flavor! This casserole is easy to make and can be customized.

Ideas for Quick Keto Breakfasts
If you are in a rush try some of our Quick Keto Breakfasts.
When you find out you can eat a mug cake on the keto diet and you can eat an omelet on the keto diet, the keto diet seems doable. And it is! Most of the foods I eat every day are super delicious and I invite you to try them as well!
You can even eat a Mcdonalds Keto Breakfast if you follow this menu!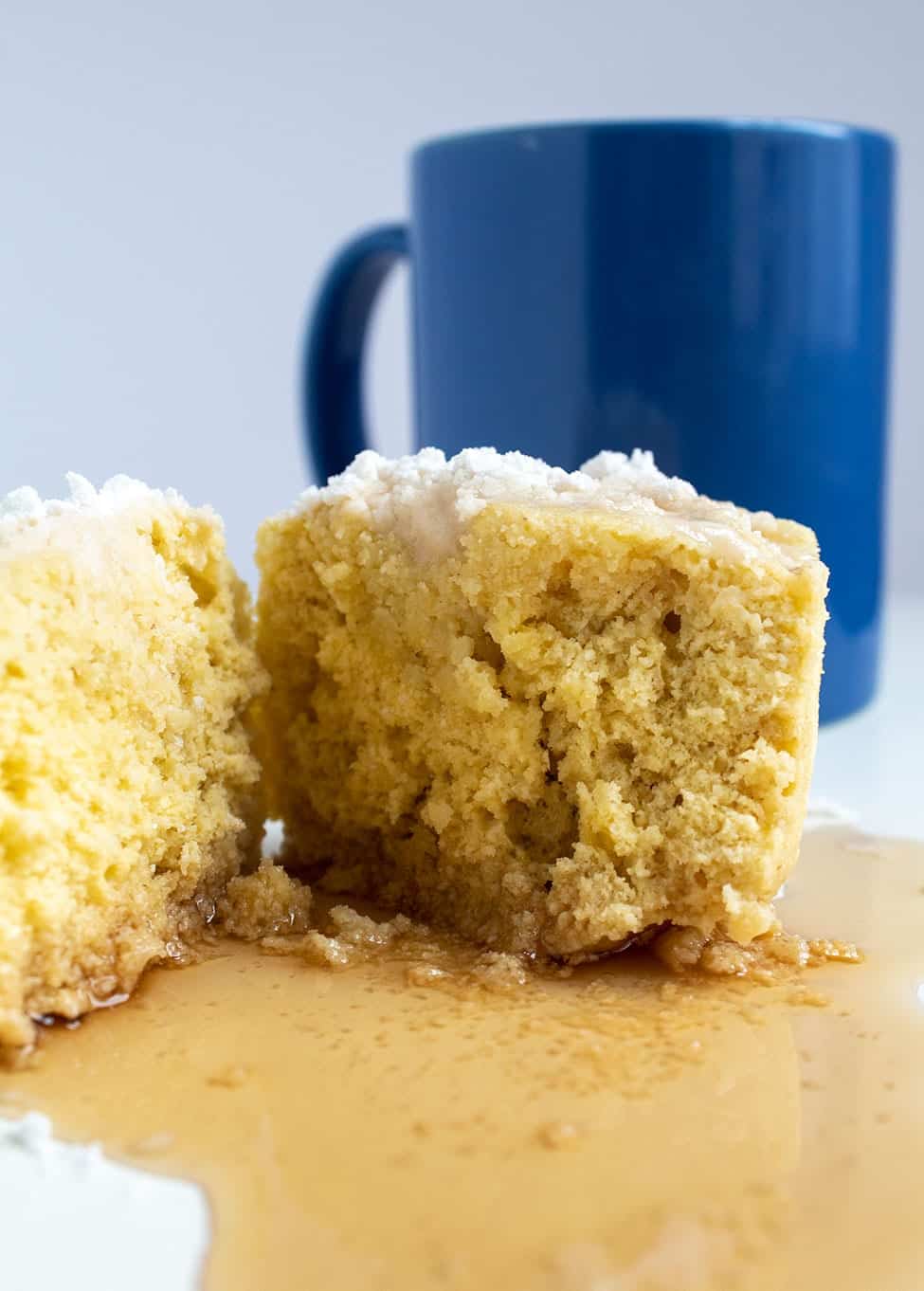 More Keto Casserole Recipes
When it comes to making casserole recipes for the keto diet, we have the most extensive and delicious recipes available. People rave about many of our keto casserole recipes and how they are great for the whole family, even the non-ketoers!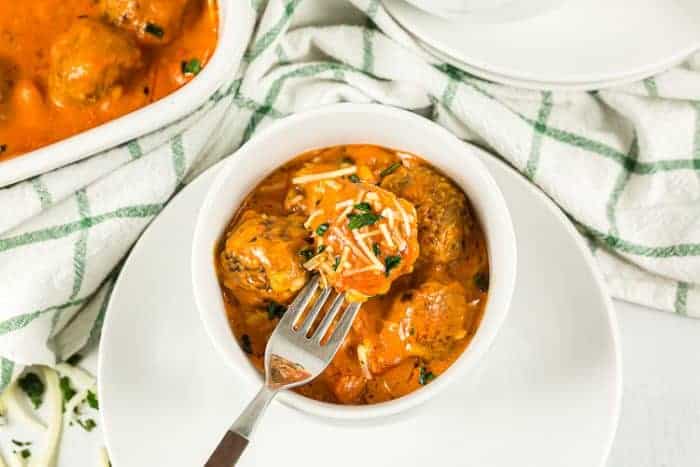 Can You Reheat Breakfast Casserole?
Absolutely! This keto breakfast recipe reheats beautifully in the microwave, oven, or toaster oven.
How Long Can You Store a Keto Breakfast Casserole in the Fridge?
Once the casserole has cooled to room temperature, you can place it in the fridge. I highly recommend wrapping it tightly with plastic wrap or foil to keep it fresh. It will last 3 to 4 days in the fridge.
Are Eggs Low Carb?
Yes, eggs are low carb… but they aren't carb-free! I think many people assume that all animal products are carb-free, but that's not the case for all foods. A large egg contains 0.4g carbs, although many labels will say 0g because of labeling laws. (Under 0.5g can legally be labeled as 0g.) I've calculated this recipe with the true carb count so you can be confident in the nutrition facts!
More Keto Breakfast
Here are some more choices for your Keto Breakfast:
Also, if you want something other than casserole try our Keto Cinnamon Rolls.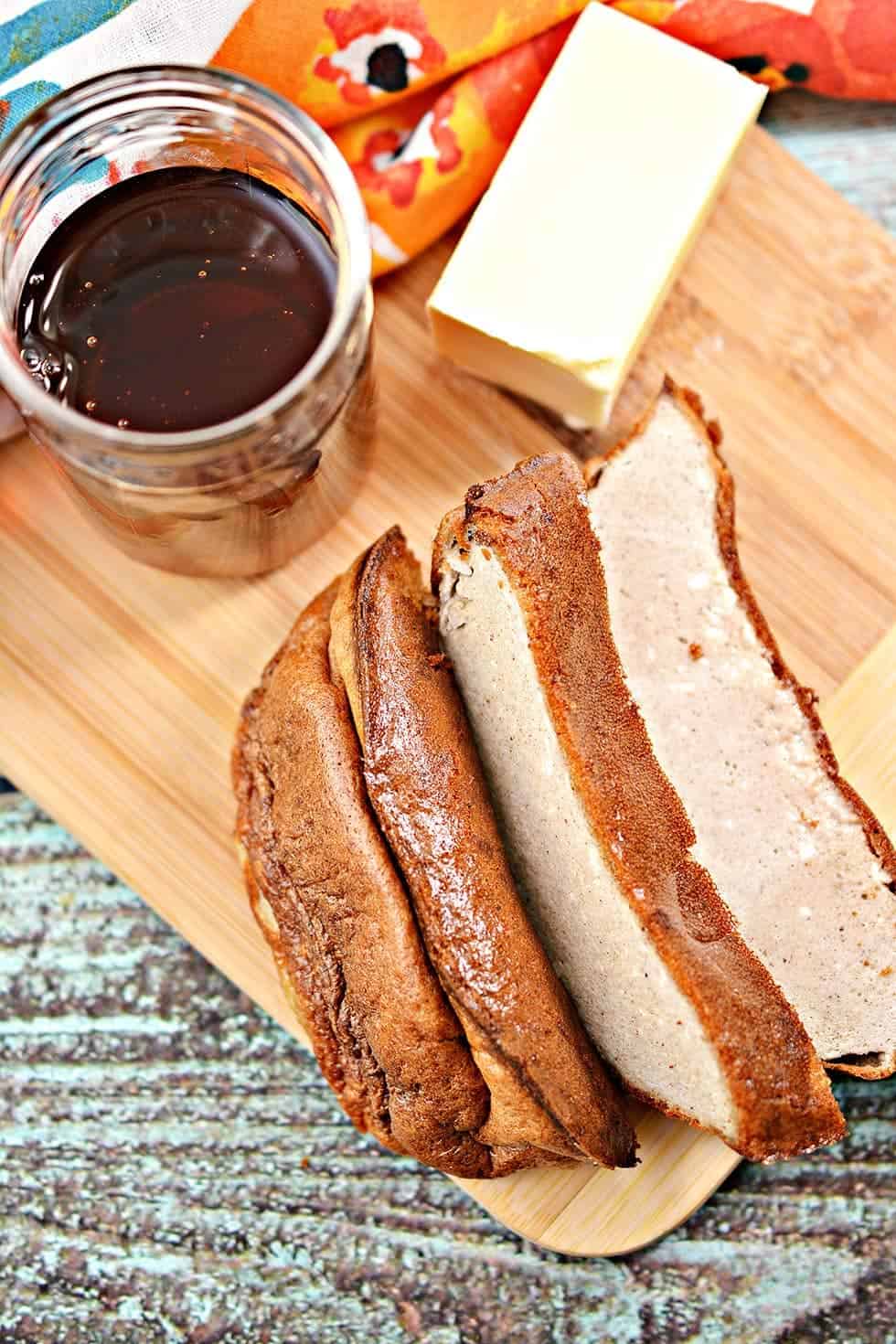 Like This Post? Give it a Share!
I hope you love this easy keto casserole recipe roundup! If you liked this post, I would so appreciate you giving it a share by using the social sharing icons. THANK YOU!