If you're a chocolate fan like I am, you're going to love this post! I've rounded up 10 mouthwatering chocolate fat bombs that are perfect for the keto diet. They'll help you stick to your diet while satisfying your chocolate cravings!
This post contains affiliate links, which means I'll make a small commission if you purchase through one of my links. Thank you for your support!
Love chocolate? Me too! 🙂 The good news is you do not need to give up chocolate on the keto diet. In fact, as you'll find out in this roundup of ten chocolate fat bombs, you can actually get a chocolate fix every day. From Chocolate Coffee Fat Bombs to No Bake Brownie Bites to Samoa Fudge Bombs, you'll definitely find your next favorite chocolate fat bomb on this list!
What are Fat Bombs?
As I mention in my 33 Delicious Fat Bombs Recipes post, fat bombs are foods that deliver a "bomb" of fat with few carbs. They're often small (think a bite or two), but there are also other types of fat bombs, like fat bomb smoothies. They're usually sweet, but sometimes they're savory.
Fat bombs are a fantastic addition to the keto diet because they allow you to easily take in a lot of fat. Fat should make up 70-80% of your daily intake, which can be tough to do sometimes. Fat bombs to the rescue!
Two Keto-Friendly Products for Chocolate Lovers
Before I get to the list of fat bombs, I wanted to share two AMAZING keto-friendly chocolate products that I love:
This is keto-friendly (2g net carbs per 2 tbsp) chocolate syrup. It is ridiculously good and thick, just like chocolate syrup should be!

Yep, keto-friendly milk chocolate! 🙂 Each piece contains only 1g net carbs and is sweetened with natural monk fruit extract.
10 Chocolate Fat Bombs
Are you ready? Let's get to the list!
(recipe and photo by Forget Sugar Friday)
These Keto Chocolate Coffee Fat Bombs are total chocolatey bliss! They each contain 9g fat with only 1g net carbs, plus they're caffeinated (yes, really!). When you want a filling pick-me-up, grab one of these tasty fat bombs!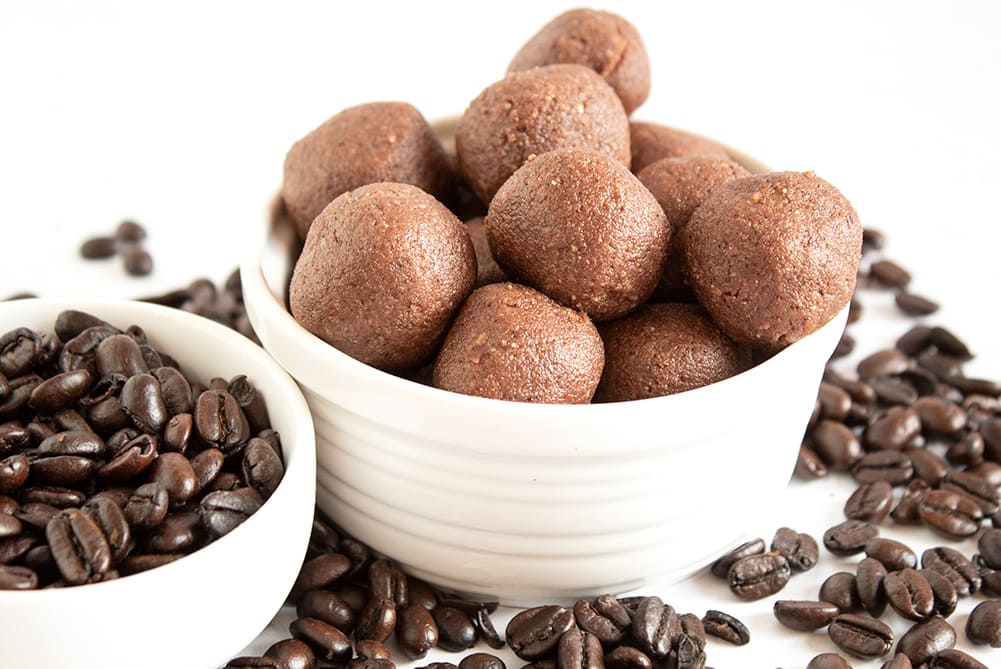 (recipe and photo by Ruled.me)
Chocolate + peanut butter = a match made in heaven. You'll love this easy keto fat bomb recipe!
(recipe and photo by WholesomeYum.com)
These chocolate fat bombs require only five ingredients and ten minutes of prep! For a less expensive option (and still very keto-friendly), you can use pecans instead of macadamia nuts.
(recipe and photo by SugarFreeLondoner.com)
Aren't these cute?! I love the idea of the crunchy walnut being placed on top instead of being blended into the mixture.
(recipe and photo by TheBigMansWorld.com)
This recipe had me at "brownie"! To make these chocolate fat bombs keto-friendly, you'll need to use Sugar-Free Nutilight Hazelnut Spread and Lakanto Maple-Flavored Sugar-Free Syrup.
(recipe and photo by LowCarbMaven.com)
Take a look at these beauties! A peanut butter filling stacked with chocolate layers… that's happiness right there. 🙂
(recipe and photo by LowCarbYum.com)
Switching things up a bit with this recipe: white chocolate! These white chocolate fat bombs are super easy to make with only three ingredients.
(recipe and photo by BeautyandtheFoodie.com)
Anything that's a take on a Girl Scouts cookie recipe has to be good! These chocolate fat bombs consist of a fudge center, caramel coating, and shredded coconut topping.
(recipe and photo by DirtyFloorDiaries.com)
I love a good chocolate-sea salt flavor combo, and these fat bombs have it! I love their wide variety of healthy fat ingredients.
(recipe by RealBalanced.com)
These yummy, fudgy chocolate fat bombs are sweetened with powdered monk fruit sweetener and also contain almond butter, coconut oil, cocoa powder… need I say more? It's fudgy fat bomb perfection!
More Keto Chocolate Recipes
Yess! More chocolate. Here are a few more keto chocolate recipes for you to try: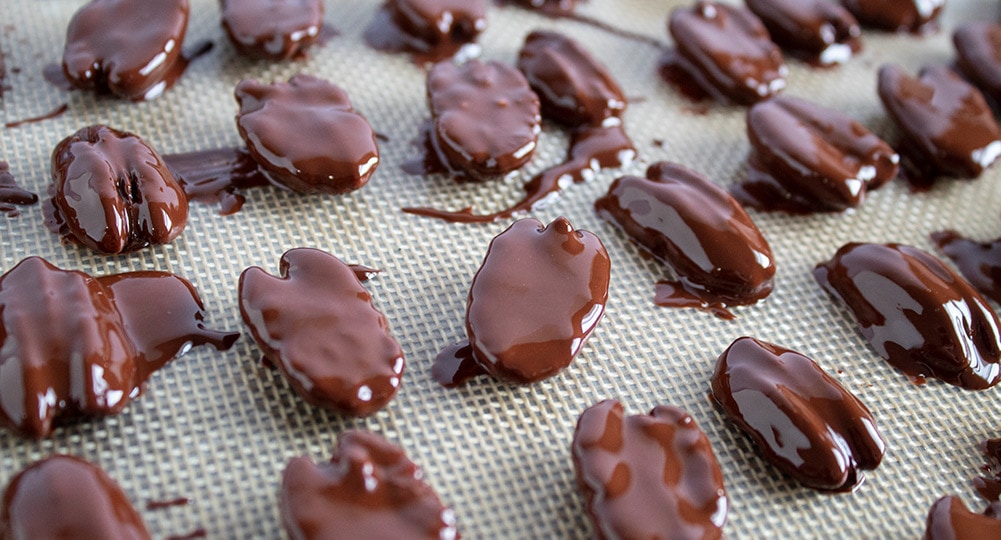 Like This Post? Give it a Share!
I hope you love this keto chocolate fat bombs roundup! If you liked this post, I would so appreciate you giving it a share by using the social sharing icons. Thanks so much!