Looking for easy keto meal ideas? I'm here to help with my keto meal ideas series! All meals are 5g or less net carbs and will fit perfectly into your keto lifestyle.

This post contains affiliate links, which means I'll make a small commission if you purchase through one of my links. Thank you for your support!
Welcome to my keto meal ideas series! This series is designed to make your keto (or low carb) lifestyle easier by presenting easy-to-replicate meal ideas that contain 5g or less of net carbs.
In This Post
In this post, you'll find:
The Meal: the original image from Instagram for this particular keto meal idea
Foods Included: a list of all foods included and relevant links including for

keto chicken thighs boneless

Nutrition Facts: the breakdown of net carbs, fat, protein, and calories
More Easy Keto Meal Ideas: how to get your hands on more keto meal ideas!
Enjoy!
Keto Diet
Having great go-to keto meals makes eating the keto diet way easier. I recommend that anyone eating keto have a whole assortment of the following:
Having all of these keto food options available will make your diet a success!
The Meal
Here is my original post from Instagram. Keep scrolling (past the Instagram post) for all the details about this keto meal idea!
Foods Included
Note: For standalone foods, I included the particular brand I used and a link to where to purchase it if it's available online. For recipes, I've included a link to the recipe.
2 cups frozen broccoli (brand: Meijer)

1/4 cup shredded cheddar cheese (brand: Kroger)

1 serving Maple Dijon Chicken Thighs (get the recipe here)
Carbonated water (brand: bubly — buy it here)
Nutrition Facts
Note: I've calculated the nutrition facts based on the particular brands I used, and, if using a recipe, straight from the recipe's nutrition facts.
Net Carbs: 4.6g
Fat: 16g
Protein: 33g
Calories: 197
Want More Easy Keto Meal Ideas?
First, make sure you're following me on Instagram. You can find me right here at @forgetsugar. I post several new keto meal ideas a week (just like the post shown above), as well as other useful keto content.

More Keto Dinner Ideas
An assortment of recipes ranging from keto soup, keto pizza and keto casseroles will make your diet more enjoyable. Here are a few recipes that other people have greatly enjoyed!
Second, I highly recommend the keto eCookbook bundle Keto in Five by my friends Rami and Vicky at Tasteaholics (an awesome low carb/keto site). Keto in Five contains 120 easy keto recipes that are no more than 5g net carbs, 5 ingredients, and 5 easy steps for every recipe. Check out Keto in Five for over 40% off!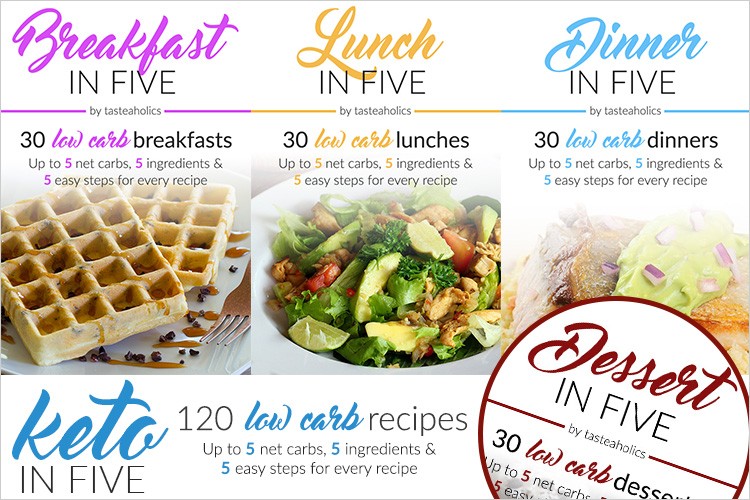 Third, check out my Keto Meal Ideas blog category. You can find all of my past keto meal ideas here.
Like This Post? Give it a Share!
I hope you love this easy keto meal idea! If you liked this post, I would so appreciate you giving it a share by using the social sharing icons. THANK YOU!