Vanilla roasted strawberries is a healthy, sugar-free recipe that makes a great topping for yogurt, oatmeal, or healthy ice cream. It's super easy to make and is great for low carb diets, Paleo diets, and more!
This post contains affiliate links, which means I'll earn a small commission on purchases made through these links. (Full affiliate disclosure here)
Fresh sliced strawberries make a great topping for a lot of foods: yogurt, oatmeal, and ice cream, to name a few.
But have you ever tried kicking it up a notch and roasting those cute little berries?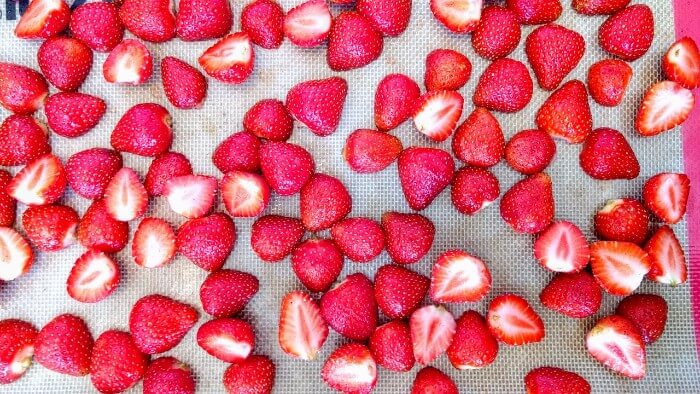 It's super easy to do and takes almost no time at all, and the strawberries get melt-in-your-mouth soft and ooze a yummy strawberry liquid. I wouldn't say they get a lot sweeter, but their flavor becomes more intense.
Roasting strawberries is also a great way to use that oh-crap-I-forgot-I-bought-strawberries container of strawberries you find hiding in the back of the fridge. The roasting process will hide any of their imperfections and bring out their best flavor.
A lot of people add sugar to their roasted strawberries, but I don't think it's necessary. It's better to let their natural flavor shine through. Instead, a little vanilla extract gives them something special.
Vanilla Roasted Strawberries
Course:
Breakfast, Dessert
Ingredients
1

pound

strawberries

sliced

2

teaspoons

vanilla extract
Instructions
Slice strawberries into a bowl. Toss with vanilla extract until fully coated.


Place on a single layer on a cookie sheet, preferably one that has been covered with a silicone baking mat.


Bake at 375 degrees for ten minutes.


Best served within a few hours. Tastes great chilled!

Recipe Notes
Sugar-Free, Gluten-Free, Dairy-Free, Paleo, Vegan, Vegetarian
Serve on top of ice cream, yogurt, oatmeal (get my recipe for Vanilla Roasted Strawberry Oatmeal here!), biscuits, etc … or just eat it on its own. I won't judge. 🙂