Looking for a Keyto coupon code? You've come to the right place. Get the latest verified Keyto coupons, Keyto deals, and Keyto promos here!
This post contains affiliate links, which means I'll make a small commission if you purchase through one of my links.
Just looking for the Keyto coupon code and nothing else? Click or tap the "SHOW CODE" text in the box below to save on Keyto!
About Keyto
Keyto was co-founded by Dr. Ethan Weiss, Dr. Ray Wu, Liane Nakamura, and Gareth Everard. The product was launched in a massively successful IndieGoGo campaign that brought in a whopping $1,187,004 by nearly 10,000 backers. Although the company was only launched in August 2018, the premise behind the product had been in development for five years.
Keyto is a "smart breathalyzer" that detects ketones in the breath and sends that data back to the app, which spits out a Keyto Level between 0 and 8. Here is what the Keyto Levels mean:
Levels 1 – 3 mean your body is using carbs for energy
Level 4 means you're in "light ketosis" and your body is using fat for fuel
Levels 5 – 7 means you're in full ketosis and mainly using fat for fuel
Level 8 is "deep ketosis"
Valid Keyto Coupon Items
Keyto has two main offerings, Keyto Premium and the Keyto device only. The 10% code can be used on both of these offerings! Here's what you'll get:
Keyto Premium
Keyto Breath Sensor + 1 Year Premium App Access
Delicious Key Eats Recipes
Personalized Meal Plans
MD-Approved Food Guide
Access to In-App Groups
A FREE Keyto Food Box ($80 Value)
Keyto Breath Sensor Device Only
Keyto Breath Sensor + Free App Access
Current Keyto Sales
Keyto currently does not have any sales other than the 10% coupon code listed here (FORGETSUGARFRIDAY).
However, they're branching into their own line of keto supplements and foods (note: the 10% code does NOT work on these), and sometimes they run sales giving you a free package of one of their food or supplement offerings with your Keyto device purchase. For example, at the end of November 2019, they offered a free bag of their Keyto Crunchy Cheese Bites with any Keyto Breath Sensor order.
Keyto Deal Scenarios
With the Keyto 10% coupon code (FORGETSUGARFRIDAY), here's what you'll pay:
Keyto Premium: $195; with Keyto coupon: $175.50
Keyto Device Only: $99; with Keyto coupon: $89.10
You'll also pay applicable taxes and shipping.
Other Current Keyto Promos and Keyto Coupon Codes
There are no other current Keyto promotions or coupons. If you're interested in other keto product deals, you can check out these keto coupon codes.
New Keyto Products
As I mentioned above, Keyto is branching into other product lines in addition to breath sensor devices. These additional products are listed on their Shop page:
Keyto Essential Shake (Chocolate)
Keyto Essential Shake (Vanilla)
Keyto Basil Pesto
Keyto Crunchy Cheese Bites (Pepper Jack)
Keyto Crunchy Cheese Bites (Gouda)
Keyto Crunchy Cheese Bites (Cheddar)
Keyto Avocado Oil
Keyto Extra-Virgin Olive Oil
These items are affordably priced, but the Keyto coupon code is not valid on these products.
Keyto Reviews
My review: I am a personal user of the Keyto Breath Sensor and love it! It easily helps me detect whether or not I'm in ketosis. Here is a recent screenshot from when I was doing The 7-Day Keto Green Smoothie Cleanse: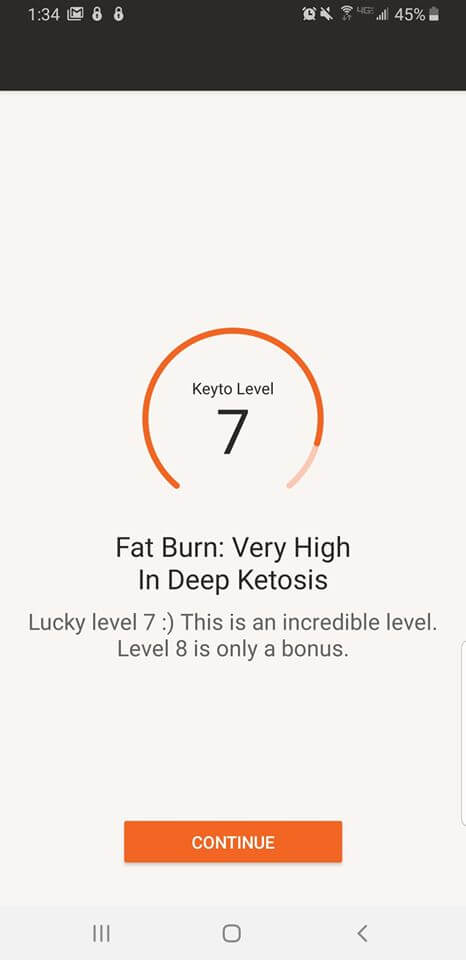 I've extensively tested Keyto and have found the level I test for always makes sense (i.e., if I eat a lot of carbs, I don't test in ketosis; or if I eat very few carbs, I get deeper into ketosis). It works great, and no blood prick is needed like with some other ketone testing products.
Reviews from others: Keyto has TONS of reviews from real customers on their Reviews page. Overall, the reviews are excellent! As of the time of writing this post, here is the star breakdown:
How to Use Your Keyto Coupon Code
Simply enter the Keyto coupon code FORGETSUGARFRIDAY at checkout as shown in the photo below. Then click or tap the orange "OK" button to apply the discount.
The photo above is the total before the Keyto discount code is applied. Additionally, there was a Keyto promo that day for a free bag of Keyto Crunchy Cheese Bites with purchase. (The free KetoBox is part of the Keyto Premium package.)
Keyto Return Policy
Keyto does not have a listed return policy, but you can contact them here and receive an answer within 48 hours from their customer service department.