Want to eat keto on a budget? No problem! There are plenty of ways to save money while sticking to a keto diet. In this post, I'll show you seven of my favorite keto diet money-saving hacks!
This post contains affiliate links, which means I'll make a small commission if you purchase through one of my links (at no extra cost to you). Thank you for your support!
In a perfect world, it would be cheaper to eat healthier. Think of how healthy everyone would be if fresh produce and organic meats were dirt cheap and sodas and processed foods were outrageously expensive. ("$12.99 for a pound for sugar? No way!! I'll just get some of this 99¢/pound organic, grass-fed beef instead.")
Unfortunately, it's usually cheaper to eat terribly. That's a big reason why so many people struggle with their weight — junk food is readily available and it's inexpensive. For that reason, switching to a healthier diet can lead to some "O-M-G how much did we spend on groceries last month?!" moments if you're not careful.
It's especially tough with keto because there are so many fun foods to try! There are tons of keto-friendly goodies out there, and it's hard to say no to them. Plus, keto can feel like a whole new world, so you kind of just want to buy everything available.
That's why I've put together this post with 7 money-saving "hacks" to help you eat keto on a budget! Even if you're blessed with a lack of concern about your grocery budget, it never hurts to save a few bucks here and there, right? (I'm personally a money-saving addict. I am certain that even if I won the lottery tomorrow, I'd still shop clearance deals!) Let's get started…
Keto on a Budget Tip #1: Buy in Bulk Whenever Possible
Once you've established that you like a certain food, look for a bulk option. As long as you can properly store it, don't buy the 5-oz. package; buy the 1-lb. package. Don't buy the 2-lb. package; buy the 20-lb. package. Buying in bulk can add up in a big way! (Plus it's nice to have a bunch on hand.)
An easy example is Swerve Confectioners. I initially bought the 12-oz. bag on Amazon, but once I established that I liked it, I started purchasing the 48-oz. bag. It's easy to store, and I definitely saved money by sizing up.
More tips:
If you don't see a bulk option in the store or on Amazon, contact the manufacturer directly and see if they offer bulk sizes anywhere.
Check out Azure Standard, a unique natural and organic food delivery service. They offer tons of bulk options (like a 5-gallon bucket of organic coconut oil!) at affordable prices. The only catch is you have to pick up your food on a certain date and time (once a month) at your local "drop point." You just drive there and grab your stuff off the delivery truck when it arrives. I've done it a bunch and it's really easy to do.
Keto on a Budget Tip #2: Don't Worry about Buying Organic Produce Unless it's on the "Dirty Dozen"
Every year, the Environmental Working Group (EWG) analyzes the pesticide contamination in popular fruits and vegetables. They publish the results in ranked order, including the "Dirty Dozen" (the 12 highest in pesticides) and "Clean Fifteen" (the 15 lowest in pesticides).
You can read the full list here. Personally, unless it's on the Dirty Dozen, I don't opt for organic (unless it's on sale at a price cheaper than conventional). Most of the Dirty Dozen is made up of high-carb fruits, so you don't have to worry much!
Keto on a Budget Tip #3: Shop at HomeGoods or a Similar Store
Believe it or not, HomeGoods often has a wealth of keto-friendly foods! HomeGoods is a discount home furnishings store that also carries some discounted food products. Admittedly, every time I visit HomeGoods, the food products section is a mess. It's been picked over and was probably never organized in the first place….. but I love it! It's almost like a treasure hunt to find the best goodies.
On my last visit, here's what I found:
Everything was much cheaper than what I would pay at the grocery store or even Amazon!
Keto on a Budget Tip #4: Look for Clearance Tags
Train yourself to see clearance wherever you look. You can often grab great deals in the meat section (I've purchased so much "manager's special" beef at this point!), regular aisles, and in special clearance sections like this one at Kroger: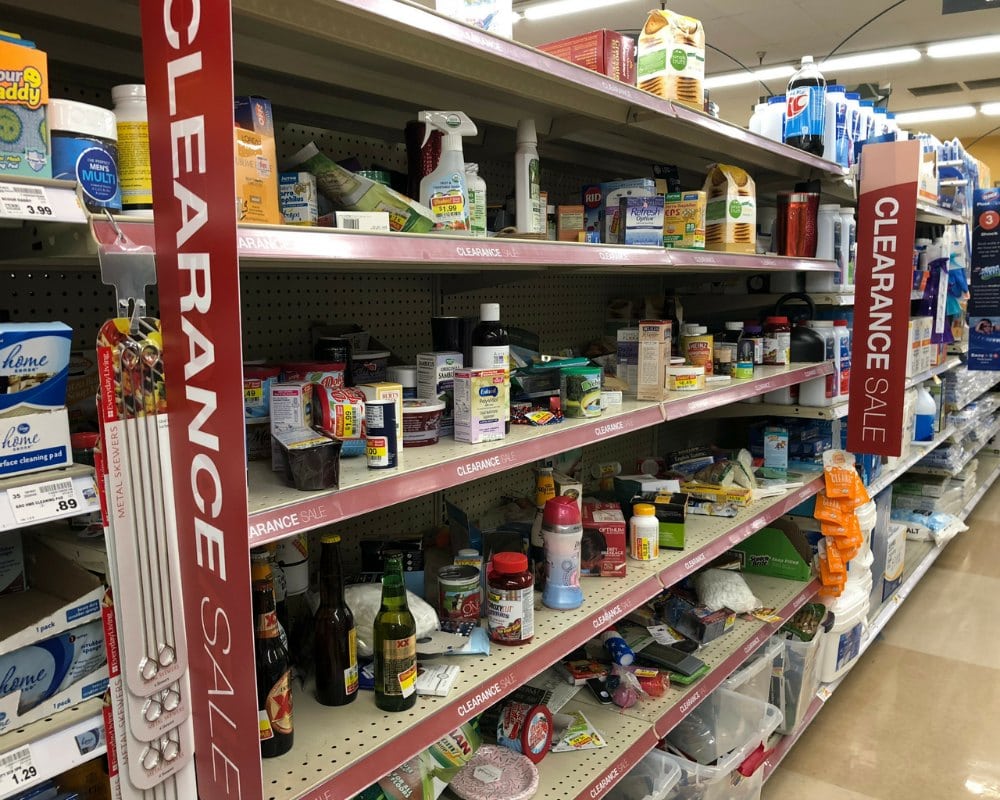 Don't forget to also look for carts of clearance. When a grocery store is reorganizing shelves, they'll often put out huge carts filled with deals! Also, remember that deals on non-food items will give you more money in your keto budget. Become a bargain shopper in all categories!
Keto on a Budget Tip #5: Use Coupon Codes When Shopping for Keto Products Online
Before buying any keto product online, make sure to do a Google search for the product or brand name plus "coupon" or "coupon code." A lot of big brands offer coupons or run sales, so it never hurts to look!
Also, if you're not already signed up, make sure to sign up for The Keto Living List email list (sign-up form below!). I'll send you several keto coupon codes in the first email, plus I often send out information about limited-time keto coupons or deals. Make sure to take advantage of these deals and stock up! That way, you're never (or rarely) buying at full price.
Here is an example of a coupon code you'll receive:
(That's 15% off your ENTIRE Perfect Keto purchase by using coupon code FORGETSUGARFRIDAY at checkout. It's a one-time use code, so make sure to stock up! 🙂 )
Keto on a Budget Tip #6: Plan Your Meals in Advance
Instead of just winging it and throwing together whatever you can from what you purchased for the week, come up with a meal plan using budget-friendly options. That way, you'll be putting your food to max use and won't end up with moldy produce or expired almond milk that has to be tossed. You don't want to throw your money into the trash!
It's also a good idea to cook in bulk. Whenever you can, cook up a large amount of a meal (an Instant Pot can help with this!) and freeze it in pre-portioned sizes. This keeps you from buying expensive on-the-go options, plus it helps you stick to keto.
Keto on a Budget Tip #7: Splurge Strategically
When you switch to a keto diet, it can feel a bit restrictive at first, so it's only natural to want to try fun new keto products or meals. Instead of buying all the things every time you see something new or crave something, choose to splurge strategically. Set up a monthly "keto fun budget" to use on keto treats or a keto meal at a local restaurant.
How Do You Eat Keto on a Budget?
How do you eat keto on a budget? I'd love to hear from you in the comments! 🙂
Like This Post? Give it a Share!
I hope you liked this keto on a budget post! If you liked this post, I would so appreciate you giving it a share by using the social sharing icons. THANK YOU!