Is Rakuten legit? The answer is yes! I've shared one of my checks from Rakuten below.
This post may contain affiliate links, which means I'll make a small commission if you purchase through one of my links at no extra cost to you. See my Terms of Use.
Here's a copy of one of my Rakuten cash back checks: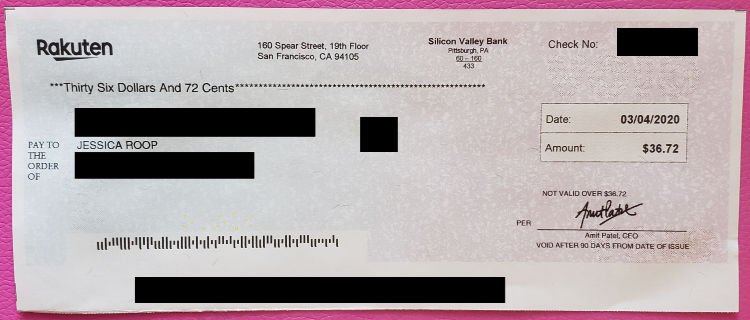 So YES, Rakuten is legit!
How to Get Your $40 Cash Back Bonus
Before end of day Tuesday, December 7, 2021:
Sign up for free on the site

(the $40 cash back offer is only for new members of Rakuten) before end of day Tuesday, December 7, 2021.

Shop through the app, site, or browser extension and spend at least $40 within 90 days at any of the online stores in their cash back system (Kohl's, Target, Sephora, Grubhub, Overstock, Old Navy, and Gap, just to name a few!).

Once your qualifying purchase is verified, $40 cash back will be added to your account.

Sit back and wait for your Big Fat Check to arrive during the next payment period!
Happy money-saving! 💰 If you have any questions about Rakuten, just leave a comment and ask.